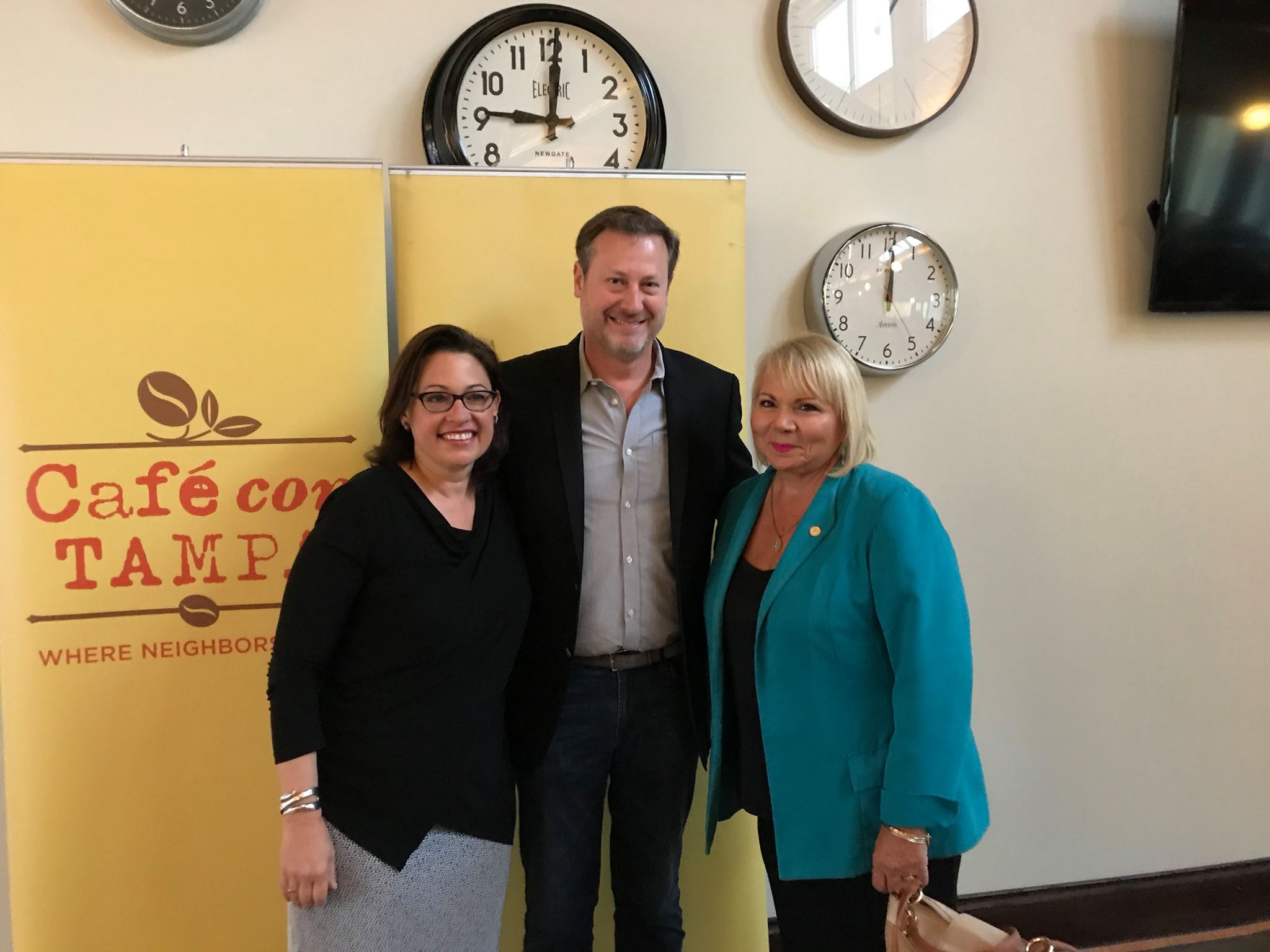 In her just-concluded re-election bid to the St. Petersburg City Council District 2 seat, Darden Rice received the backing of the Suncoast Police Benevolent Association, an endorsement of which she's very proud.
She's also the niece of former Pinellas County Sheriff Everett Rice.
Rice mentioned those facts, among others, to an audience at Tampa's Oxford Exchange where she appeared with Tampa City Council Chair Yolie Capin. The two local city council chairs were at the hourlong Cafe Con Tampa, which meets every Friday morning.
This week, the theme was the regional cooperation that is currently taking place between the Tampa Bay area's two biggest cities. Both discussed the Tampa Bay area becoming a "super region"– within a "mega-region" when combined with Orlando.
Demonstrating her bona fides in supporting law enforcement, Rice talked about police shootings of people of color and how it led to the Black Lives Matter movement, as well as NFL players refusing to stand for the playing of the national anthem.

"I think we've come to realize more and more that the power of a badge and a power of holding a gun is too much power to give to someone who's not trained properly," she said. "Certainly too much power to give to somebody who's a bigot."
It's not just recognizing acts of hate and racism, she continued, but institutional racism is something that "we all need to be more conversant with."
When asked her thoughts on race relations, Capin referred to the 2015 Tampa Bay Times expose of "Biking While Black," the story of the Tampa Police Department's disproportionate pattern of citing black cyclists, which she labeled "an embarrassment."
Capin then congratulated the Greater Tampa Chamber of Commerce for helping to raise the private funding required to appease Hillsborough County Commissioners last August for the removal of a Confederate monument in front of the courthouse annex.
Capin said she had recently spoken with some local business officials who noted that advocating to remove the monument "was definitely a business issue."
"They're realizing how important the race relationships, the whole branding of our area is to business," Capin added.
Moving to the national scene but without naming names, Capin said that it was "sad" that "racism is acceptable. Bigotry is acceptable. And that is not acceptable in our region, and we have to let the world know."
Capin spoke enthusiastically about a budding business relationship between Cuba's Port of Mariel and Port Tampa Bay. Rice joined her, Tampa City Councilman Harry Cohen, and a host of other officials on a trip to the island last month.
"We're talking transformative to our area. Thousands of jobs. It is in the process of happening," Capin said about that alliance.
Rice talked up the two cities working together, referring to the Tampa Bay Export Alliance and, somewhat surprisingly, on auto theft, where the cities respective police departments go across the Bay to assist their counterparts during major events.
They also talked about the Cross-Bay Ferry, a project championed by former Hillsborough County Commissioner Ed Turanchik and St. Petersburg Mayor Rick Kriseman that ran for six months in late 2016 and early 2017.
More than a year ago, Kriseman went hat in hand to the local governments of Tampa, Hillsborough County, Pinellas County and his own city council to get them each to offer $350,000 to fund the private-public partnership. Ridership increased in its last few months, but to the disappointment of some, the ferry will not be happening in 2017-2018.
As reported Friday by Caitlin Johnston in the Tampa Bay Times, Tampa Mayor Bob Buckhorn's lack of interest in spending taxpayer dollars on the project "complicated" matters. Rice said construction of the new Pier in downtown also was a factor in why the project won't happen this year.
"The construction of the Pier would preclude the location of the ferry to come in, so we don't want to have a hiccup where people get used to a ferry and then it's gone for a year and how do get people back, but the truth is that the construction would be right at the height of the ferry usage time, so there's that."
Both chairs hoped that a permanent Tampa-St. Pete ferry connection would result after Hillsborough County ultimately operating a ferry from the Apollo Beach-area to MacDill Air Force Base — a project that is still seemingly long ways off regarding funding.
The possibility of the relocation of the Tampa Bay Rays to Tampa was brought up by blogger Jim Bleyer, who wanted to hear from a public official other than Hillsborough Commissioner Ken Hagan on the proposal for a stadium in Ybor City.
Neither had much to add, however.
"I think the Rays are a regional asset. I would love for them to stay in St. Pete, but if it doesn't work I'd like for them to be able to stay in Tampa Bay and be successful," Rice said.
"City Council has not aggressively sought out the Rays. I look forward to the plan,"  Capin said, adding, "I agree that they're a regional asset like our airport, and I want them to stay."
About the myriad problems with the lack of transportation options in the region, Capin appeared to take a shot at former Mayor Pam Iorio over Moving Hillsborough Forward, the transit sales tax initiative spearheaded, in part, by Iorio in 2010 that was ultimately defeated.
"It needed real leadership," she said. "We had a mayor that was loved by everyone. It needed to be said,' look, this good for us, this is why.' That didn't happen either."
Former state legislator and state Education Commissioner Betty Castor received a hearty round of applause as she decried Tallahassee's continuing attack on home rule. But neither local council member could truly say anything will stop that legislative trend anytime soon.
"We really have to peel it back and show the public what is the Legislature's doing, because really it hurts the voice of our local citizens," Rice said.
Capin referred to an ordinance recently passed the Tampa City Council about the design of cellphone towers built on public rights of way and utility poles. She said it was the only authority they still had to control them, in light of legislation easily passed this year by the Legislature.
Rice's re-election gives her four more years to serve St. Pete, with some speculating on a mayoral run in 2021.
Term-limited from office in early 2019, Capin had been pursuing a run for Hillsborough County Commissioner next year (where she would face fellow Democrat Janet Cruz), but recently opted out of that plan. Instead, she is now chairing Tampa philanthropist David Straz's exploratory committee on a run for mayor.
Straz will decide early next year if he's running in 2019, he said.