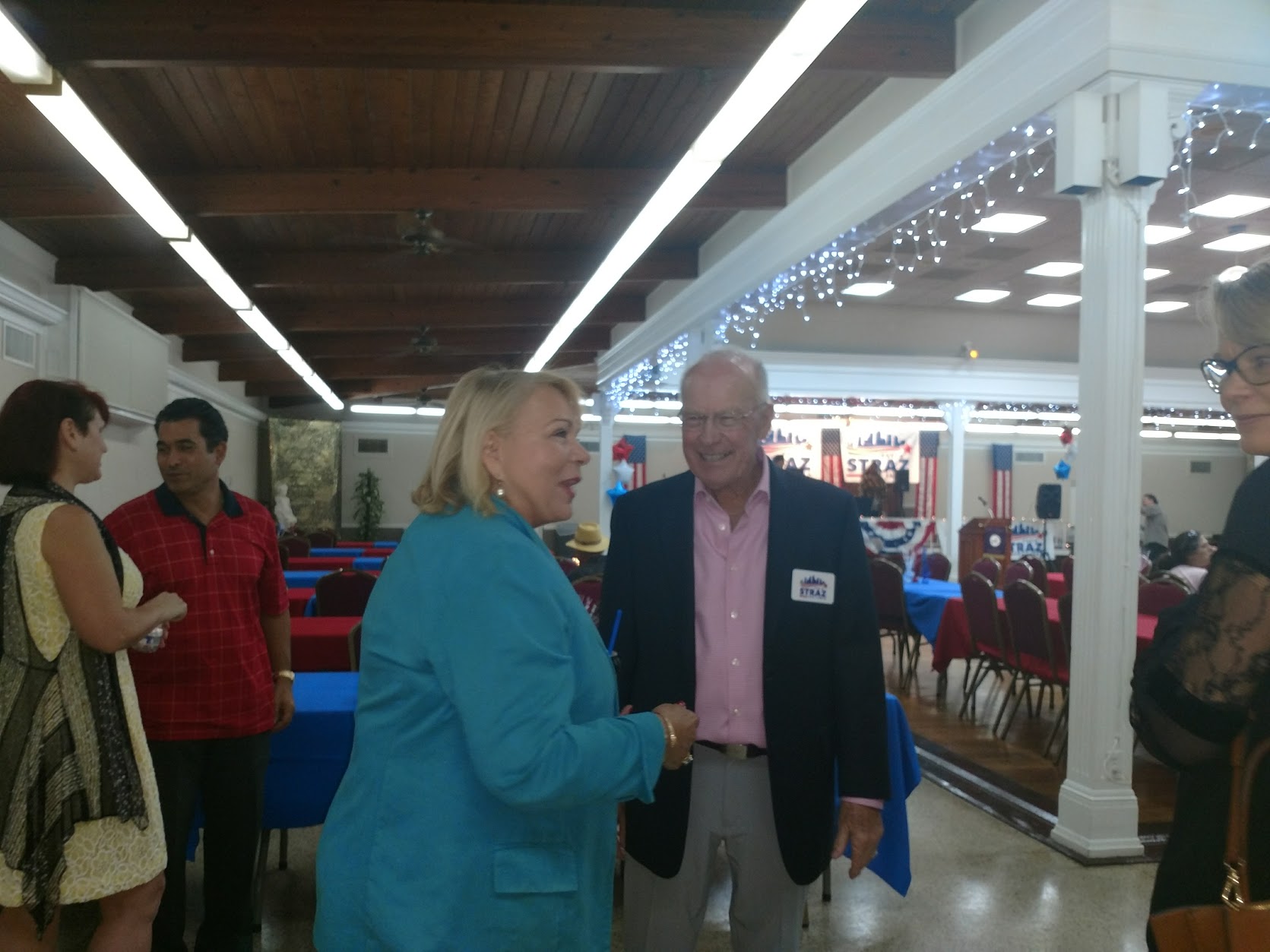 Philanthropist and former banker David Straz Jr. had a coming-out party (of sorts) Sunday, hosting a spaghetti lunch for more than 250 people in West Tampa.
It was his first public appearance since forming an exploratory committee two months ago for a potential run for Tampa mayor in 2019.
The 74-year-old Wisconsin native already had enjoyed a long and distinguished career before becoming a much better-known quantity in the Tampa Bay-area in November 2009. That's when he made a substantial financial contribution (rumored to be as high as $25 million) to the Tampa Bay Performing Arts Center which resulted in the facility changing its name to the Straz Center.
He's also been involved for over a decade with individuals like Al Fox to advocate for closer relations between Tampa and Cuba.
A political independent, Straz was an ally of former mayor Dick Greco, supporting him when he ran for yet another reign as Tampa mayor in 2011. After Greco lost to Bob Buckhorn in the primary, Straz backed Buckhorn and then became in charge of his transition team.
Since announcing that he was forming an exploratory committee in late September, Straz has refused interviews with inquiring reporters about his possible candidacy. When confronted by this reporter shortly after the doors opened at the Sons of Italy hall on Sunday, he initially said it was "not a media event" before succumbing to answer a couple of questions.
"What I'm doing right now is getting around to various constituencies around the community," he said. "I'm listening to what they have to say and what their priorities are."
On Friday, Straz met with members of the black community. Councilman Frank Reddick is onboard with a Straz candidacy and said the meeting went well.
"In order to get my support, you've gotta put a plan together that the people can benefit from," the District 5 representative said, adding that there's been too much emphasis on downtown in the Buckhorn years.
Reddick wants the next mayor to engage more in developing both east and west Tampa.
"We need someone who understands the lack of resources and economic development in that area," Reddick said. "David Straz will look into that and see what he can do to improve those areas."
Straz is a political independent who has given substantial campaign contributions to both Republicans and Democrats over the years.
"Honestly, I thought he was a registered Democrat," joked Travis Horn, a member of the Hillsborough Republican Party. "I'm involved in Ybor City and as a businessman. I don't go around asking people for their party ID.
"Money is green, and we want to see the city succeed."
The most problematic event for Straz since forming his exploratory committee was the revelation last year that he supported Donald Trump for president. That led to some comments on social media that he already disqualified himself in such a Democratic-leaning city, but prominent Hillsborough County Democrat Patrick Manteiga defends Straz over his support for the president.
"I think he would not vote for him again, he's already told me that, and mistakes happen," said Manteiga, who is editor/publisher of La Gaceta. Last year, a lot of Manteiga's friends surprised him by opposing Hillary Clinton and choosing Trump.
Manteiga pushes back on the theory that Straz is an unknown political quantity.
"We do know where he is on a lot of things," he said. "The guy gave a lot of money to the performing arts and a lot of money to education, so you're talking about somebody who's obviously has made a decision before he was running that this was a city that he wanted to invest in, this was a city that he wanted to put his name on."
What excites Mario Nunez about a potential Straz candidacy is his alliance with Fox in promoting the liberalization of Cuban relations.
"I'm going all in on the Cuba conversation," Nunez said. "That's where my heart is."
Where Straz's heart is at when it comes to putting together a campaign to lead the city in 2019 is still being determined.
Before announcing last month that he would not pursue the Democratic nomination for governor, Orlando attorney and entrepreneur John Morgan told a Tiger Bay Club audience in St. Petersburg he wanted to see how much interest the public had in him before decided to upend his life to pursue a run for elected office.
Reddick said Straz is also currently assessing if there is sufficient support in Tampa for him to go all out in a run for the mayor's office in 16 months.
"He wants to see what type of support base he's going to get, that's what he's looking at now," the councilman said. "And if the community really wants a visionary, David's that person and I'm just hoping that people reach out to him, and say 'do this.'"