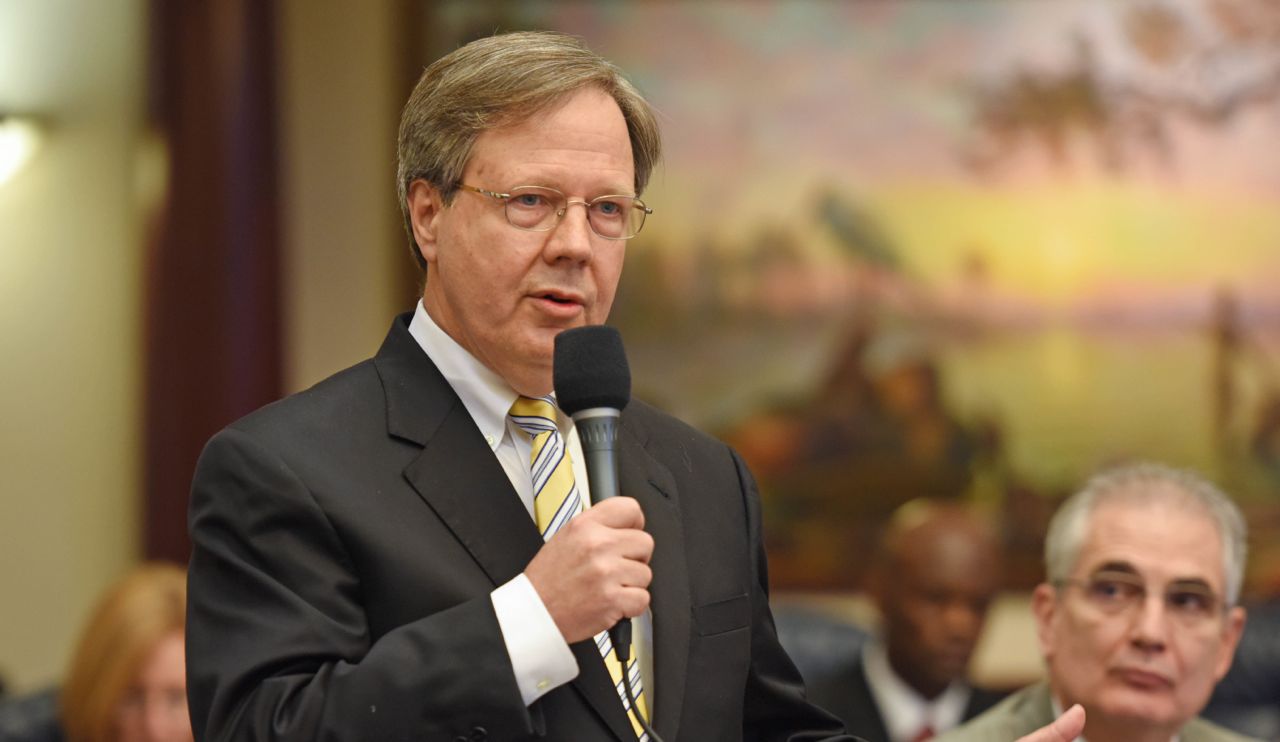 Note: An earlier version of this story inaccurately reported the vote of state Rep. Chris Latvala.
After facing down Democrats' harsh questioning of the bill's intentions, a Florida House committee voted nearly along party lines Tuesday to approve a measure to require most public employees' unions to meet a dues-paying threshold or face recertification.
The bill, sponsored by state Rep. Scott Plakon, an Altamonte Springs Republican, was passed by the House Government Accountability Committee by a 14-9 vote, and now heads to the floor of the House of Representatives. State Rep. Chris Latvala of Clearwater joined eight Democrats in opposing.
Plakon pushed House Bill 25 as he did a similar bill in the last Legislative Session, and another in 2011, as a means to assure transparency, democracy, and accountability in unions representing teachers, government laborers, and others in public sector workers.
He argued there are unions, though he would not name any, that have seen their rolls of dues-paying wither, to the point where he said he understands some have as little as 3 percent or less of the workers they represent paying dues as fully-engaged members.
But Democrats on the committee, notably state Reps. Joseph Abruzzo of Boynton Beach, Carlos Guillermo Smith of Orlando, Matt Willhite of Wellington, Barbara Watson of Miami Gardens, Kristin Diane Jacobs of Coconut Creek, and Newt Newton of St. Petersburg, peppered Plakon with questions  about why that would be considered a problem in a right-to-work state in which members are not required to pay dues, and where all members eventually must vote on contracts. In debate, they essentially charged Plakon with sponsoring a bill pushing for union busting.
Abruzzo, a former Florida senator, predicted the prospect that HB 25 might be stopped the same place Plakon's last attempt was stopped, by a Florida Senate unwilling to go there.
Not including Chairman Matt Caldwell's occasional admonishments of Democrats' questions as being out of order, the two-hour proceeding entirely was a forum carried by Democrats on one side, and Plakon and representatives of the Florida Chamber of Commerce and Americans For Prosperity on the other.
HB 25 would require public employees unions [exempting police and firefighters' unions] to annually report to the Florida Public Employees Relations Commission how many workers are in each bargaining unit, and how many of them actually pay dues.
Any union that reports dues-paying members as less than 50 percent of the bargaining unit must be re-certified as a union in order to continue to exist. That would require new petitions with at least 30 percent of all workers signatures, followed by an election, or else the commission would revoke the union's standing.
Plakon denied that the bill was anti-union, but rather about making sure the unions stayed accountable enough to its members to assure that a majority of them were satisfied enough to pay dues. He also argued that if such small percentages as 3 percent of workers are engaged in a union, then that union might not be bothering to represent the rest. He also argued that individual workers might be able to negotiate individual deals better than union contracts would provide.
"HB 25 is a simple bill, just a few pages long, which is about transparency, democracy and accountability," Plakon said.
Yet Smith questioned whether there was any reason to assume that members who do not pay dues are unhappy with the union, or just financially strapped. Willhite, a firefighters' union member, questioned why a right-to-work state that guarantees that union members do not have to pay dues suddenly is trying to regulate unions based on whether members are actually paying those dues. Abruzzo questioned if, as Plakon contended, the state lacks data on dues-paying, whether he would be willing to simply require reporting, not decertification. Newton, a former St. Petersburg city commissioner, questioned why the accountability isn't recognized when unions give all its members the right to vote on union contracts.
"It's the premise of the bill that I find so frustrating… to have the conversation that equates the ability to pay money to whether or not you support something," Jacobs said.
Plakon held his ground, arguing that the bill would finally reveal which unions had significantly high or low percentages of dues-paying participation among its members, and that it would set a standard for them to meet, with the teeth of decertification, in order to continue to represent those workers. He contended some unions already are trying harder to appeal to workers to get them to pay dues,, and said the bill would allow all workers to have their voices heard.
"If you believe unions should not be subject to greater transparency and democratic principals like this, then, it sounds like I'll have some no votes," Plakon said. "But if you believe as I do that public sector unions should have to operate in a transparent fashion, by this report, and under time-honored democratic principals, where majority rules so to speak, where, the union is, yes, getting a nudge to be more responsive to its members, then you should vote yes on this bill."