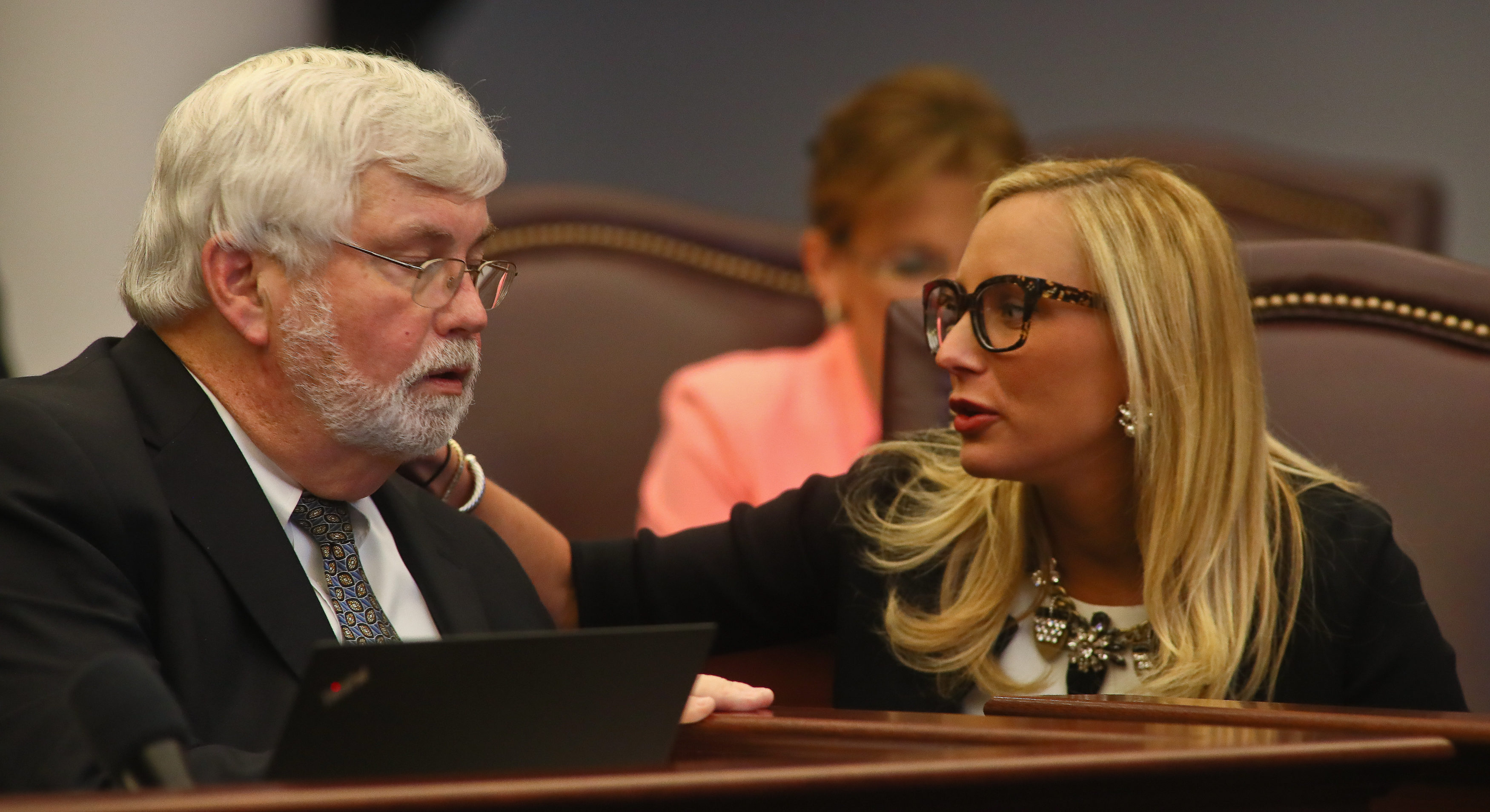 Embattled Sen. Jack Latvala is facing yet another complaint, this time by one of his allies accusing him of interfering in a Senate investigation by using defense tactics that aim to publicly attack and shame the woman who is accusing him of sexual harassment.
Sen. Lauren Book field the formal complaint late on Tuesday with the Senate Rules Committee, chaired by Sen. Lizbeth Benacquisto. In it, she alleges that Latvala — the man who she has "admired and respected" for many years — is discouraging "other women who may have wished to come forward" with their own sexual harassment stories.
"It is not ever OK to make attempts to 'out' a complainant, or to publicly attack or shame them with character assassination – things Senator Latvala has unfortunately and clearly done through various media outlets," Book said.
Rachel Perrin Rogers, a top aide to Republican Sen. Wilton Simpson, accused the 66-year-old veteran lawmaker of sexually harassing her over the course of four years, with misconduct that ranged from unwelcome comments about her breasts and legs to touching her in a Tallahassee bar that prompted her to cry. Since then, Latvala's legal team has released information that aims to poke holes in her credibility.
As part of his defense, which was aired in various media outlets, including Florida Politics, Latvala's attorneys have released sworn statements that raise questions about Rogers character. That includes an affidavit by a former Senate Majority Office colleague of hers, 22-year-old Lily Tysinger, who claims Rogers boasted about sabotaging people's careers.
Tysinger also claims she was demoted the day Rogers filed the sexual harassment complaint against Latvala, And that she was never given a reason why.
As of Monday, she is being represented by Tallahassee-based attorney Marie Mattox — who is known for filing workplace harassment and discrimination lawsuits, particularly those involving state workers. Mattox, who once worked with Perrin Rogers' attorney, Tiffany Cruz, has also been behind a good portion of the sexual harassment cases brought against the state.
Mattox told Florida Politics on Monday that Tysinger is considering suing Rogers for making false accusations against, including claims that the 22-year-old was "mentally ill" and "suicidal" which could have had a direct effect on her demotion that came with a $11,000 pay cut, she said.
"What Rogers had done to her is just wrong," Mattox said.
The defense tactics used by Latvala have also prompted Gov. Rick Scott to call him a "distraction" in the Senate — and POLITICO Florida reported that Republican Sen. Travis Hutson has called on Latvala to resign.
"This behavior is unbecoming of a sitting Senator, unfair to Ms. Perrin Rogers, and discouraging to others who may have wished to come forward and may not now for fear that "they too" will be publicly shamed, or even jeopardize their employment," Book said in a statement.
The month-long Senate investigation is currently in the hands of a special master's findings. The Senate hired retired Judge Ronald V. Swanson to lead the investigation and if Benacquisto finds probable cause in his findings, the report would go to the Senate Rules Committee and later to the Senate floor for debate, followed by a vote on the appropriate punishment, which could include an expulsion from the Senate.
Book's complaint on Tuesday came hours after Democratic gubernatorial candidates and the Florida Democratic Party as a whole called for Latvala's resignation.
Gwen Graham, a Democrat running for governor, said "it's insulting" that the Clearwater Republican, who is vying for the seat, hasn't stepped down.
"It's equally infuriating that he has been allowed to abuse his political power to cowardly intimidate his victims," she added.
Book's formal complaint with the Senate Rules Committee could spark a separate Senate investigation into how Latvala has fought the sexual harassment claims. This is the third complaint filed in that committee in the course of a month against the former budget chairman.
"The investigation will yield truth in the matter at hand, but in the meantime, we must hold ourselves, and the process, to the highest ethical standard and refuse to allow the kind of behavior and mistreatment we have seen in the wake of the allegations," Book said.
In her statement, Book did not call for Latvala to resign, but did say his behavior was "unbecoming of a sitting Senator."
Early on Tuesday, though, before the recent wave of backlash, Latvala wrote on Facebook that even with reports slamming his defense, he would keep on fighting.