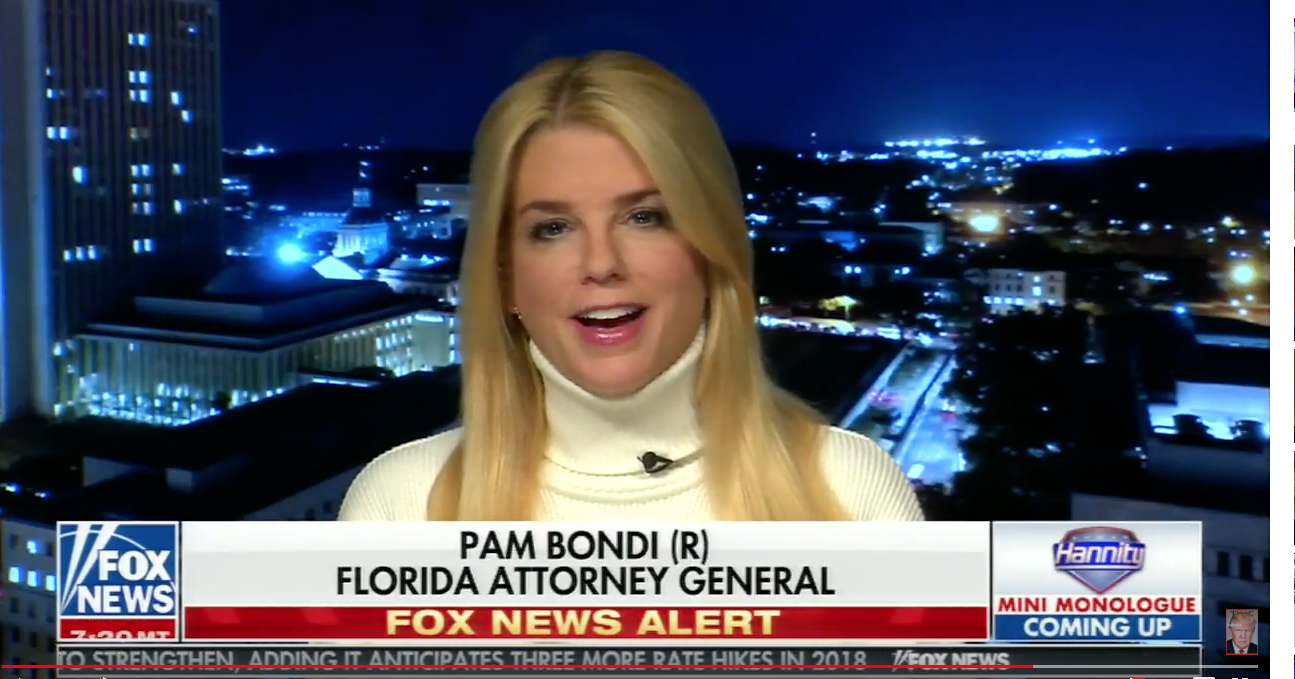 Count Florida Attorney General Pam Bondi among the increasing number of Republicans who are blasting special counsel Robert Mueller's Russian probe for being rife with partisan bias.
Bondi appeared on Fox News "Hannity" program Wednesday night as part of a panel discussion with host Sean Hannity and Sebastian Gorka, a former Donald Trump deputy assistant hired by the network as a commentator.
It is time to get "all of these other people off the case," Bondi said, referring to eight prosecutors on Mueller's team who were identified as giving campaign contributions to Democrats.
For weeks, conservative media outlets have accused Mueller's team of investigators of bias, citing because of the campaign contributions to Democrats. Panhandle U.S. Rep. Matt Gaetz is charging that the former FBI director's team was "infected with bias" against the president, claiming the investigation puts the country at risk of a "coup d'etat."
Several more congressional Republicans are sharing similar sentiments, many of them grilling Rod J. Rosenstein, deputy attorney general, Wednesday and calling to appoint a prosecutor to investigate Mueller's investigation.
Their campaign was given legs when the Justice Department released hundreds of text messages exchanged last year between FBI agent Peter Strzok and an FBI attorney, Lisa Page, describing a possible Trump presidential victory as "terrifying" and saying that Hillary Clinton "just had to win."
"God(,) Trump is a loathsome human," Page added in a text; Strzok replies: "Yet he may win."
Mueller removed Strzok from the Russian investigation upon being informed of those texts.
"They need to be dissolved, and they need to be investigated," Bondi charged. "This team needs to be wiped out."
At Wednesday's congressional hearing, Rosenstein pushed back against the criticism that members of Mueller's team could not be impartial prosecutors because they'd donated to Democrats. And he beat back repeated calls to select a second special prosecutor to investigate Mueller, saying that there is currently an inspector general with a 500-member staff and a $100 million budget already in place to review investigation.
Later in the show, Bondi agreed with Hannity that the level of corruption inside Mueller's team was "worse than Watergate."
"This is worse than Watergate, on a million levels here," Hannity said.
"I agree," Bondi interjected.
"By the time we entangle this massive web of corruption, it will be worse than Watergate," Hannity repeated. "Watergate on human growth hormone and steroids combined at massive levels."
"And you're the one who had to untangle it, Sean, not the federal government," Bondi said. "That's the shame of it."
Gorka followed up by saying he doubted Wednesday's congressional hearing would've happened without Hannity's interest in the issue.
"I agree," Bondi added.