Let there be no doubt that the tax reform bill approved Tuesday by the U.S. House of Representatives will be a touchstone in 2018 congressional campaigns. It already has started.
Moments after the House approved the Republican-created tax reform bill Tuesday, Democrats took aim at Republicans in vulnerable districts, including Florida U.S. Reps. Ron DeSantis of Ponte Vedra Beach, Brian Mast of Palm City, and Carlos Curbelo of Kendall, and Republicans began targeting vulnerable Democrats for their votes, starting with Stephanie Murphy of Winter Park.
The House passed the bill 227-203 Tuesday afternoon, with 12 Republicans joining Democrats to vote no, and no Democrats joining Republicans to vote yes. DeSantis, Mast and Curbelo all voted yes, as did all Florida Republicans, and all Democrats voted no.
The Democratic Congressional Campaign Committee announced about an hour later it is launching Christmas-themed social media ads targeting DeSantis, Mast and Curbelo, among others nationally, using the Democrats' favorite description of the bill as a "Tax Scam."
The Democrats' ads will begin running immediately on Facebook at Instagram, and will run through the Christmas season, the DCCC announced Tuesday.
But the National Republican Campaign Committee also started their attack on Democrats who voted against the bill, firing at Murphy with a release declaring that she "wants the federal government to continue to overtax you."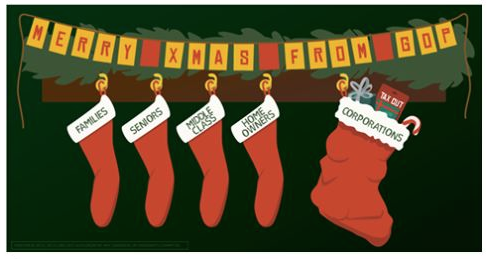 The Democrats' messages will be sent with a meme of four Christmas stockings hung from a mantel: three looking empty and marked for "Families," "Seniors," "Middle Class," and "Homeowners," and a fourth stuffed with guides marked for "Corporations."
"By Passing their Tax Scam, Republicans in Washington are stuffing the stockings of wealthy corporations while leaving nothing but a lump of coal for the middle class," the ad reads.
Then it ads "Hold [DeSantis, Mast, Curbelo, or some other targeted member of Congress] responsible and demand better."
"When House Republicans say 'Merry Christmas,' apparently it's only to millionaires, billionaires, and large corporations," DCCC spokesperson Cole Leiter said in a news release announcing the campaign. "This tax scam is loaded up with special interest loopholes and tax breaks for the wealthiest and biggest corporations, while the middle class in Florida gets stuck with higher taxes and coal in their stockings. Americans are making a list, checking it twice, and will hold Reps. Mast, Curbelo, and DeSantis responsible for this tax scam next November."
As for the Republican effort, the release from NRCC Spokesman Madison Anderson targeting Murphy declares that on Tuesday she voted, "Against letting her constituents keep an average of $1,967.36 more of their hard-earned money. For a higher cost of living. Against a simplified tax code. For more government control over Floridians money.
"Murphy is not even attempting to fake bipartisanship anymore. Her allegiance lies with Nancy Pelosi, and against the middle-class," it concludes.