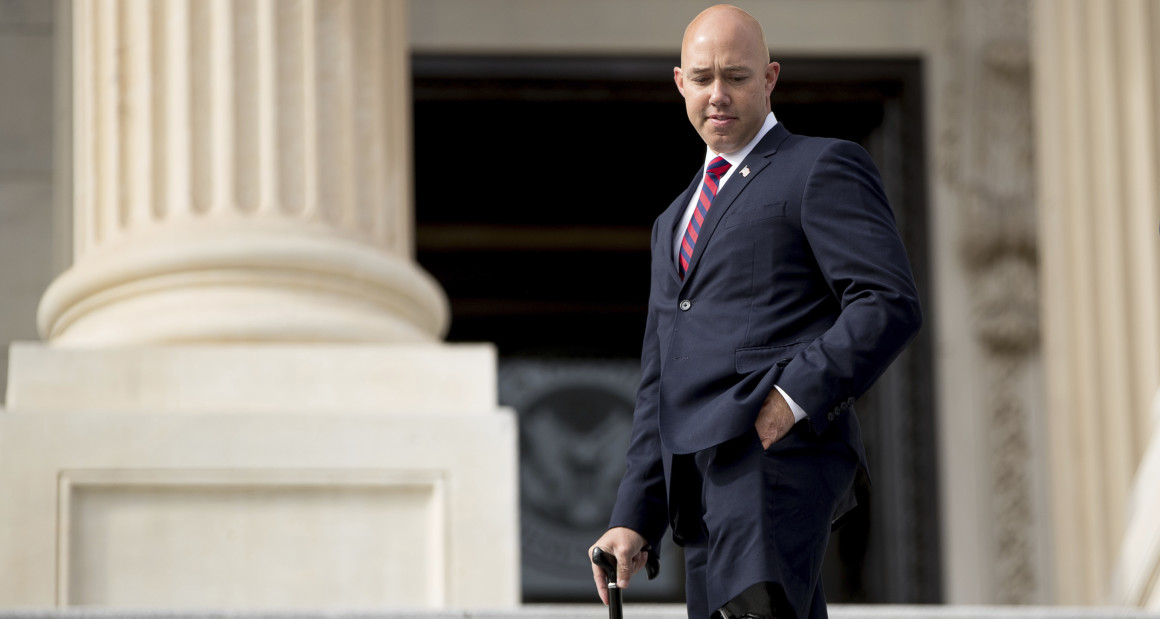 A new poll found freshman Republican U.S. Rep. Brian Mast is on thin ice with voters in Florida's 18th Congressional District, especially after his vote in favor of the GOP's tax reform plan.
A survey from the Democrat-leaning Public Policy Polling found Mast had a 40 percent approval rating and 45 percent disapproval rating in the district, which puts his net favorability only a few points ahead of President Donald Trump, who garnered a 45 percent approval rating and 53 percent disapproval among CD 18 respondents.
PPP also pitted Mast against a generic Democrat in the poll and found him leading by a point, 45-44. Just over half of voters said they were less likely to vote for Mast due to his tax reform vote, which is underwater 51-35 in the district, and Mast's slim lead dissipated once voters were told more information about the bill.
Phone surveyors told respondents that the tax bill would eliminate state and local tax deductions as well as the estate tax, which only applies to individuals with estates valued at more than $5.5 million or couples with estates worth more than $11 million. Respondents were also told the bill would add $1.5 trillion to the national debt over the next decade.
With that information in hand, a hypothetical "Democratic opponent" saw a 3-point jump to take a 47-45 lead over the incumbent Republican.
The survey results likely gave some encouragement to the two Democrats running against Mast: Lauren Baer and Pam Keith.
Both candidates carry less baggage than 2016's Democratic nominee, Randy Perkins, who faced questions about how he made his money throughout the race, including allegations that he overcharged school districts for debris removal.
Baer, a former U.S. State Department official under President Barack Obama, leads her primary rival with $250,000 raised through the end of the third quarter and had about $236,000 on hand. She has also picked up an endorsement from the Victory Fund gay rights advocacy group and, if elected, would be the Sunshine State's first openly gay member of congress.
Keith, lost her bid for U.S. Senate in 2016, had raised $150,000 for her campaign through the end of September and had just under $64,000 in the bank. The Navy veteran and labor lawyer from Palm Beach Gardens picked up an endorsement from VoteVets, a progressive-politics organization dedicated to getting military veterans elected to public office.
Both Democrats trail Mast, also a military veteran. He has raised $1.58 million and has about $921,000 on hand, with no Republican Primary challenger in sight.
Despite the money advantage, the district will be a big priority for Democrats in 2018.
The district, which covers St. Lucie and Martin counties as well as the northeastern Palm Beach County, was held by Democrat Patrick Murphy for two terms before he decided to forego a re-election run for U.S. Senate, losing mightily to Marco Rubio on Election Day.
PPP surveyed 567 CD 18 voters via automated telephone interviews on Dec. 12 and Dec. 13. The margin of error is plus or minus 4.1 percent.