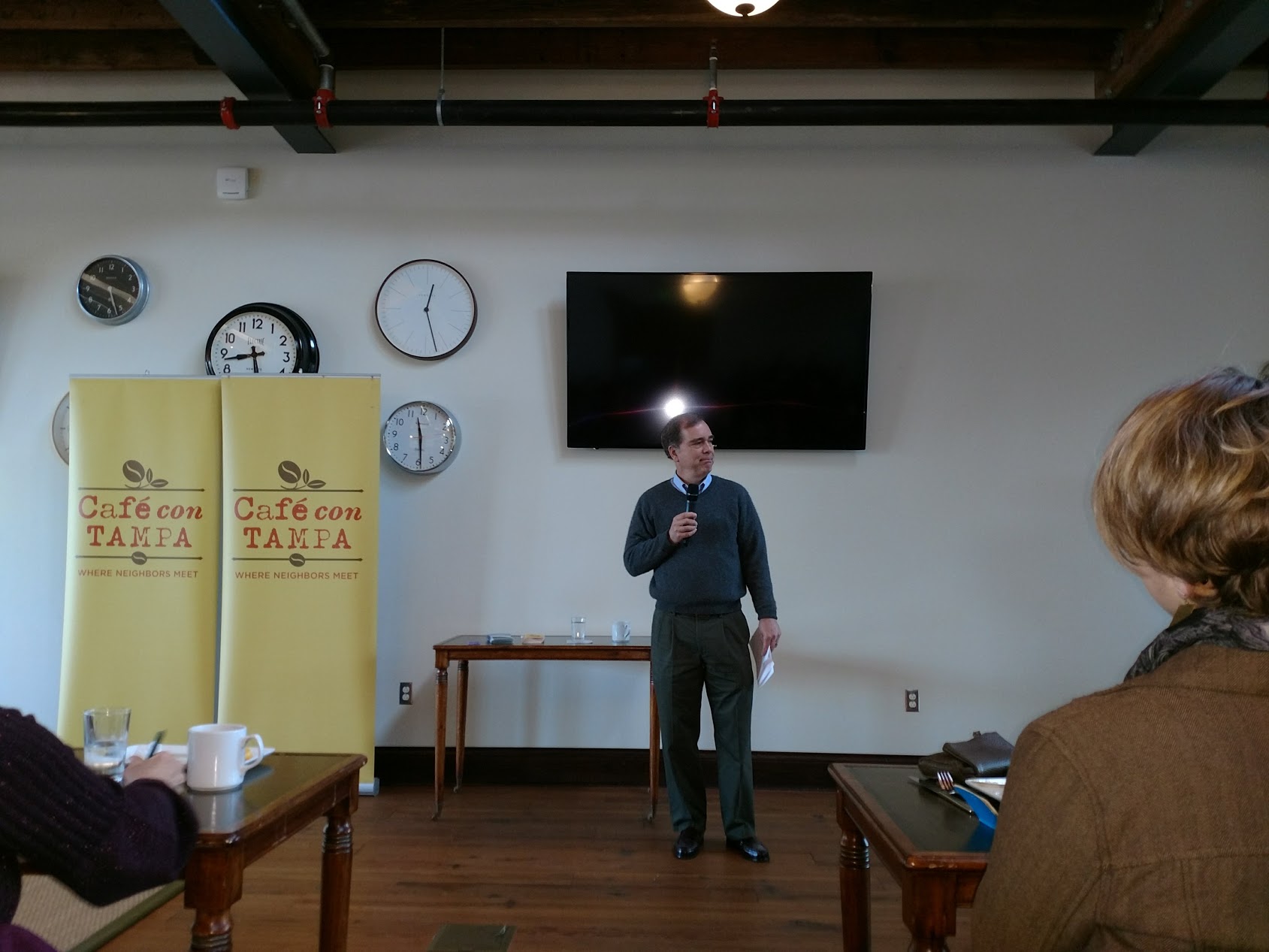 One might think that the Tampa Bay Times' Tim Nickens, as editorial page editor of Tampa Bay's biggest daily newspaper, might be subjected to tough questions about the paper's coverage and/or editorial stances when he spoke before the politically savvy Cafe Con Tampa crowd at the Oxford Exchange Friday morning.
Those tough questions were asked, but they were about his support as a member of the First Amendment Foundation's board for a piece of legislation introduced for the 2018 Session, which kicks off next week.
The First Amendment Foundation is a 33-year-old Tallahassee-based organization to promote the constitutional right for members of the public to oversee government through Florida's Sunshine public records laws.
SB 1142, from Sarasota Senate Republican Greg Steube, calls for court records to be administratively expunged automatically of nearly anyone found not guilty, acquitted during a trial or has charges dropped or dismissed. Claiming documents could still be obtained from the courthouse where the charges were filed, charges would not show up in a background check through the Florida Department of Law Enforcement.
While the First Amendment Foundation strongly opposes the law, Nickens gave several examples of why the state should protect those records.
"If you are hiring a babysitter, you might want to run a criminal background check to see if that person has ever been arrested," Nickens said. "If you run a business, you'd likely want to run a background check to make sure that this person hasn't done any crimes or is an upstanding citizen that hasn't been arrested a number of times for driving while intoxicated."
A similar provision passed during the 2017 Session — and was sent to Gov. Rick Scott's desk — but that portion of the overall bill was dropped from the final legislation.
From the jump, Nickens said support for the bill received immediate pushback from members of the audience, with some in the audience prefacing remarks with comments about individual cases involving themselves or others.
"I feel it's like a further persecution for that not to be wiped out of the system," said a man who said he once served on a jury where it was obvious the accused was innocent. "I don't think there's any value in having that on his record."
Nickens agreed that if he or a family member were falsely accused of a crime, he would want that wiped out. He said there are already procedures to get records expunged or sealed. But if reporters can't get access to such records, he said they couldn't demonstrate that prosecutors had erred or the police had perhaps planted evidence in a case.
That failed to mollify the crowd.
"We all know you can get your records expunged if you've got money," replied Ione Townsend, the chair of the Hillsborough County Democratic Party. "But if you don't have money that's almost impossible to do."
"The whole system is biased against people of color," activist Jim Shirk added. "It's just discriminatory."
Nickens countered that there had been evidence of racial disparities documented in newspaper reports across the country, but Steube's law would prevent journalists from having access to that information for writing such stories.
Former criminal defense attorney Rochelle Reback, saying she was a First Amendment "champion," argued that the Foundation's opposition to the bill was "prejudicial and also unnecessary." She said she encountered problems with requests for expunged records when public agencies sometimes fail to comply.
"They're either overloaded, or their systems are defective, and it doesn't happen."
There was also discussion about Nickens' day job, where he serves as editor of editorials at the Times.
The Times' editorial page was heavily criticized last year by liberals, unhappy about the tough stances it took on St. Petersburg Mayor Rick Kriseman in his reelection bid.
As did his opponent, former Mayor Rick Baker, the Times took exception to Kriseman's campaign decision to nationalize the election, making what was officially a nonpartisan race into a very partisan contest.
Frustration led to Nickens writing a column under his own name where he cited a Florida Democratic Party mailer linking Baker to President Donald Trump with an accompanying quote by Martin Luther King Jr. that ultimately compelled him to switch party registration to independent.
When a reporter asked about readers' responses to those columns, Nickens said the editorial page is generally progressive in tone and frequently takes positions more favorable to the Democratic Party than the Republican Party. But Nickens noted that stance doesn't always transfer when making recommendations in political races (the Times does not "endorse").
"Over the last three or four election cycles, we've recommended more Republicans than we have Democrats," Nickens said. "Now some of is sort of with a gun to our head because there wasn't viable Democrats in those particular races, say for congress or something like that. But what was interesting in the mayor's race in St. Petersburg is that is a nonpartisan race."
He went on to say the paper had recommended both Baker and Kriseman in previous mayoral elections — 2001, 2005 and 2013, respectively — and the choice for the editorial board last year "was a close call."
"We've been both supportive and critical of both," he said. "We got a lot of feedback when we recommended Baker, because I think a lot of our readers who are progressives maybe took us for granted and just assumed that the Times editorial page was going to be for the Democrat. And in this case, we weren't."