[Updated 9:30 a.m. with statement from Flores and Braynon.]
Apparently exposing new depths of Florida political espionage, an anonymous internet website appeared Tuesday morning claiming to show secretly-taped videos and secretly-shot photographs supporting allegations of a rendezvous between Republican state Sen. Anitere Flores and Democratic state Sen. Oscar Braynon II.
The pair of Miami-Dade lawmakers issued a statement Tuesday morning acknowledging a relationship they regret and asking for privacy.
"As this 2018 session of the Florida Legislature gets underway, we do not want gossip and rumors to distract from the important business of the people," Braynon and Flores stated in a joint-statement issued shortly after news reports of the website.
"That's why we are issuing this brief statement to acknowledge that our longtime friendship evolved to a level that we deeply regret. We have sought the forgiveness of our families, and also seek the forgiveness of our constituents and God. We ask everyone else to respect and provide our families the privacy that they deserve as we move past this to focus on the important work ahead," they wrote.
The website — floresbraynonaffair.com — and its contents claim that the videos, photographs, surveillance and other research presented by the unidentified author(s) offer evidence of an extramarital affair between the two married lawmakers from Miami-Dade County.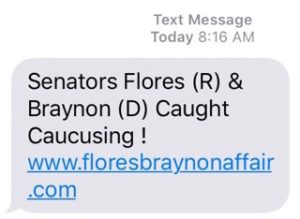 One Florida Politics reporter had the website texted to him early Tuesday with the message, "Senators Flores (R) & Braynon (D) Caught Caucusing!"
The website features grainy, black-and-white video shot through a pinhole lens purported to be of a hallway in The Tennyson, a condominium building in Tallahassee. Accompanying text states that Braynon and Flores had rented rooms there last April, across the hall from one another, and alleges that the surveillance suggested Flores spent several nights in Braynon's unit.
As first reported in Sunburn Tuesday morning, there is no clear showing of who is behind the surveillance, conducted last spring, or the website. The website is marked "private" on ICANN WHOIS, a registry of owners of domain names.
The first video shows a woman leaving one room and then going across the hall and entering another room. A second video shows a woman leaving that second room, going across the hall and re-entering the first room. The accompanying text claims the woman was Flores, going from her room to Braynon's the night of April 21, and returning to her own room the next morning.
Neither video captures a face.
The website also includes photographs and video of a woman purported to be Flores entering and leaving a car in the parking garage of The Tennyson, and of a man purported to be Braynon also in the parking garage, and in the hallway.
In none of the shots are there any clear images of faces.
Sunburn reported Tuesday morning that rumors had circulated of an alleged affair between Flores and Braynon, especially in recent weeks.
Sunburn also reported a source who alerted Florida Politics to the existence of the website. That person suggested it is the work of former Sen. Frank Artiles, who privately had threatened to expose the two lawmakers referenced in the domain name.
Artiles, a Cuban-American Republican also from Miami-Dade County, made national news after he accosted Sen. Perry Thurston, a Fort Lauderdale Democrat, and Sen. Audrey Gibson, a Jacksonville Democrat, calling her a "b****h" and a "girl" in a dispute over legislation at a private club in Tallahassee Monday night.
Artiles also used a slang variation of the 'N-word,' referring to white Republicans who supported Joe Negron as Senate President. Thurston and Gibson are black. Artiles apologized on the Senate floor, but eventually resigned this April rather than face a hearing that could have resulted in his expulsion.
Others suggest this is the first of what could be many clandestine efforts by former Sen. Jack Latvala, a Clearwater Republican and former Senate Appropriations Chairman, to exact revenge on his former colleagues.
Latvala also resigned this month after two damning reports on his alleged serial sexual harassment, including an allegation he offered a favorable vote on legislation pushed by a female lobbyist if she agreed to have sex with him.