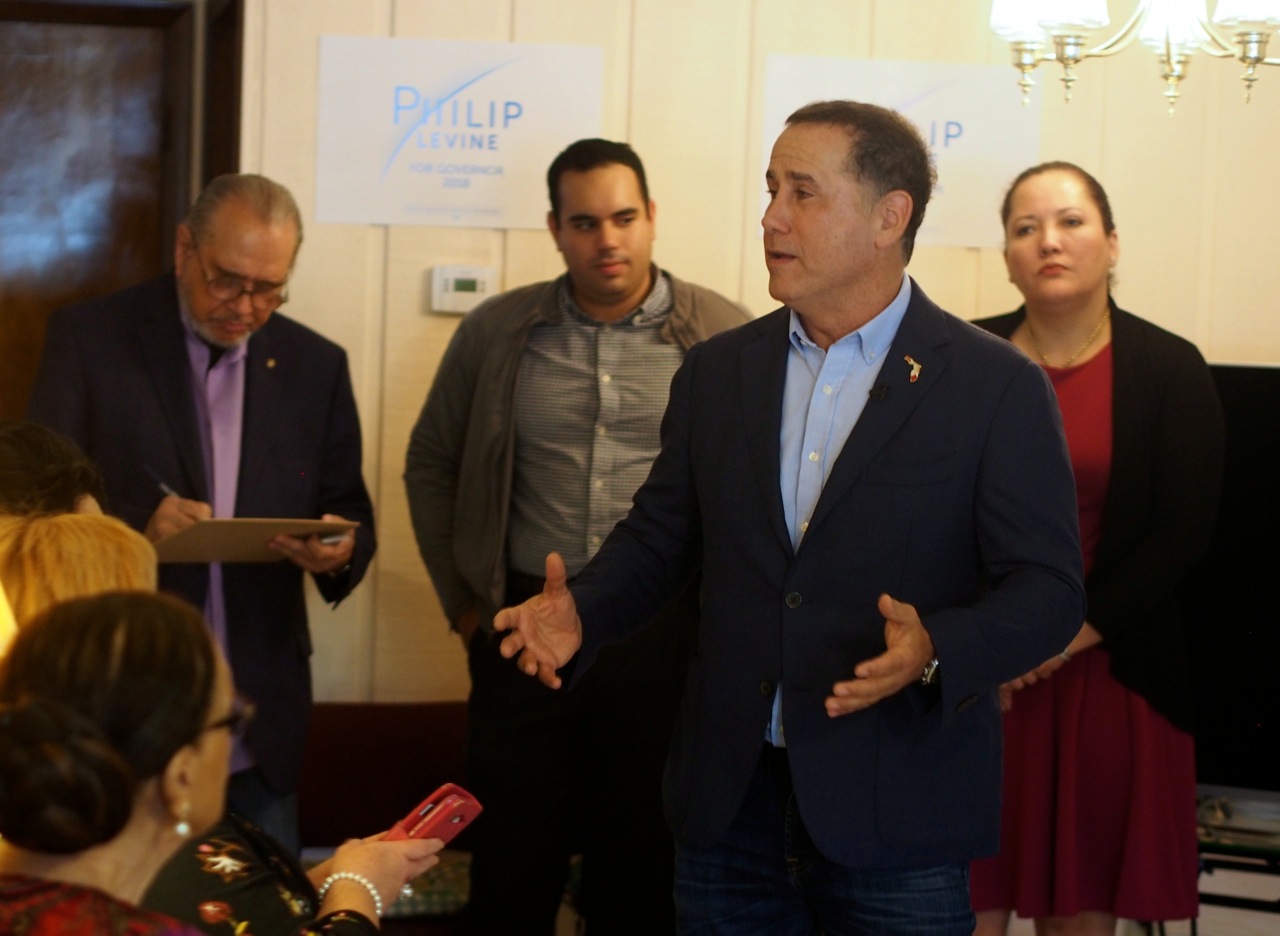 Starting his state bus tour at the Orlando home of one of the gran damas of Central Florida Puerto Rican activism and Democratic politics, Philip Levine declared the Hurricane Maria relief effort to be "embarrassing" and said the election will be when Puerto Ricans can respond.
"Puerto Rico and Puerto Ricans now who have moved to Florida are going to have the greatest opportunity to affect not only change in our state, not only change in our country:  the Puerto Rican community can change the world. Because what happens in this election this year changes the world," the Democratic gubernatorial candidate from Miami Beach said Tuesday.
Levine's prediction concluded the first of his 10 appearances planned around Florida this week in his bus tour campaign he's calling "Live! From Florida's Living Rooms." This event was in the living room of Pura Delgado, 86, whose activism in Central Florida dates back decades, and who has been credited for helping reveal, during the 1990s, the political value of the I-4 Corridor.
While that corridor may continue its potency in deciding state and, by extension, national elections, it is changing rapidly, and Levine sought to explore that dynamic Tuesday. With more than 300,000 people having fled Puerto Rico in the past three months for Florida, and many of them settling into the I-4 Corridor, their impact could be enormous starting this fall, Levine said in a living room filled largely, but not entirely, with Puerto Rican Democrats.
He's facing a crowded Democratic primary contest with former U.S. Rep. Gwen Graham, Tallahassee Mayor Andrew Gillum, and Winter Park affordable housing developer Chris King. The winner likely will face either U.S. Rep. Ron DeSantis or Florida Agriculture Commissioner Adam Putnam of the Republicans.
Levine condemned official federal responses to devastation of Puerto Rico as "one of the most embarrassing moments in American history," and sought to tie some blame to Republican Gov. Rick Scott, even calling him President Donald Trump's "BFF."
"Karma is a strange thing, OK? You've got to be careful who you are nice to and not nice to on the way up. It's time for Puerto Ricans to register and vote and remember, remember, never forget, what happened to Puerto Rico, and who was there, and who wasn't," Levine said.
Often moving between speaking English and Spanish, Levine was quick to remind them that as mayor of Miami Beach [an office he has since left] Levine brought the first private plane of supplies to Puerto Rico after the Sept. 20-21 hurricane.
Levine's campaign had said in advance the speech would be a bit of a response to Scott's 2018 State of the State Address. But Levine gave his Orlando talk simultaneously to Scott's, and only mildly, and only occasionally, offered observations that he speculated were different from what Scott was saying.
Overall, Levine's recurring message was not one of major changes of government, but changes in priorities. Florida can address affordable housing by making it more of a budget priority, he said. Florida can prepare for climate change by making community resilience an institutional priority, which he pledged to do. Florida can attract companies that offer high-pay jobs by making priority-level investments in public education and public transportation.
At times Levine sought to fashion himself as the moderator.
"Everybody kind of wants the same thing…. It's amazing, You want clean water. You want good education. You want health care. You want a better paying job. You want public transportation. You to make sure your family is safe. Everybody wants the same thing," he said.
"I'm not right. And I'm not left. I'm forward," he insisted.