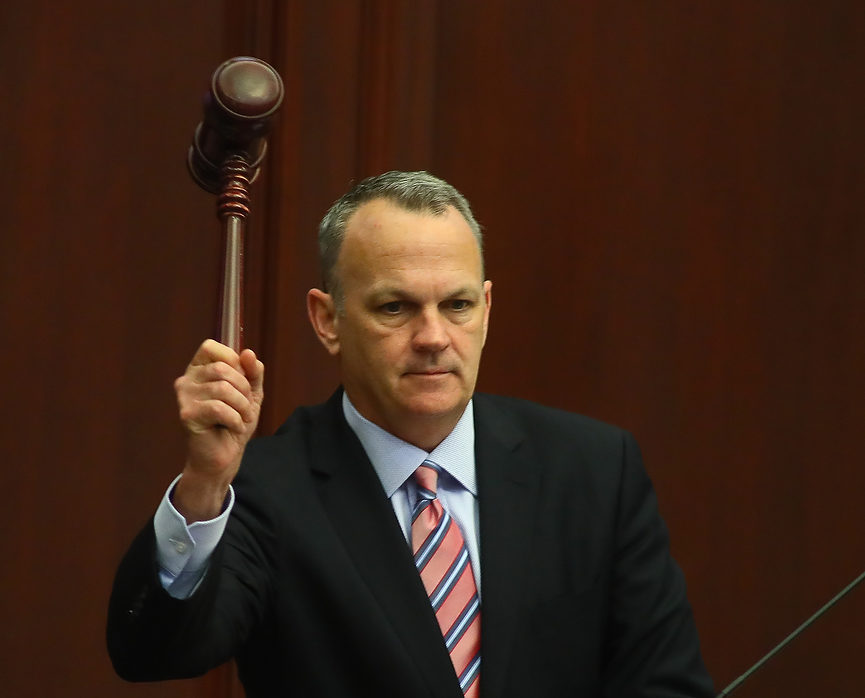 House Speaker Richard Corcoran kicked off the 2018 Session vowing to challenge the status quo by bringing a deluge of reforms and not allowing Florida to "become a sanctuary state like California."
"When I look around this room, I see a chamber filled with reformers," Corcoran said. "I don't say that to flatter you, I say that because your records speaks for itself."
The Land O'Lakes Republican is entering his last Session as House Speaker and is widely expected to announce his bid for governor when Session ends.
Before that happens, though, he has laid out his priorities. Among those is a controversial bill banning so-called "sanctuary cities."
While there are no sanctuary cities in Florida, Corcoran says there will be "dire, dire, dire consequences" if politicians leave the door open for them and don't force local officials to fully comply with federal immigration authorities.
"Last Session, we passed a bill that would have ensured that Florida would never be home to a sanctuary city, but the Senate failed to act," Corcoran said.
"Now there are politicians calling on Florida to disregard the rule of law and become a sanctuary state like California. That's unacceptable."
HB 9 is identical to the measure passed last Session. Sen. Aaron Bean is spearheading the effort in the Senate, but the bill has yet to be heard in a committee.
Prior to Corcoran's speech, House Democrats made a motion to take a caucus position against HB 9, which will be debated this week in the full floor after it was fast-tracked by House leadership.
House Democratic Leader Janet Cruz blasted Corcoran's speech as "campaign-style political theater."
"This bill is dangerous and it's time we consider it for what it is; trampling of fundamental constitutional principles only to drum up headlines and support from a political base," Cruz said.
Democrats alone don't have enough votes to block the bill from passing the Florida House, but they have promised lengthy, "spirited debate" to fight the proposal, which the ACLU calls an "anti-immigrant bill."
"Let's be clear, there are no 'sanctuary cities' in Florida. It's a waste of our time and the taxpayers' money to come up here for sixty days and debate legislation that is clearly unconstitutional and will be struck down by a judge almost instantly if it becomes law," Cruz said.