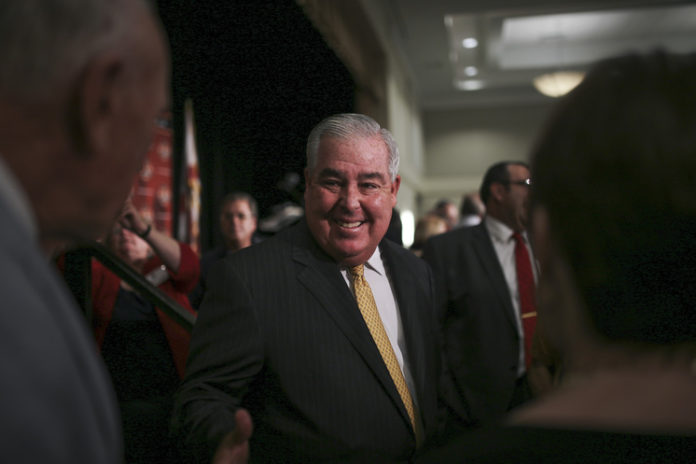 Democratic CFO candidate Jeremy Ring picked up what looks to be an endorsement from Orlando mega attorney John Morgan on Tuesday morning.
Morgan gave the punny nod via Twitter, quoting an earlier tweet from Ring saying that the pair had a "great meeting yesterday."
My hat is in his Ring. The @Yahoo guy made it big in the real world and would bring real world experience as CFO.

We don't need more professional politicians. #LessIsMore https://t.co/Umd4WyweKF

— John Morgan (@JohnMorganESQ) January 9, 2018
Ring is currently the only Democrat in the race, and while he was an exec at Yahoo during the company's glory days, one could be forgiven for labeling him a "professional politician" given that he spent 10 years in the state Senate before leaving office due to term limits in 2016.
His chief rival so far is sitting CFO Jimmy Patronis, who was appointed to the job by Gov. Rick Scott earlier this year after CFO Jeff Atwater resigned the position to take a job at Florida Atlantic University.  He faces longshot candidate Antoanet Iotova in the Republican Primary, while Brandon Republican Sen. Tom Lee is also likely to file at some point over next few months.
Ring has piled on endorsements over the past couple months from elected Democrats in the state legislature and Congress, but Morgan's endorsement is Ring's first from a non-Democrat, though just barely.
Morgan had long been considered a potential candidate for the Democratic nomination for governor, given his successful advocacy for – and bankrolling of – the medical marijuana amendment in 2016, though he announced in November that he wouldn't seek the nomination and would also leave the party.
"I can't muster enthusiasm for any of today's politicians. They are all the same. Both parties. I plan to register as an Independent and when I vote, vote for the lesser of two evils. And if I ever ran, run as an Independent," he wrote at the time.
If he did throw his hat into the ring as an independent, a recent poll found he could be a spoiler or possible contender in the race, mostly at the expense of Democrats.