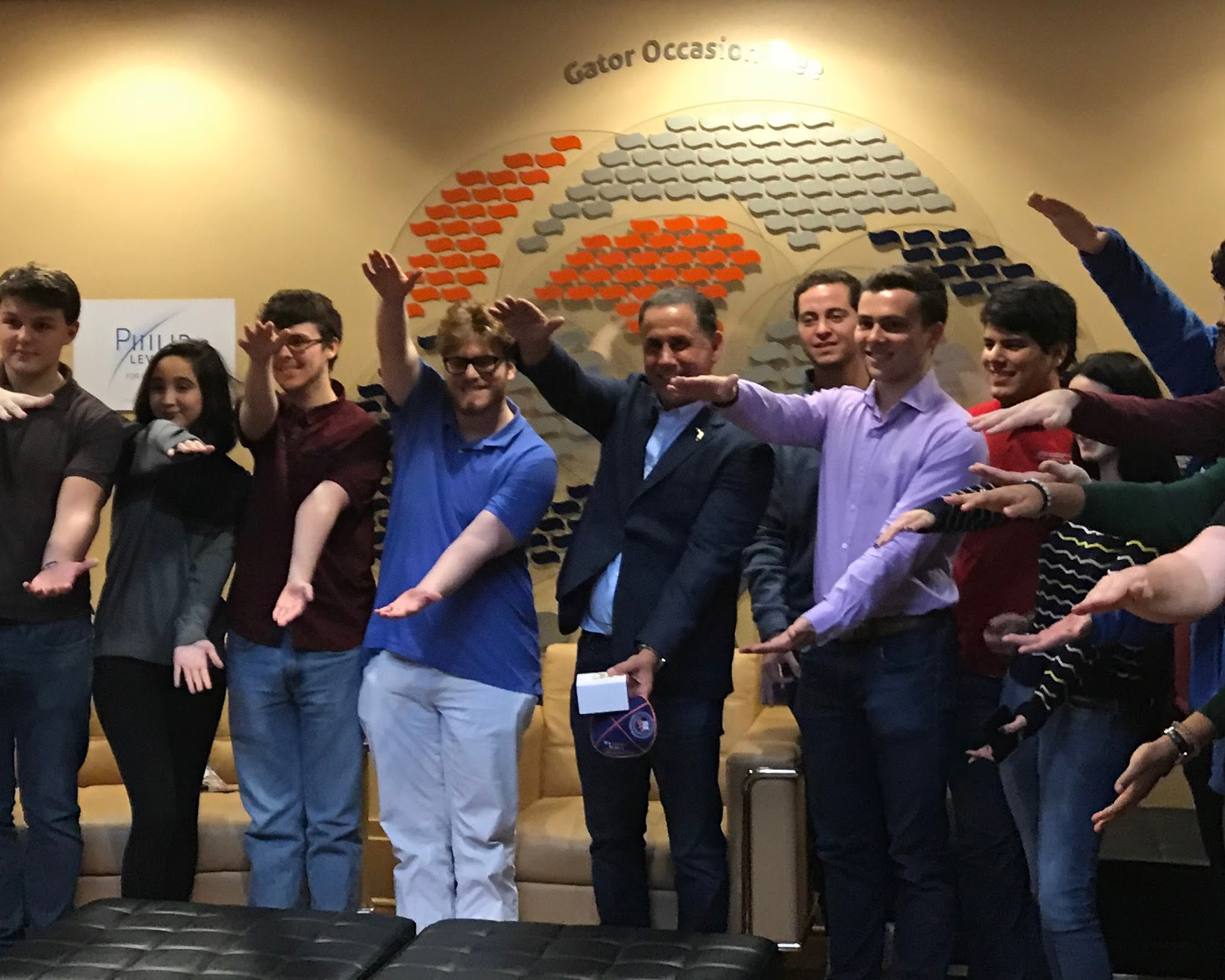 Democratic gubernatorial candidate Philip Levine gave his stump speech and fielded questions from a small group of college students Tuesday a few blocks away from University of Florida campus in Gainesville.
"You all must be really bored or really into politics to be here," Levine said as he walked into  Lubavitch Chabad Jewish Center, where about two dozen students had gathered to hear the former Miami Beach mayor speak.
The afternoon event was the second stop of a 10-city bus tour his campaign is calling "Live! From Florida's Living Rooms." The tour kicked off earlier Tuesday in Orlando.
The campaign had billed the event as a response to Gov. Rick Scott's 2018 State of the State address, but after none in the crowd said they had seen the speech he said they "didn't miss much" and dove right into his vision for the Sunshine State
"Global warming is key, college is key, jobs are key," Levine said, explaining that he wanted to recreate a sort of "Boston effect" in Florida where educational and work opportunities are so plentiful that Florida's home-grown talent opts to stay rather than head to competing states.
If elected, Levine said he would work toward that vision by pushing for an increase in the minimum wage in his first year as well as starting a system where Florida students who can't afford college can get a "debt-free" degree if they commit to sticking around and working in the state for a "certain number of years."
Levine isn't advocating for a specific dollar amount for the minimum wage, but would like to give individual communities home rule on wages so they can set them higher. During his time as mayor Miami Beach passed an ordinance to move toward an hourly wage of $13.31 by 2021, but Florida courts struck it down last year.
Both proposals earned some applause.
Levine said that his administration would also aim to attract big-name companies that pay higher wages to move or expand their operations in Florida, and dogged Scott for his focus on service industry jobs that typically pay out lower wages.
"There's nothing wrong with working at McDonalds or Wal-Mart, but I have a feeling that that's not why you're in college," he said.
The candidate also spent a good chunk of the hour-long parlay speaking about climate change, which was a major focus during his tenure as Miami Beach mayor.
Levine called fossil fuels "yesterday's news" and said he wanted Florida to be a leader in solar energy production.
"They call Florida the Sunshine State, not the partly cloudy state," he said. "Let's build Solar City or Sunshine City and show the world what we can do."
He also pitched adding a "Chief Resiliency Officer" who would coordinate with regional officers to identify problems and plan out what Florida needs to do to be ready for climate change and prepare for catastrophic storms like Hurricane Irma.
Levine, who started his campaign in November, is running in a four-way Democratic Primary against former congresswoman Gwen Graham, Tallahassee Mayor Andrew Gillum and Winter Park businessman Chris King. The winner of the primary will likely will face either U.S. Rep. Ron DeSantis or Florida Agriculture Commissioner Adam Putnam of the Republicans in the general election.