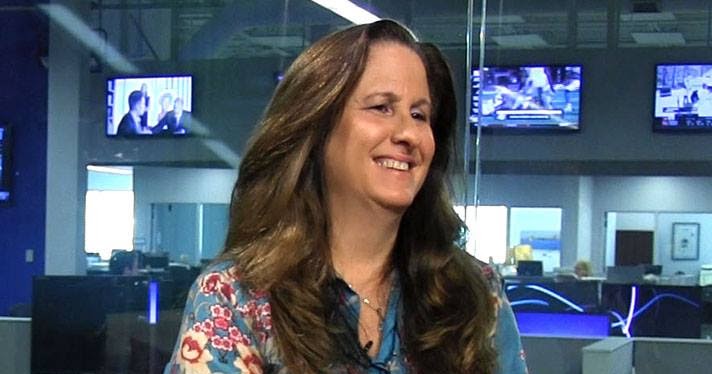 Editor's note: Miami Herald journalist Carol Marbin Miller and former Herald reporter Audra D.S. Burch became the first recipients of the Lucy Morgan Award for Open Government Reporting, recognized for the series "Fight Club: Dark Secrets of Florida Juvenile Justice."
Established in November by the First Amendment Foundation, the award is named for Pulitzer Prize-winning Tampa Bay Times reporter Lucy Morgan, noted for using public records to expose corruption, reveal conflicts of interest and to serve the public interest.
Fight Club, a deep-dive series examining a decade of dysfunction in Florida's juvenile justice system, was prompted by the 2015 beating death of Elord Revolte, a foster child held in the Miami-Dade juvenile lockup.
Burch has since joined The New York Times. Miller gave an acceptance speech Tuesday during the FAF's annual Sunshine Luncheon at the Governors Club in Tallahassee:
Thanks so much to the First Amendment Foundation for this tremendous honor.
Twenty years ago, I was a colleague of Lucy Morgan's at the St. Petersburg Times. I could not be more proud than to receive an award that bears Lucy's name.
Thanks also to my editors and colleagues at the Miami Herald, some of whom are here today, who give reporters like Audra Burch and me the support necessary to do the kind of journalism that gives the public the information it needs to hold our leaders accountable for the policy decisions they make, and the public funds they spend.
You do not have to be an investigative reporter to know that the open government laws in Florida — and watchdog journalism everywhere — are under siege.
Fight Club was two years in the making. That's a commitment that is increasingly rare as staffs shrink and profit margins decline.
Like a lot of accountability journalism, Fight Club started small. When Audra and I — and Casey Frank, the best editor in Florida — learned that a teenager likely had been beaten to death on the orders of a youth officer, we were determined to figure out exactly what had happened, and whether what happened was an aberration or part of a pattern.
Our review of several thousand pages of inspector general reports led us to a man named Uriah Harris. Harris had repeatedly used a broom handle to beat good manners into teenagers who cussed at the Avon Park Youth Academy. His Florida criminal history was stunning: Harris had been arrested 11 times, including for such offenses as resisting arrest, domestic violence, aggravated battery and child neglect.
Harris became an important character in Fight Club, but he was not the only person with a deeply disturbing criminal history who had unfettered access to teenagers we are supposed to be protecting and rehabilitating in our billion-dollar juvenile justice system.
But if Senate Bill 690 is signed into law this session, the arrest records of Uriah Harris, and as many as a million other Floridians, will vanish from our sight.
Who among us … and who among our lawmakers … would want Uriah Harris to babysit their children? To be a caregiver for a frail parent? Who would leave Uriah Harris alone with their developmentally disabled or autistic child, not knowing what was lurking in his past?
When this bill passes — and it will, absent a veto from Gov. Scott – you will have no way of knowing the criminal history of any Floridian who was not convicted of a crime.
Maybe Uriah Harris is a profoundly unlucky guy, arrested 11 times for crimes he did not commit. Maybe that's a risk you'd take at your daughter's daycare center, or your dad's nursing home.
The bill's supporters will tell you that an arrest record can be a lethal impediment to employment prospects, particularly for poor people, and people of color.
There are ways to deal with that. We were all young once. Surely people who make hiring decisions can tell the difference between a kid who shoplifted on a dare in 7th grade and a serial predator with a good public defender.
Suppressing the truth, and rewriting history, is never the answer. And it's never effective, either. Democracy thrives in the sunshine. It wilts in the darkness. If you doubt this, go to the Regal Cinema at Governor's Square Mall and watch The Post.
It's a necessary history lesson, and, spoiler alert, it has a happy ending.
Before Facebook and Instagram and cameras on every street corner and audio-video recording devices in everybody's hand every minute of the day – before cameras at the Tennyson – even before the invention of the printing press–-the truth always comes out.
You have never heard your parents or your Sunday school teachers say that "dis-honesty is the best policy."
Eighteen months ago, I stood before many of you at a Florida Society of News Editors convention and said, "There's a war on open government, and we're losing."
We've had some victories since. Earlier this month, the city of Tallahassee and its newspaper of record forged an agreement that requires the city to preserve text messages and other forms of digital communication for public inspection.
The settlement ended a shameful chapter in the city's history in which leaders destroyed damning texts amid an ongoing corruption scandal. It capped a period of intensely powerful reporting of which the Tallahassee Democrat can be proud — and it will pave the way for greater transparency across the state.
Other news organizations offered the kind of reporting Floridians require as the state continues to serve as a bellwether for the nation: In a fine series called Walking While Black, the Jacksonville Times-Union and ProPublica revealed stark racial disparities in the Duval County Sheriff's enforcement of jaywalking and other minor offenses.
The Tampa Bay Times explored the deadly consequences of a teen car theft epidemic in its Hot Wheels series. Both my paper and the South Florida Sun-Sentinel looked at how 13 elders baked to death in a nursing home-turned-hothouse.
The Palm Beach Post has been relentless in mapping every square inch of the opioid crisis. How relentless? This year's Florida Press Club Lucy Morgan In-Depth Reporting Award, went to Post reporters Pat Beall, Christine Stapleton, Lawrence Mower and Joe Capozzi.
All of these stories rest upon a solid foundation of public records. That's where you go to find truth.
Access to public records is a constitutional right in Florida, and yet, today, there are 1,122 discrete and largely illegitimate exceptions to that right. The First Amendment Foundation's Barbara Petersen is monitoring more than 65 bills now, and several of them are as big a threat to investigative journalism as SB-1142.
For example, Senate Bill 808 would allow the governing boards of state water management districts to conceal the true value of public lands until after they're sold — facilitating the kinds of insider dealing that benefits … insiders … and betrays the public's trust.
As legislative committees hold hearings in response to Fight Club, it is worth noting that Herald readers — and lawmakers — would know a great deal more about conditions in our juvenile detention centers had we been able to read scores of inspector general reports detailing the abuses.
But we couldn't, because DJJ administrators wasted no time in destroying the records after the five-year retention requirement expired – a retention schedule developed when records were stored in filing cabinets, not cyberspace.
And after the Herald reported that Broward emergency managers had failed to even eyeball the emergency management plan of the Hollywood nursing home where 12 frail elders died, Broward and other counties refused to disclose any others, deploying a ridiculous exemption meant to protect public buildings from terrorists.
How do we turn this rising tide of secrecy?
Last year, a workgroup of FSNE members restored an open-government grading system for lawmakers. It's a useful tool, and as a member of that workgroup, I can tell you there is some satisfaction in letting our readers know which of their lawmakers truly believe in transparency, and which of them don't.
But scorecards have never discouraged a Florida lawmaker from sponsoring, supporting or voting for legislation that is contrary to the spirit, or even the letter, of our open government laws.
What does discourage them is aggressive and vigorous insistence that the spirit and the letter of the law be followed. Some of us here remember when Florida had an attorney general who paid more than lip service to the open government laws.
From 1970 to 1978, Robert Shevin assigned his best lawyers, Barry Richard and Sharyn Smith, to deal with affronts to the open meetings and public records laws. He did not look the other way. He did not outsource that job to the press. He knew that you had to housebreak open government scofflaws one at a time, and he invested whatever was necessary to fight with every scofflaw about every affront to the public's right to know.
But as the Florida press corps has shrunk, so has its infrastructure. We have fewer First Amendment lawyers, fewer advocates and fewer dollars to spend in defense of the public's right to know.
This is our weakness, and those who would govern in darkness know this.
As I said when we last discussed this: The secret-keepers know that the big newspapers can't afford to sue very often, and the small ones can't afford to do it at all.
As reporters, we know the difference between public officials who are acting in good faith and those who are playing games. We need to get better at talking about it. "DCF tightens grip on records" was the headline on a front-page Miami Herald, next to a wall of black ink that covered up – pun intended – a ridiculously redacted public record in a story I wrote about how DCF turned dark after a series Audra, and I wrote about the deaths of 477 children.
Thanks to Mary Ellen Klas' reporting, we know that AHCA has also begun to slow-walk public records requests and ratchet up the redactions in the wake of nursing home stories the agency does not consider sufficiently "positive."
On every story on every beat, every day, we can, and should, be telling readers every single time we stumble over a legal or illegal, roadblock to the right to know that our Constitution provides.
We know how to write, and we know what needs to be written. We can win this war. And we must.