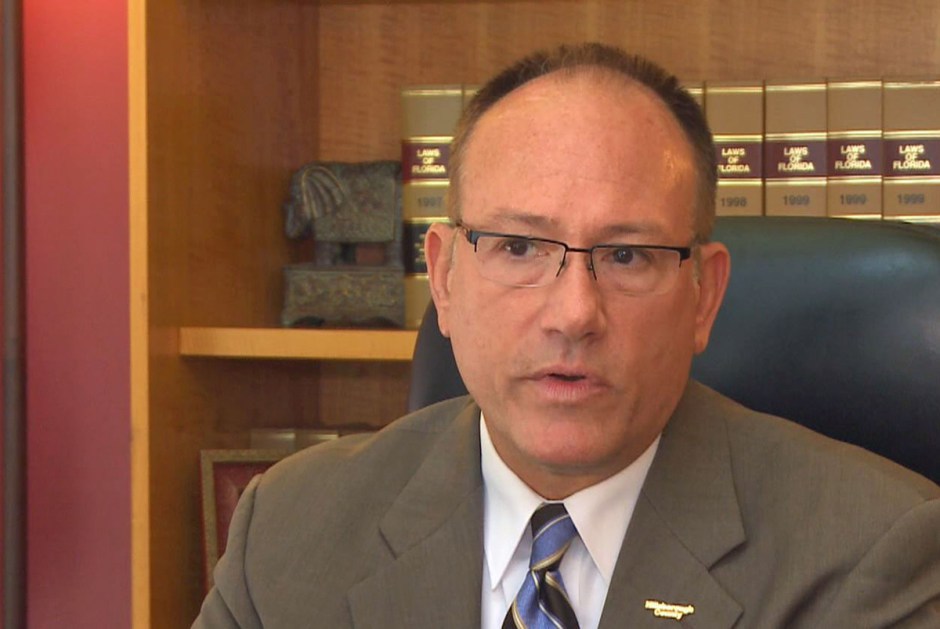 Victor Crist is hitting back hard at comments from Democrat Mariella Smith and her campaign over his intention to extend his career on the Hillsborough County Commission by running for the District 5 countywide seat.
Smith is one of five Democrats seeking an opportunity this year to take on the GOP incumbent this fall.
The Smith campaign said that Crist was "disingenuous" when it told Florida Politics last week that while his public service has been his "passion" since 1992, his work in the advertising industry was his true career.
Crist spent the last 25 years in public office — 18 years in the state Legislature and now began his eighth year on the County Commission.
"First of all, my career has been advertising," Crist said in an interview last week. "I've owned and operated an ad agency for 35 years, of which I'm still president of and still work for today. That's my career."
Crist was referring to Metropolitan Communications, an advertising and marketing agency where he serves as president and CEO.
However, the Smith campaign notes that Crist listed just $16,014 of income in 2016 from Metropolitan Communications, while his salary with the BOCC was $98,783, with another $2,796 payment to cover travel as a commissioner.
"After 26 years of serving in electoral politics, it is silly of him to claim he's 'not a career politician,'" said Shelley Reback, Smith's campaign manager, in an email last Friday.
"There's absolutely nothing wrong with the fact that his income from the County exceeds his income from his ad business; after all, being a County Commissioner should be a full-time job for whoever has it. We would object if the facts were the other way around! But, there's something wrong when he makes misrepresentations about facts to serve his political ends," Reback's email said.
"He's a career politician, buoyed by corporate interests, and the record of the BOCC these last eight years is squarely on his shoulders. He should own that and not try to position himself as an ad man with a politics hobby."
On Monday, Crist repeated that his "elected service is his public service," but his "career" has been in the advertising industry, which he insisted is affording him the ability to serve in public office.
That certainly makes sense on a certain level, since during 18 years in the Legislature, he was making an incredibly modest salary ( state legislators currently make less than $30K annually).
However, Crist now makes more than $98,000 annually (and has for the past seven years).
"What I show as a net profit is after all my deductions and write-offs," Crist says, adding that "I do have to use a portion of my compensation to pay others."
The longtime legislator touted his decades in public service, saying he has helped build schools, health centers, community centers, parks, and various programs that have helped out many in the community over the years.
"I have been recognized by hundreds of nonprofits and professional organizations," he said, including police officers, state attorneys, children and families and faith-based service organization among others.
And he took verbal aim at Smith, disparaging her work as a community activist.
"She claims to be a civic activist, but has little to show for it. I put my record up any day. She can't even come close to it."
Referring to Smith's castigating the current commission as being more for corporations than the people, Crist asked if she would include the two Democrats on the board in such criticism?
"Let's call it what it is — political gamesmanship by a political wannabe that's got little to show for herself in leadership and accomplishments, so she'd rather run on attacking me than in what she can or has done. When you've got done little to nothing to show for yourself, you attack, you attack you attack, and that's what she's doing. "
"Sounds like he's the one attacking actually," Smith retorted, adding that she was surprised "that he would make this ugly personal attack."
Smith has won several awards for her work as a community advocate and environmental activist over the years; Tampa Rep. Kathy Castor, County Commissioner Pat Kemp, and former Tampa City Councilwoman Linda Saul-Sena have heartily endorsed her.
"There is no one like Mariella that I know that is more qualified, has a bigger heart and is more determined to make things right here in Hillsborough County, " Castor said while introducing Smith at her campaign kickoff in Ybor City last week.
Smith received the Citizen Planning Advocacy Award from the American Planning Association's Suncoast Section for advocating for smart growth management and organizing public participation in community planning. Along with the leaders of United Citizens Action Network, Smith won the Hillsborough County Planning Commission Chairman's Award.
And she was recently awarded the "Black Bear" award from the Sierra Club.
Smith and other Democrats have been critical of Crist, accusing him of playing "musical chairs" on the BOCC, as he is now running for the countywide commission District 5 seat after already serving two terms representing District 2.
Crist said other Democrats had done it, and questioned why Smith hadn't called them out.
"I find it odd that she didn't raise the issue when Phyllis Busansky did it," Crist told Florida Politics last week. "I find it odd she didn't raise the issue when Ed Turanchik did it. I find it odd when she didn't raise the issue when Jan Platt did it. I find it odd that she hasn't raised the issue when any member of her political party has done it."
Crist added that the law is clear: "You are allowed to serve two terms in a single member district and then graduate up to being able to serve two terms in a countywide district … that is usually the way it's done. And to criticize me for it is strictly political folly."
Indeed, there have been commissioners who have done what Crist is attempting to do — seeking to stay on the board by running for another seat. (Most recently, it was Ken Hagan, who is closing in on having served on the commission for 16 consecutive years and is pursuing a run for a different seat that could give him another 4-8 years on the board).
Florida Politics reviewed whether Crist was accurate in citing those three Democrats as having pursued similar extensions on the board:
Busansky did not. She served two terms from 1988-1996, followed by a run for the Hillsborough congressional seat vacated by Sam Gibbons in 1996, where she lost in a Democratic primary to Jim Davis.
Turanchik did not either. He served two terms from 1990-1998. He did not pursue another seat on the board when his second term ended. He instead became the lead public official in the attempt to bring the 2012 Summer Olympic Games to the Tampa Bay area.
And what about Platt, the revered longtime public servant who served decades on the commission before passing away last November at the age of 81? That's a bit more complicated.
Platt was first elected in 1978 before there were single-member districts or term limits. She was re-elected to that same seat in 1982.
In 1983, five years into Platt's tenure, the county created a charter which introduced term-limited and single-member districts. The charter says that no commissioner who serves more than six years and two consecutive terms in one of the four geographically defined districts can run for another term in any of those districts. The same rules apply to commissioners representing countywide districts. Anyone who has served two terms as a district commissioner can run for election countywide, and vice versa.
Platt then ran for office for her same seat under the new charter in 1986 and won, and ran for a second and final four-year term for that seat in 1990. Term-limited in 1994, she did not immediately attempt to run for another seat on the board.
Instead, Platt ran and lost a Tampa mayoral bid to Dick Greco in 1995. She next ran again for Hillsborough County Commission in the at-large District 6 seat in 1996 and ran for re-election in 2000.
Platt retired from the board in 2004, at the conclusion of her second term.
"I'm finding a lot of people are really disturbed by this musical chairs seat switching of these career politicians," Smith says of some of her exchanges with voters on the campaign trail.
She's only calling out board members attempting to continue their careers on the board after term-limits kept them from the seat for which they were initially elected, Smith added.
"Victor Crist has 26 years of being paid public money as a career politician," she repeated. "It is what it is. It's silly to try to call it anything else."