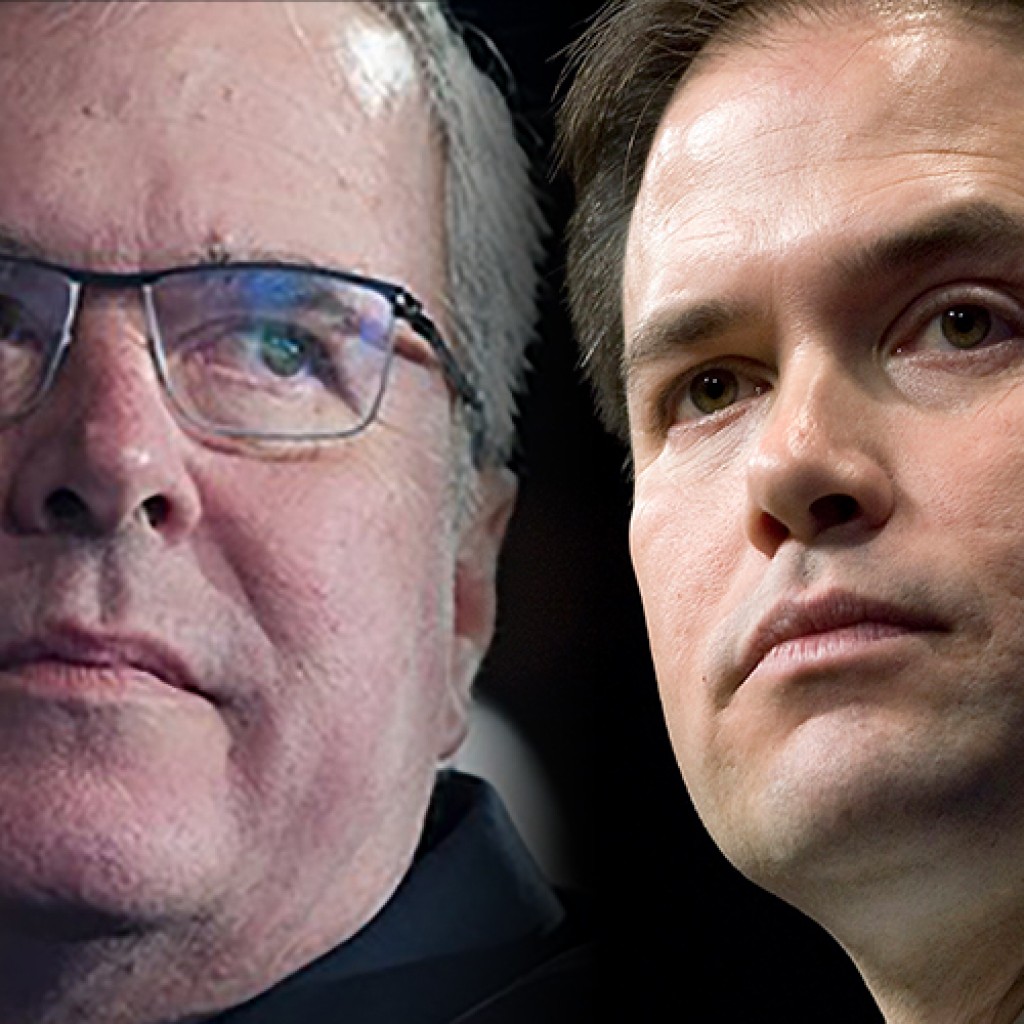 The perception that Jeb Bush and Marco Rubio were close was shattered during the 2015-16 race for President.
The two Miami-area GOP heavyweights clashed in debates and on the campaign trail as they vastly underperformed to expectations in losing the Republican nomination to Donald Trump.
The former Florida Governor took a verbal shot at the U.S. Senator on Friday, when he accused Rubio of abdicating a leadership role in the current debate on immigration.
"God forbid you actually took on something that was controversial and paid a political price," Bush told USA Today. "That's the attitude in D.C. right now. Certainly Sen. Rubio is no different in that regard.
"Marco is a talented guy and he understands this issue really well, and maybe behind the scenes he's working hard. But at some point, his leadership would be really helpful."
Rubio has said he believes an agreement in Congress to protect the approximately 780,000 undocumented immigrants in the Deferred Action for Childhood Arrivals (DACA) program can and should happen.
However, skepticism is high after President Trump and Senate Minority Leader Chuck Schumer were unable to come to an agreement on DACA last weekend, forcing the government to shut down for a couple of days last week. That occurred despite the intervention of centrist senators from both parties to attempt to resolve the problem.
Florida Democrat Bill Nelson was part of that group, but Rubio was not. He said earlier this week that any such a deal on immigration shouldn't be the product of a "gang" of senators as it was with the group he was a part of for comprehensive immigration reform the Senate passed in 2013.
The junior Florida Senator said if Democrats want to talk about a path to citizenship for undocumented immigrants, then a debate about chain migration has to be on the table. But he said that Democrats have to understand that such a deal won't happen until they agree to authorize funding to construct a wall on the U.S.-Mexican border.
He added that that progress can happen quickly on the issue, "but it cannot be a product of a gang of four or five people meeting somewhere, putting a bill on the floor, and saying 'take it or leave it.' "
"I was part of an effort like that in 2013, I see others are trying to do it now. It won't work. This issue is too critical to too many people to be a product of a small group and a 'take it or leave it' proposition."
In his interview with USA Today, Bush blamed both political parties when sizing up the ongoing battle over immigration. The White House on Thursday released a plan that provides a path to U.S. citizenship for up to 1.8 million undocumented DREAMers in exchange for $25 billion to help build a border wall and a nearly 25% reduction in legal immigration.
Members of both parties panned the deal for different reasons. With the clock ticking down to Feb. 8 for another deal to keep the government functioning, Bush said the immigration issue can't continue to be punted by lawmakers who were sent to Washington to find solutions.
"The left and the right have figured out that this is a great political wedge issue," Bush said. "It's not a moral issue or an economic issue. It's purely an issue of, 'How do we poll this to make sure our team, our tribe, does better?' "
The paper describes the former Florida Governor as having "railed" against President Trump's alleged comments describing Haiti, El Salvador and African nations as "shithole" countries.  And he bemoaned Trump's behavior in office and says it could be his downfall.
"The character of the guy and the (turnover) and fighting, and just the constant chaos around his presidency that is self-inflicted has made it hard for him," Bush said. "I want the president to succeed. I don't think he will succeed if he continues on this path."