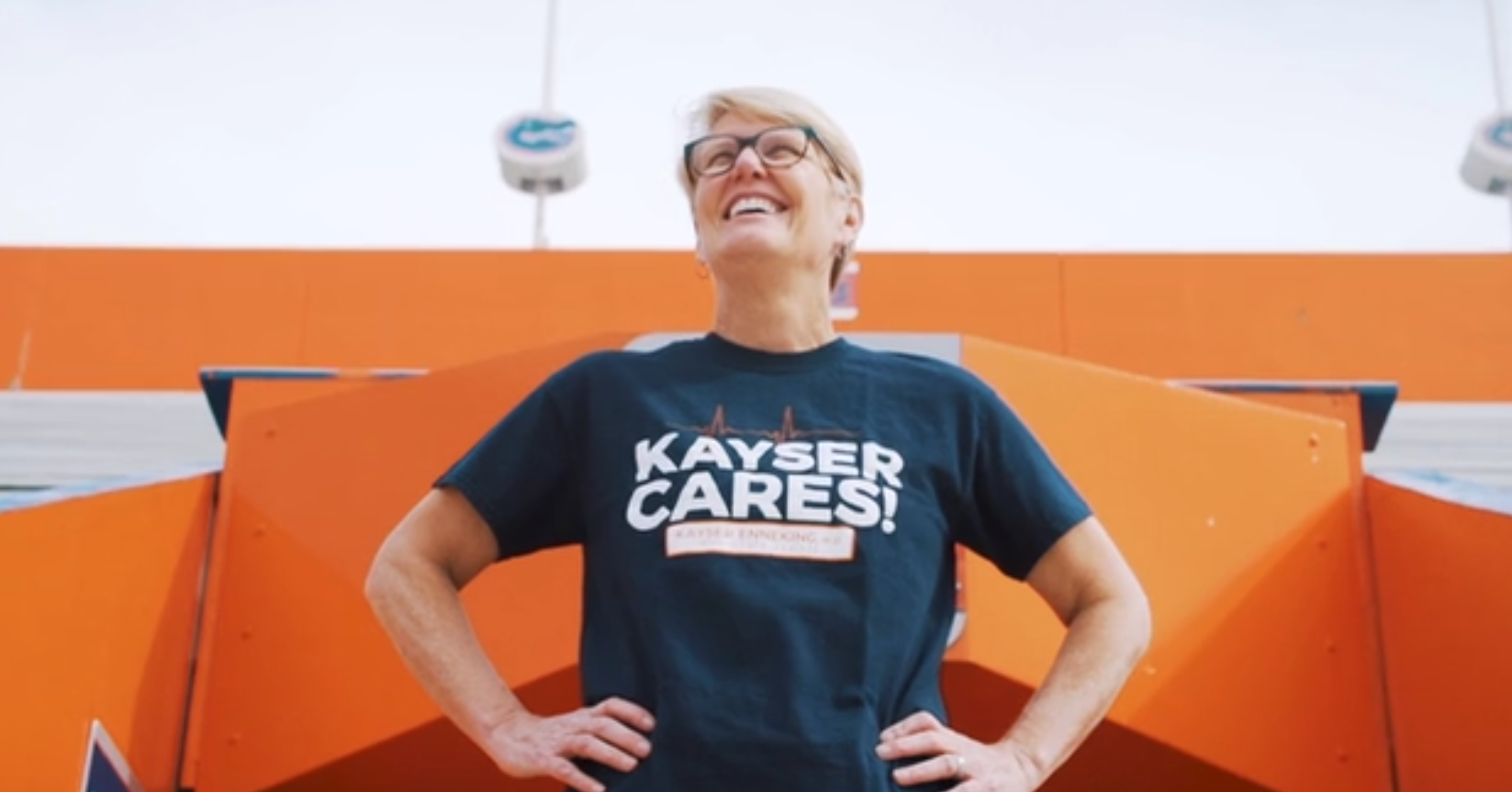 Gainesville Democrat and Senate District 8 candidate Kayser Enneking released a campaign ad Tuesday that her campaign says will begin running online in the coming days.
The ad, titled "Steep Climb," depicts the University of Florida physician climbing the steps of the Swamp with a script encouraging district residents to get involved in politics.
"Running for office is a steep climb. It has never been more important to elect leaders who will work for our communities," Enneking said in the video. "I need your help to get to the top."
Enneking then implores watchers to spread her campaign's message on Facebook, their churches and at their kids' sports events.
"We can get to the top, but it's going to be a steep climb. Are you in?" she said.
Enneking's ad didn't take any jabs or even mention her opponent, incumbent Republican Sen. Keith Perry, who was elected to the seat over Democrat Rod Smith in 2016. Enneking said she wanted her first ad to give a positive message, but she did sneak in a knock on Perry in the press release announcing the video.
"With all of the negativity surrounding politics these days, we wanted our first campaign video to inspire people to get involved because it has never been more important to elect leaders who represent our families – not donors and special interests.
"I was inspired by the Women's Marches to do more for our community and when politicians in Tallahassee and Washington put our families' health care at risk, it became apparent that we need more doctors – and less politicians – in office. The only way we will be able to take our country back is if we come together. It will be a tough climb but never count out us Gators." she said.
SD 8 is one of a handful of districts that became more winnable for Democrats after Florida courts approved new maps ahead of the 2016 election.
SD 8 was drawn to be more favorable to Democratic candidates as part of the court-ordered rebalancing of the districts last year.
Despite containing nearly 30,000 more registered Democrats than Republicans, Perry won by 4 points against former Smith in one of the more hotly contested – and expensive – races in 2016.  Trump was also able to take the district, though his win came by only fractions of a point.
Enneking has been able to stay competitive in the fundraising race, with more than $145,000 raised including $10,000 in loans. She had about $127,000 in the bank at the start of the year.
Her primary opponent, Olysha Eva Magruder, has about $6,000 in her campaign account, while Perry had raised a little over $229,000 and had $210,000 on hand after posting an impressive $92,900 raised in December.