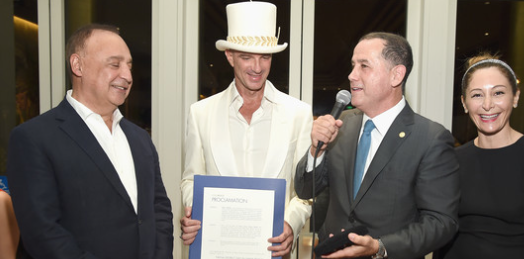 While Democratic gubernatorial candidate Philip Levine's campaign spent money on January TV advertising as if it was already July of this election year, questions arose among political insiders about one of the sources of some of that political campaign money.
Questions starting with: Is there such a thing as a good billionaire Russian tycoon getting involved in American politics, even someone who who had become an American citizen decades before he made a fortune in the post-soviet Russian economy?
On Jan. 17, a global conglomerate called Access Industries Inc., with corporate offices in New York, London, and Moscow, founded and run by Russian-American multi-billioniare Leonard [Len] Blavatnik, donated $100,000 to All About Florida, the independent political committee bankrolling Levine's television commercials.
It's the second major donation Access Industries has made to All About Florida, following $200,000 contributed last June 21. Together, the two donations make Access Industries the largest outside contributor to Levine's campaign.
In addition, Len Blavatnik's brother, Alex Blavatnik, executive vice president of Access Industries, donated another $25,000 to All About Florida.
Levine's campaign told Florida Politics Wednesday that, as mayor of Miami Beach, he had become friends with both Len and Alex Blavatnik, who bought and developed real estate and maintained residences there in recent years, and that Levine respects the family's bipartisan political interests and philanthropy. Levine's campaign dismissed as not relevant any allegations raised about the Blavatnik family's connections in Russia, its involvement in oil and gas exploration techniques that Levine opposes on policy, and the company's support for President Donald Trump inauguration.
The Blavatniks could not be reached for comment. A spokesman for Access Industries, Jason Juceam of the Brunswick Group business consulting firm, initially declined comment, but a few hours after this story was originally published on Thursday he responded with some statements, and this story was updated later. Thursday to reflect those statements.
The Blavatniks are, like many billionaire families, citizens of the world, with homes and real estate holdings in Miami, New York, Connecticut, and London, and presumably also in Tel Aviv and Moscow where they have substantial business holdings and personal interests.
Len Blavatnik was born in Odessa, when it was part of the Ukrainian Soviet Republican, back when the Ukrainian population was as peppered with ethnic Russians as Florida is today with Yankees. Blavatnik was "thrown out of Russia in 1978 as a 'Refusenik,' along with his family," and became an American citizen in 1984,  Juceam stated in an email.
After the break-up of the Soviet Union, Odessa became part of the independent Ukraine, and then in 2014 Russian Leader Vladimir Putin took it for Russia when he sent in the Russian military to occupy and claim the Crimea region. Blavatnik spent most of those years living in the United States and the United Kingdom. Today he has has both American and British citizenship, and was knighted in England.
The Blavatniks today also are major political contributors in the United States, making scores of donations over the past two decades, totaling many million dollars, to campaigns, candidates, parties, political committees, and political causes. That started to draw international attention with Access Industries' $1 million donation to the inauguration committee for President Donald Trump's inauguration in late 2016, plus $12,000 to Trumps' legal defense fund last year. The Blavatniks often are referred to as big Republican donors, evidenced by big checks written to Republican party committees and to the 2016 campaigns of  Senate Majority Leader Mitch McConell, and Florida Republican U.S. Sen. Marco Rubio's and former Wisconsin Gov. Scott Walker's presidential runs.
[Len Blavatnik's wife Emily Blavatnik, also a frequent and big campaign contributor, donated to Republican U.S. Rep. Ron DeSantis of Ponte Vedra Beach when he ran for the U.S. Senate in 2016. DeSantis is running for governor this year, and presumably could face Levine in November.]
But the Blavatniks and their company did not donate to Trump's campaign.
And they've also donated, in the tens and hundreds of thousands of dollars ranges, totaling millions, to Democrats, including to Hillary Clinton, Barack Obama, Joe Biden, John Kerry, and Florida's Democratic U.S. Sen. Bill Nelson.
Len Blavatnik also is known as one of the most generous philanthropists in the world today, having given tens of millions of dollars to Oxford University in England and to Harvard, Columbia, and Yale universities in the United States, and for having established a major foundation to award young scientists, among other causes.
He had been reported to have had close associations with Putin [which he has denied through his lawyers,] and with Russian tycoons reported to be in Putin's inner circle, such as Viktor Vekselberg and Oleg Deripaska. In some cases, those reports and his contributions to Trump had led to sharp criticism of some of his beneficiaries for having accepted his money. One such critical story in The Guardian of London that had labeled him a "Putin Pal" last September led to this retraction from the paper: "Leonard Blavatnik's lawyers have informed us that their client has had no personal contact with President Putin since 2000 and that he has never been a close friend or confidant of President Putin."
[The Guardian also reported that Blavatnik's lawyers objected to the story's use of the description "oligarch" but that the editors were sticking with it.]
Len Blavatnik reportedly is worth more than $20 billion. Much of that fortune came from businesses he started in the 1980s from London and New York, and then aggressively pursued in Russia after the break-up of the Soviet Union. In the 2000s he sold off some of those companies for billions.
His company Access Industries has bought and sold large aluminum, oil, petrochemical, and plastics companies in Russia. At one time it partnered with BP Oil for controlling interests in TNK, Russia's third-largest oil company. Today Access Industries or Len Blavatnik himself own EP Energy in Houston, holdings in aluminum, communications, technology, pharmaceuticals, real estate, fashion, and other interests around the world, including Israel's largest TV station, Warner Music in Nashville, Parlophone in the UK, and luxury properties, including some in Miami and Miami Beach.
And that's where Len Blavatnik and his brother Alex met then-Miami Beach Mayor Philip Levine.
Levine's spokesman Christian Ulvert said Levine befriended the Blavatnik brothers in 2015 when Len Blavatnik co-developed the ultra-luxury Faena Hotel Miami Beach, seen as a game-changing project in the city.
"They clearly believe in Mayor Levine's message of reshaping Florida's political landscape after one-party rule has dominated Tallahassee for two decades. They saw firsthand his successful tenure as mayor of Miami Beach and his belief of putting residents first," Ulvert stated when asked why the Blavatniks so strongly support Levine.
They have no business ventures together, Ulvert said.
Miami Beach, of course, is as good a place as any to befriend the kinds of people who might contribute generously to a political campaign. Levine's All About Florida raised $5.7 million in the past year or so. About half of that came out of his own pocket; but besides Access Industries' $300,000, the committee also got $100,000 or more from four other donors who are at least part-time Miami-area residents, plus  a couple dozen more checks of at least $25,000 apiece from residents or businesses there.
Levine is in a contest with former state Rep. Gwen Graham of Tallahassee, Tallahassee Mayor Andrew Gillum, and Winter Park businessman Chris King seeking the Democratic primary nomination to run for governor this year. The leading Republicans are DeSantis and Florida Agriculture Secretary Adam Putnam of Bartow.
Any support the Blavatnik family gave to Trump is more than balanced by all the support given to Democrats and to philanthropic causes, and such Trump support clearly does not reflect Levine's well-publicized stance, Ulvert maintained.
"Mayor Levine spent 2016 campaigning against Donald Trump and exposing his deep flaws and shortcomings as a businessperson and why the American people should be concerned with enrolling in Trump University," Ulvert stated in written answers to questions. "If Floridians want to be worried about who funds campaigns, they should look at the other gubernatorial candidates who are being funded by Tallahassee special interests with millions and millions of dollars. That should be a deep concern for every day Floridians who are tired of being left behind and left out by the politicians who control Florida government."
He also said the Blavatniks business interests, which have included companies that perform off-shore oil exploration and fracking, two techniques Levine denounced in some of those TV commercials that Access Industries' money helped pay for, should be considered no different than any other special interests that Levine has vowed to reject as governor.
"As Mayor, Philip Levine had one message for the special interests: the party is over! As governor, he will do the same and those who have seen Mayor Levine in action know that his commitment to seeing through his agenda will not be compromised by anyone as he is ready to shake up the levers of our state government and return government back to the people," Ulvert wrote.
In the photograph above: Len Blavatnik, Alan Faena, Philip Levine and Ximena Caminos, director of the Faena Arts Center, appear at the Dec. 1, 2015, opening celebration of the Faena Hotel in Miami Beach. [Photo by Dimitrios Kambouris/Getty Images North America.]