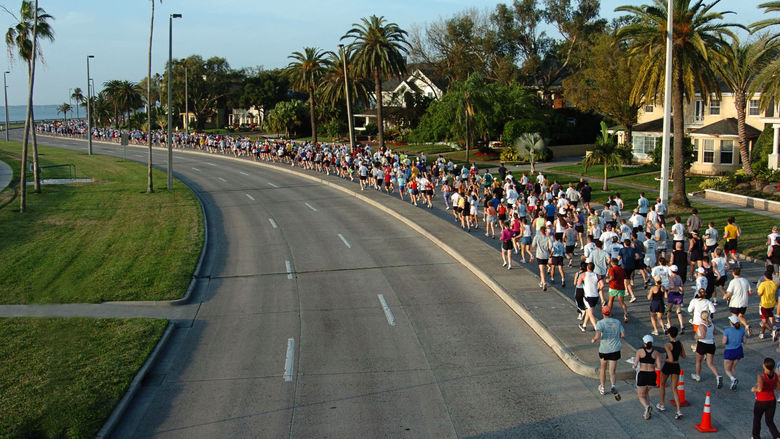 On Thursday, Tampa City Councilmembers kept hope alive for transit activists who want Bayshore Blvd. shut down occasionally on Sundays for bicyclists, walker, runners, rollerbladers and others to use without fear of getting hit by a vehicle.
Members of "Walk Bike Tampa" appeared before the Council to advocate for a plan to redirect vehicular traffic on Tampa's signature roadway one or more Sundays a month. It would enable more people to enjoy what they call the "crown jewel" of the Tampa Park system.
Chair Yolie Capin showed some initial disdain for the proposal, saying councilmembers could expect to hear an earful from Bayshore residents. They should consider other areas for "diversity," she said.
Capin then suggested using West Cypress Street as an alternative, as it runs from one end of the city to the other.
Not all Bayshore residents agreed.
Catherine Durkin Robinson called the roadway "dangerous," adding that every couple of months "someone from my community is hurt on Bayshore."
"Every so often — once a week — we can open Bayshore to runners, walkers and cyclists," she said.
Councilman Luis Viera noted that he just turned 40, and knows he could be in better shape. He said getting behind the proposal made sense in endorsing the idea of making Tampa a healthier community.
But the concept appeared dead on arrival when Transportation and Stormwater Director Jean Duncan said conversion would be too costly for a variety of city departments, and the Bob Buckhorn administration does not support the idea.
That's when Councilman Mike Suarez intervened.
Suarez reminded Duncan that Bayshore Blvd. will be shut down on the last weekend of this month for the morning hours for various Gasparilla running events, including a marathon, half-marathon, 15K races and others, a tradition going back years.
"If they're closed off for the road race, and then continued to close it off for the rest of the afternoon, we're not stretching ourselves as thin as you might think," he said. "We might want to be a little bit more creative in our thinking so that we can probably do something like this."
Suarez recommended that such shutdowns be spread out throughout the city, like Cypress Street.
Councilman Harry Cohen said the city should try a pilot project on up to four different roadways throughout Tampa, including Bayshore and Cypress.
Suarez noted that cities like San Francisco have shut down streets on selected Sundays during the year.
In fact, JFK Drive in San Francisco's Golden Gate Park has been closed down on Sundays to motorists since the late 1960s, and in 2007, extending the shutdown to Saturdays between April and September.
Walk Bike Tampa proposes that northbound lanes of Bayshore be opened to pedestrian and other non-vehicular traffic. Inside, eastern, or median southbound lanes would be for parking, which would accommodate more than 1000 parked cars.
The remaining outside (western) southbound lane would be for southbound traffic.
They also would like to connect that shutdown to the downtown Riverwalk, Curtis Hixon Park, Cotanchobee Park, Channelside, Waterworks Park and Julian B. Lane Park.
The city will workshop on the issue March 22, with members of the city's legal, parks and recreation, police and transportation departments involved.
In related news, Cohen informed those who worry about safety on Bayshore that the city intends to reduce the speed limit from 40 miles-per-hour to 35 miles-per-hour. A lot of motorists often drive faster than 50 mph there.
Also, the city is considering adding several more mid-block crossings between Howard Avenue and downtown, Cohen said.