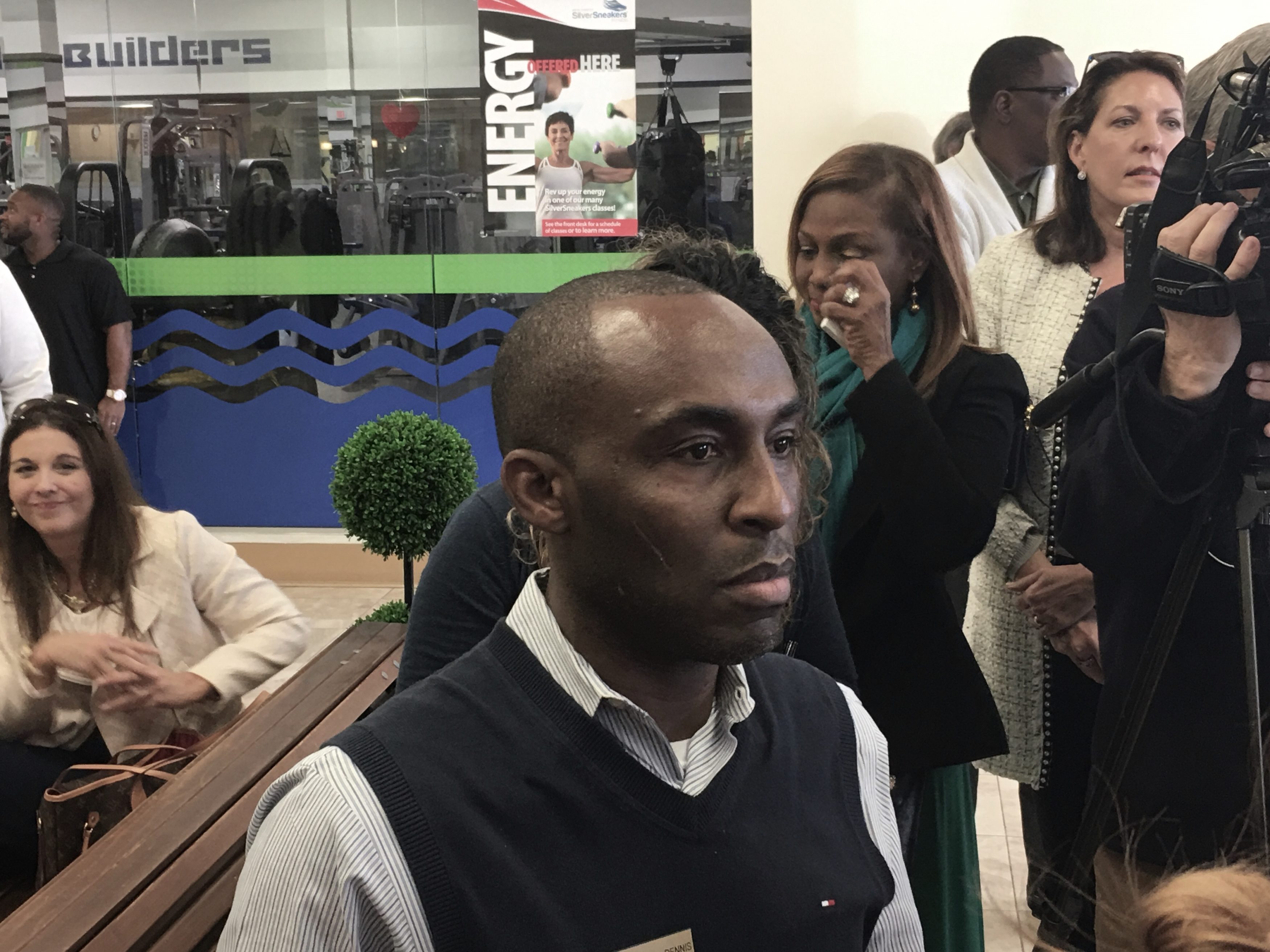 The Soul Food Bistro is the go-to place on Jacksonville's Westside for soul food. From fried catfish and collard greens to oxtails and cornbread, it has it all.
It is also in the heart of Jacksonville City Council District 9, which is represented by Councilman Garrett Dennis.
Dennis, a Democrat who often is alone in a battle against the Lenny Curry administration and Curry's political machine (the Venn diagrams of which overlap), was not invited to the lunch event: a celebration of capital projects in Northwest Jacksonville that ranged from a septic tank phaseout to an amphitheater in Lonnie Miller Park to lights in front of Florida State College Jacksonville's North campus and infrastructure improvement in sidewalks and a new library in Oceanway.
Progress was the overt theme of the day. But conflict, the subtext, became the story — with Dennis hijacking the media event with stories of pressure from the mayor's office that were disputed strongly by the administration.
The Councilmembers present represented Districts 7 (Reggie Gaffney), 8 (Katrina Brown) and 10 (Reggie Brown). Additionally, at-large Councilman Sam Newby was in attendance.
Dennis, despite not being invited, was the first politician there, setting up a sign outside welcoming people to District 9.
"This is the second time the mayor has come into my district and invited other Council members and not invited me," Dennis said, "but we all know why."
"I don't go along to get along," Dennis said, a clear reference to those councilors "on the invite list."
Dennis said his phone had been "ringing off the hook all last night, since six o'clock this morning. People are very concerned — in the district, outside the district."
Dennis asked, "Is it One City, One Jacksonville, or one city for the people who rubberstamp all his initiatives, don't ask any questions, and go along to get along?"
We asked Dennis about the anticipated Reggie Brown challenge to Sen. Audrey Gibson, who is his political ally.
Dennis was blunt.
"From what I've heard, the mayor's encouraged him," Dennis said. "Matter of fact, I hear the mayor's looking for someone to unseat me in this district."
"But there's an old saying: 'better be careful of the hole you dig because you're digging your own hole'," Dennis said. "He's going to be challenged if he keeps doing things like this to divide our city."
"But what do we expect from a party boss turned mayor?" Dennis asked.
Dennis said he was willing to be the "lone ranger" if need be, asking questions about what the city's benefit would be from selling JEA.
"The mayor has made these promises, and now he can't fulfill these promises. That's not right," Dennis said.
While he was unwilling to declare himself to be a candidate for mayor, he noted that "stepping out and sharing all of this doesn't come without isolation, and that's what you see happening today."
"Even if I'm going to be isolated, the only outspoken voice on Council, I'm going to continue to be it," Dennis said.
Dennis wasn't finished.
"Let me be honest and clear … standing up is not easy. I've been threatened by this administration. I've been told that I'm a 'walking dead man'," the councilman said.
"It's unfortunate that I've had to go get a concealed weapon permit and carry a gun on me because I've been told by this administration that I'm a walking dead man," Dennis said.
Dennis said "the mayor's top lieutenant" said that to him on Jan. 11.
"In order for me to stand up, I need y'all with me and need y'all's support. Some of my family members have encouraged me to file a police report. They're after me."
"I don't want to get into details … but this is another way of isolation and intimidation, and it's not going to work," Dennis said. "He's digging a hole for himself … I'm not going to stand back and be intimidated by anybody."
Dennis contended that "everything the mayor does is about division, but every great empire came to an end, and every bully has his day."
"I just have to warn the mayor that eventually you will have your day," Dennis said.
Dennis contended that there was "major pressure" to vote for Curry's candidate, John Crescimbeni, in last year's City Council president race.
"We'll turn off the spigots in District 7, 8, 9, and 10," was Dennis' recounting of the threat.
There will, said Democratic officials on hand, be competition for Curry's re-election.
—
The narratives from the mayor's office and the other Council members at the event were in sharp contrast to Dennis' bombshells.
Curry's chief spokesperson, Marsha Oliver, denied that there was any attempt to exclude Dennis from the event.
Curry noted that he was "happy to be here at the invitation of these Council people who advocate for their districts every day. Specific projects, projects that we've done, so if the councilman wants to invite me to his district, that's fine."
Curry also noted that work has been done in Dennis' district; specifically, improvements at Edward Waters College.
"I can tell you that these Council members asked me for specific help, projects in their districts. With all due respect," Curry said, "the councilman has never asked me for projects. I've never had a specific ask from that councilperson for a project in his district."
Curry denied claims that he was looking to run a candidate against Dennis, saying that the purpose of Thursday's event was not to "play politics."
Curry denied rumors that promises of a job in the mayor's office were made to Councilman Reggie Brown, should he lose the Senate race. Curry also added that he'd met with Sen. Gibson this week regarding projects that are "important to Jacksonville."
Curry's chief of staff Brian Hughes referred to Dennis' charges as "nonsensical accusations and gestures."
Hughes invited Dennis to call him "anytime, any day" to "highlight challenges" and discuss "collaborations" in a "good faith effort."
"We're here to work together," Hughes said, dismissing the allegations of threats as "cryptic hooey."
Noting that a board nominee accused Dennis of "bullying" a member of Curry's staff last year in a meeting, Hughes speculated that Dennis "might be transferring some of his aggression onto other people."
Hughes also dismissed the notion that Reggie Brown was Curry's handpicked candidate to run against Gibson, calling it "absolutely false."
"The boogeyman political nonsense season has arrived," Hughes said. "I am denying that in the strongest possible terms."
Dennis' comments, per Hughes, were simply a "good tactic to make us the boogeyman … baseless and unnecessarily divisive."
Councilman Reggie Brown denied — again — the idea that he would be the mayor's candidate in the Senate race, and denied rumors that, were he to lose the Senate race, he'd be given a job in Curry's office, saying that he would probably finish his military career were he to lose.
"I don't plan on losing," Reggie Brown said. "No seat or individual is privileged to where they should always have a seat and no one runs against them. We have other incumbents with five or six challengers, and no one's questioning that … I feel like the time is now."
Reggie Brown, when asked about the Dennis/Curry dynamic, said, "I don't get in people's relationships … but a bridge is built from both ends."
"It's amazing that we create this sensation that it's a fight. We've got so much work to do in Jacksonville," Reggie Brown said. "Today what we're here to talk about are the accomplishments in Jacksonville."
Councilman Reggie Gaffney noted, vis-a-vis the Senate race, that Reggie Brown hasn't filed yet — and until or unless that happens, he will sit out.
"Both of them are friends," Gaffney said, "but [on the Council], Brown was one of ten votes — and he always supported me."
Regarding the Dennis/Curry rift, Gaffney urged Dennis to build a relationship with the mayor's office.
Gaffney has done that, and he points to his record of capital improvements as to why it's a good idea to be a "peacemaker."
One wonders, however, if the Dennis/Curry rift is beyond diplomatic solutions.
Dennis seems to think so.
"When Councilman Gaffney a couple weeks ago, we were debating Project Volt, he said the administration has done great work, let's just vote on it. That's problematic, when you have a City Council member saying let's not question the mayor, let's not debate the mayor's bill — that's a rubber stamp and it's wrong," Dennis said.
"I can't say if he's a real Democrat or not. I think his registration says Democrat. But I do question his politics," Dennis said.
"Don't be a rubberstamp. I say that to all my colleagues," Dennis said.