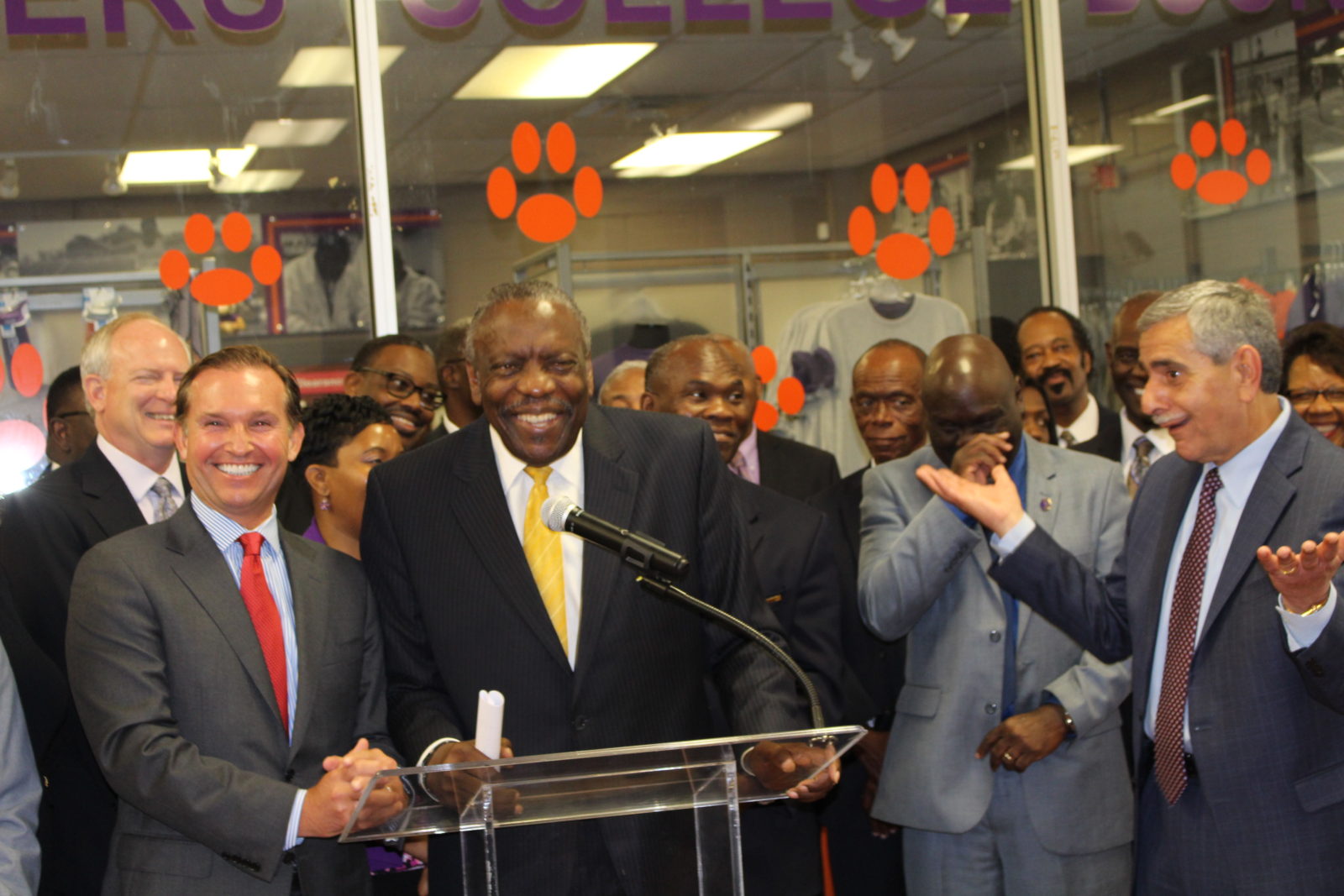 This summer, Jacksonville Mayor Lenny Curry proposed a $131M capital improvement budget — a cornucopia of one-time spending designed to take advantage of budget relief created by pension reform, fueled by the confidence created by Jacksonville's strong position with bond ratings agencies.
And on Wednesday, the Jacksonville City Council's Finance Committee — along with visiting Council members — took their pencils and erasers to the budget proposal, one which also included ramped up recurring budgets for maintenance projects — especially sidewalk construction and sewerage system rehab.
Those items didn't prove so controversial. What did prove controversial: a priority spend of Mayor Lenny Curry opposed by one Council member, who said it might cause him to vote against the budget entirely.
____
Councilman Danny Becton proposing moving $8.4M away from Edward Waters College capital improvements (a community field and a dorm) to water projects that have been delayed.
Curry's political ally Nat Glover is President of EWC, and was instrumental in helping market the 2016 pension reform referendum to local African-American Democrats.
Becton's motion was not seconded. Discussion was robust nonetheless.
CAO Sam Mousa said the administration is "extremely passionate" about Edward Waters and the New Town area.
"Our passion is to make Edward Waters College a lighthouse," Mousa said, "It's a historical black university. We are extremely passionate about ensuring that Edward Waters College survives and improves."
"Kids are having to pull their mattresses out of the bedrooms and sleep in the living room area just for air conditioning," Mousa said. "We would totally oppose any sort of change."
Finance Chair Garrett Dennis wanted to know how a dorm would fight crime.
Dennis, a FAMU alum who represents the district containing EWC, suggested an on-campus police force might be a better option.
"You want to talk about security, safer neighborhoods," Dennis said, the "open campus" at EWC could use a police force.
"I know we're going to be taking up 100 new police officers for JSO," Dennis said, but "if we really want to get serious about crime and safety … we should start with trying to get a police force."
Mousa described the projects as "the mayor's visions and the mayor's priorities," and that these projects affect the neighborhood at large, while boosting revenues for the college.
Councilman Becton then pushed back against Mousa's contention, leading to some spirited crosstalk.
"As we look at big problems that we have," Becton said, "the only way you accomplish big problems is one elephant at a time."
"This is a perfect example of why — you have communities left behind, and a big reason why is decisions like this," Becton said.
Becton said he might vote against the budget based on this allocation. That didn't deter Mousa, who has battled with Becton on appropriations before — including a $90M spend on stadium infrastructure recently.
Councilman Bill Gulliford, pushing back against the idea of special treatment for EWC, noted that the Arlington CRA effectively subsidizes Jacksonville U.
"The die has been cast," Gulliford said, noting that precedent has been established.
Councilwoman Lori Boyer urged that more specifics be brought up during Friday's budget wrap-up, specifically with grant scheduling.
"This will be on a reimbursable basis … as work is completed, inspected, and certified," Mousa assured her.
The EWC allocation was backed by Councilman Reggie Brown as well as Councilman Reggie Gaffney and Councilwoman Katrina Brown.
"I think it's a bold move by the Mayor to try to create a safer neighborhood environment," Councilwoman Brown said.