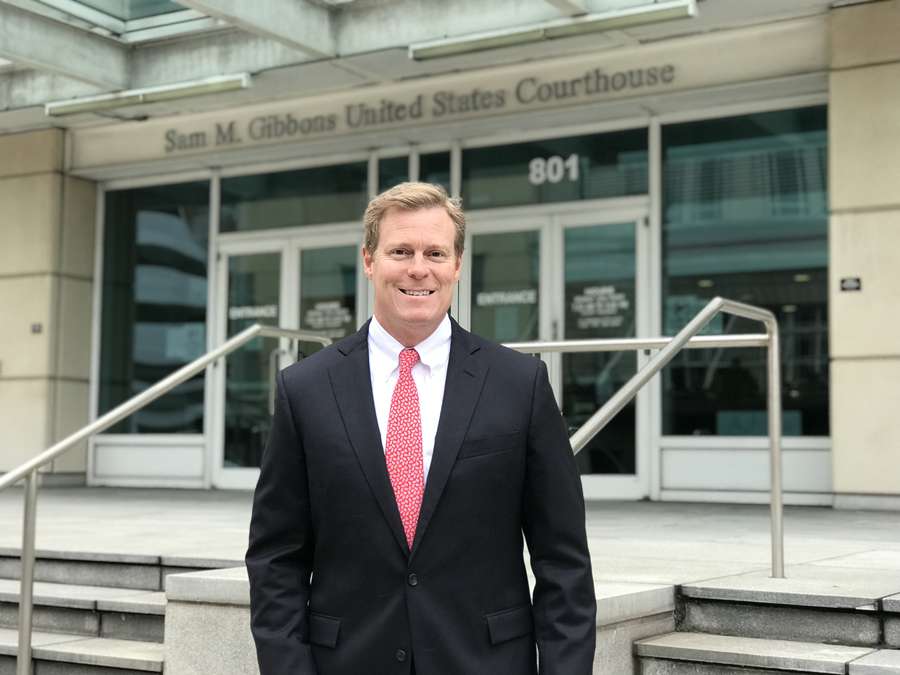 A member of the Bilirakis family has represented Florida's 12th Congressional District since 1982, and the Democratic Congressional Campaign Committee is not targeting it as a seat that could flip this fall.
But that isn't deterring former federal prosecutor and FBI agent Chris Hunter. 
"I think people in the 12th district are looking for a restoration of principled leadership at all levels. That's not partisan, that's just what all of us should expect out of those who offer to serve," says the Trinity-based Democrat who filed to run for Congress last month.
"People respect the fact that I've served our community. I've served our country, and I offer an approach to principled leadership that is appealing to people no matter where they're coming from politically."
A Hershey, Pennsylvania native who moved to Florida a decade ago, Hunter resigned from his position as a senior prosecutor with the U.S. Department of Justice in December to pursue a run for political office. He says he "loved every single thing" about his work with the DOJ and before that with the FBI.
But he's a lifelong believer in American service that can be performed in a variety of ways.
"I could continue to do the public service job I already had, which I loved, or I could resign and offer to serve in a way that responds to what the country needs right now. It's as simple as that."
Talking about public service, Hunter gets animated.
"I'd like to think there's a way to overcome the challenges we face in our society by lifting our heads up, getting out of our computers and looking out across our communities and thinking about which each of us can do to make a positive difference. I think we need to re-engage in person, and when we do what we find is we have a lot in common," he says. "That's a worthwhile experience to try to have, and that's not something that can be had effectively unless people actually engage with one another."
While some congressional Democratic aspirants (particularly in South Florida) are running on a platform that if elected they would support impeaching President Donald Trump, Hunter has no interest in the subject, quickly pivoting to his mantra regarding a "renewal of an American service ethic."
If Hunter survives a contested Democratic primary, he'll be facing in Gus Bilirakis a GOP legislator who has served in politics/public service for two decades, beginning as a state Representative in 1998 before succeeding his father, Michael, in representing the Pasco/Pinellas county seat in 2006.
Hunter labels Bilirakis as an entrenched career lawmaker who has lost his perspective in representing his constituents, specifically referring to his co-sponsorship of a controversial bill pushed by the drug industry in 2016 that weakened federal regulations just as the opioid crisis was reaching its peak.
That bill's lead sponsor in the House, Pennsylvania Republican, Tom Marino, withdrew from consideration as Trump's drug czar last October following a report by 60 Minutes and The Washington Post.
"The incumbent here was one of a cabal of legislators who did the bidding of the drug lobby, handcuffed the DEA and exacerbated the opioid crisis," Hunter says. "All the way while sticking drug industry lobbyist money into their bank accounts."
Hunter says that vote illustrates how "some career politicians get entrenched, get comfortable and think that nobody in their home district cares or is paying close attention."
A former FBI agent, Hunter says he has plenty to say about highly controversial Republican memo alleging the FBI abused its surveillance tools. The fight over the memo has put Trump at odds with his top law enforcement officials, who have urged the White House to reconsider releasing the document.
Hunter penned an op-ed on the issue which ran Tuesday in the Tampa Bay Times.
"The recent conduct by certain members of the House Intelligence community and others reveals an alarming absence of maturity, seriousness of purpose and probity," Hunter writes. "Scurrilous attacks on the Justice Department and the FBI create public safety and national security risk.
"Intentionally shattering trust in the men and women who work hard every day to keep us safe will impact federal criminal jury trials and will threaten access to critical counterintelligence sources of information."
Stephen Perenich, Robert Tager, Mathew Thomas and Kimberly H. Walker are other Democrats running in CD 12.