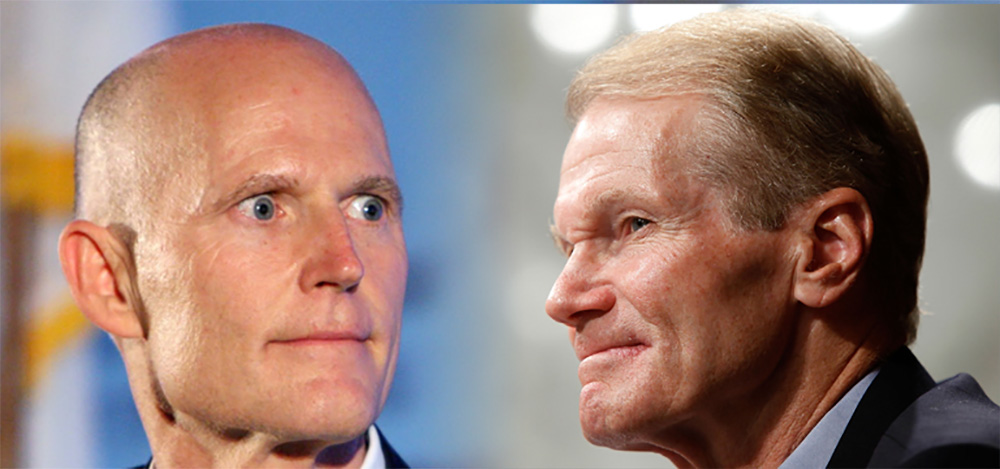 If the election for Senate between Sen. Bill Nelson and Gov. Rick Scott were to happen today, Nelson would win re-election.
That's from a new poll from the University of North Florida's Public Opinion Research Lab.
Of likely voters in 2018, 48 percent plan to vote for Nelson, an Orlando Democrat, while 42 percent plan to vote for Scott, a Naples Republican. This is just outside the margin of error.
An additional seven percent, per the survey, are undecided.
Nelson's advantage: More surveyed Democrats (86 percent) are going to vote for him than surveyed Republicans (79 percent) will vote for Scott. NPAs are split evenly (42-42) between the candidates.
"Even though it appears Nelson has a reasonable lead in the poll, the election results will ultimately get determined by who shows up in November," said Michael Binder, faculty director of the Public Opinion Research Lab at UNF.
"Historically, Republicans have enjoyed a turnout advantage in midterms, but with the current mood of the country, and a large number of Republican retirements, Democrats are optimistic about an impending blue wave."
Interestingly, the popularity numbers for the candidates contravene the Nelson advantage. Both Nelson and Scott are +32.
"Both Senate candidates have net positive job approval ratings of 32 percentage points," said Binder. "This high level of job approval is very unusual and is going to lead to a hotly contested election."
Nelson has 52 percent approval, and 20 percent disapproval; the balance don't know or refused to answer the question.
Scott boasts a 63 percent approval against 32 percent disapproval. Just six percent weren't willing to answer.
Scott on Tuesday in Jacksonville dodged questions about whether or not he was polling or fundraising, referring media to public polls.
This public poll, at least, says it's Nelson's race to lose.
Methodology: The University of North Florida (UNF), Florida Statewide Poll was conducted by the Public Opinion Research Lab (PORL) at UNF Monday, January 29, through Sunday, February 4, by live callers via the telephone, and calls were made from 5 p.m. to 9 p.m. Monday through Friday, 12 p.m. to 9 p.m. Saturday and 11 a.m. to 2:30 p.m. Sunday.
The margin of error for likely voters in the November 2018 midterm election is +/- 4.7 percentage points.