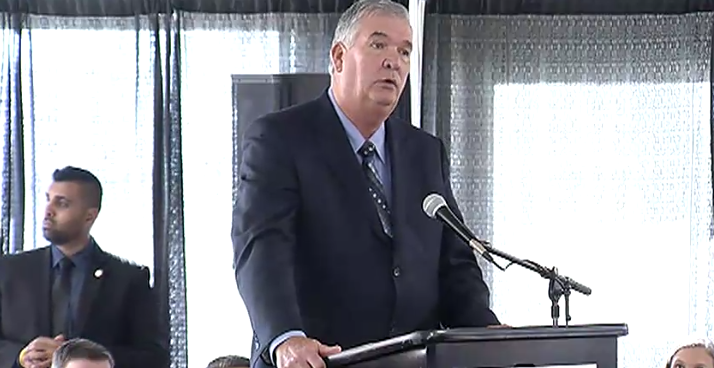 After losing a bid for re-election in fall 2016, Mark Ober's career as Hillsborough County's State Attorney didn't end on his terms.
So during a Florida Cabinet meeting Thursday in Tampa, Ober took the opportunity to deliver a valedictory speech he was denied a year and a half earlier.
"I am absolutely overwhelmed to be in your company this morning because, in large part, of the high esteem that I hold for each one of you," Ober said, speaking directly to Gov. Rick Scott, Agriculture Commissioner Adam Putnam, CFO Jimmy Patronis and Attorney General Pam Bondi.
For over a decade, Ober and Bondi worked closely together in the State Attorney's Office (2000-2010); Ober said she had "always been a shining star in my life and in my career."
With friends and family members in attendance, Ober called the Cabinet resolution honoring him "the pinnacle of my career."
A Republican, Ober was elected in 2000, facing only token Democratic opposition in 2004, 2008 and 2012.
While remaining the odds-on favorite to win in 2016, Ober faced a challenge from Democrat Andrew Warren, a former federal prosecutor running on a platform of criminal justice reform.
Soon, the race turned bitterly divisive, as Warren accused Ober's office of fumbles in two separate sex crime cases, which put the incumbent on the defensive during the campaign's final months.
Any enmity between the two seems forgotten, however, as Warren cheered Ober on as part of the audience at the Bob Thomas Equestrian Center inside the Florida State Fairgrounds.
Also honored by the Cabinet Thursday was David Gee.
In September, Gee retired as Hillsborough County Sheriff, less than a year after winning re-election for a fourth term. He chose not to make any remarks.
As is tradition, the Cabinet held its monthly meeting on the first day of the Florida State Fair, which runs now through Feb. 19.