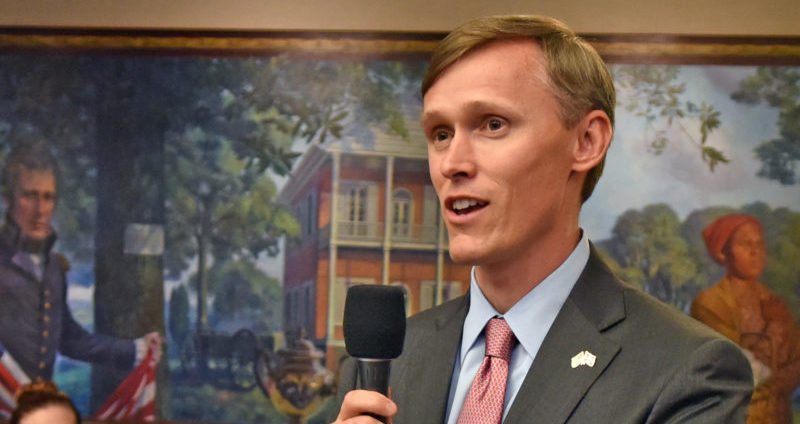 Pensacola Republican Rep. Frank White announced Thursday that a pair of county sheriffs had endorsed his campaign to succeed Attorney General Pam Bondi in the fall.
St. Johns County Sheriff David Shoar and Putnam County Sheriff Homer "Gator" Deloach added their names to the list of officials backing White in the four-way GOP primary for the Cabinet seat.
"I am proud to stand with Frank White because I know he will stand with Florida's men and women in blue to enforce the rule of law. Frank has proven he will defend our conservative values and protect taxpayers' hard-earned money," Shoar said.
Shoar has been in law enforcement for more than 30 years and is currently in his fourth term as sheriff of the First Coast county.
"I am proud to offer my support along with Sheriffs across Florida in standing with conservative Frank White for Attorney General. Frank will be a staunch defender of our Second Amendment rights, will help law enforcement keep our families safe and will protect the constitution at all times," Deloach said.
DeLoach started out with the Putnam County Sheriff's Office in 2001 and was elected sheriff in 2016.
The pair join the sitting sheriffs of Okaloosa, Santa Rosa and Escambia counties in endorsing White, who also got the nod from U.S. Rep. John Rutherford, a former Duval County sheriff.
"As momentum grows for our campaign, my proven record as a consistent conservative is resonating with folks from across the state and I am honored to have the support of these great Sheriffs who share my conservative values and commitment to both our constitution and the rule of law," White said in a press release.
The freshman lawmaker faces former circuit court judge Ashley Moody, Dover state Rep. Ross Spano and Jacksonville state Rep. Jay Fant in the Republican Primary. Competing for the Democratic nomination are Tampa Rep. Sean Shaw and Ryan Torrens.
At the end of 2017, White led in fundraising with $1.95 million on hand between campaign and committee accounts, followed by Moody with $1.2 million in the bank, Fant with just shy of $1 million and Spano with about $50,000. Torrens has about $2,500 in the bank, while Shaw has about $41,000 he brought over from his House re-election campaign.
White's total includes $1.5 million of his own money, while Fant has put $750,000 of his own cash into his campaign.
Last updated on February 8, 2018