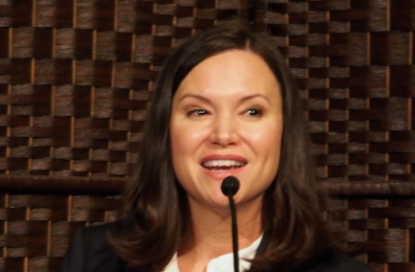 UPDATED
Chalk it up as a case of bad opposition research.
That's what Ashley Moody is claiming as she fires back at Jacksonville state Rep. Jay Fant for a letter alleging that she either doesn't understand or has "perhaps simply a dislike" of Florida's controversial 'Stand Your Ground' law. Responding to that letter, Moody charges that Fant relied on a faulty newspaper article, and not the actual legal opinion, while taking a shot at her earlier this week.
"Your letter demonstrates why you are not qualified to be Attorney General," Moody, a former Hillsborough County Circuit Judge, wrote Tuesday. "You do not understand 'Stand Your Ground' as it existed then or now, criminal law, or how to try a case. This is not surprising since you have never actually tried a case, prosecuted anyone, nor really practiced law. Most troubling to me as a graduate of the University of Florida School of Law, like you, is your reliance on a Tampa Bay Times article instead of the underlying case law that exists related to the Trevor Dooley case."
Fant has been critical of Moody as the two vie for the Republican nomination for Attorney General. They're part of a field which also includes state House Republicans Frank White and Ross Spano.
Fant's letter claims that Moody doesn't understand SYG in the case of Dooley, the Valrico man who was convicted of manslaughter and sentenced to eight years in prison for shooting his neighbor, David James, in 2010. In April of 2016, the 2nd District Court of Appeal granted him a new trial because of an ineffective appellate lawyer and "erroneous" wording in the jury instructions regarding the justifiable use of deadly force.
"The 2nd District Court of Appeals unanimously granted the accused a new trial because you allowed wrong instructions that ignored existing case law and therefore prohibited a Stand Your Ground defense," Fant wrote in his letter to Moody on Monday, which included a paragraph cut and pasted from a Tampa Bay Times story from April, 22, 2016.
Moody responded that if Fant had actually read the opinion and not relied upon the article, "you would have learned that the Tampa Bay Times got it wrong."
"As the Second District Court of Appeal stated in its opinion, the law changed after trial before Dooley's initial brief was filed in the appeal. Dooley's appellate lawyer failed to point out the change in law, and Dooley's lawyer's ineffectiveness on the appeal, not something that I did, was the basis for the decision," Moody writes. "If you were interested in the truth or the Dooley case instead of trying to use a tragic event to promote your political campaign, you would have quickly learned that I gave the jury instruction requested by the prosecution and that Dooley did not object to that instruction at trial. Had the Little v. State case existed at the time of trial, clearly that instruction would not have been given."
"Putting that aside, had you actually done what an experienced lawyer does, you would have learned that the opinion upon which the Tampa Bay Times article was based was subsequently withdrawn by the Second District Court of Appeal on October 14, 2016, and the appeal is ongoing. In the unlikely event that you are elected Attorney General, you would be ultimately responsible for the Dooley appeal, if it is not decided before January 2019."
Moody next pointed out that unless and until the Second District Court of Appeal reverses Dooley's conviction, the jury's verdict should be respected, and James' death should not be politicized for political gain.
Fant also claims that at the Federalist Society judicial forum held earlier this month, Moody "dodged" a direct question about whether or not she supported allowing guns to be carried on college campuses, a pet issue of the NRA and Second Amendment enthusiasts.
"I am a strong believer in our second amendment rights," Moody said when asked by White if she supported such a proposal. "I believe people have a natural right to defend themselves and would support legislation I mean I would want to see the specifics of legislation that would seek to protect those rights." She adds in her letter that those rights "do not end when one walks on a college campus."
Moody also brushed aside Fant's challenge to a "Second Amendment debate" on March 1 in Tallahassee.
"I look forward to debating you, Frank White, and Ross Spano, in the future and discussing how I will tackle the difficult challenges facing Florida, including the Second Amendment. But, until then, I plan on continuing to travel Florida meeting voters, hearing their stories, and discussing why I should be Florida's next Attorney General," Moody responded.
Fant isn't taking no for an answer. He's now sent out an email to supporters asking them to sign a petition requesting that Moody face him in a debate.
The Jacksonville Republican has been trolling Moody for months for her alleged "liberal" ties. In December, he penned a letter to Republican Party of Florida Chair Blaise Ingoglia, calling on him to ban Moody from attending the party's annual January meeting in Orlando, saying she she was a "Clinton liberal" who had no business in a Republican Party meeting — or using GOP resources.