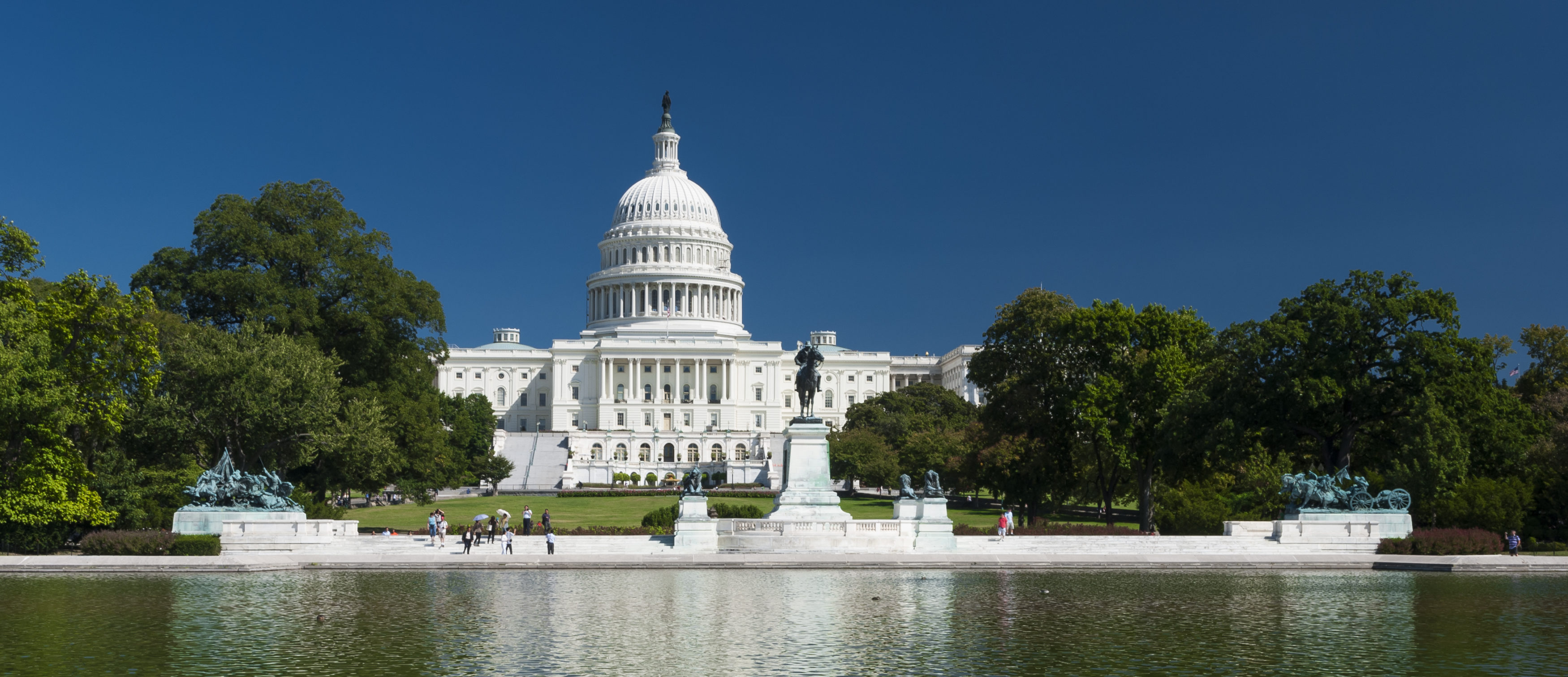 High school students helping drive the agenda in Washington 
Congress is back following the Presidents Day recess. Virtually nothing has changed since the day they left.
When they left, Americans, along with Congress, we're just trying to process what had happened — and why — at Marjory Stoneman Douglas High School. While they were gone, a lot happened.
We saw Stoneman Douglas high school students take to the streets of the Florida state capital before rallying at the state capitol building. They also appeared on national media and in a CNN town hall.
The issue of gun control has come and gone in the past, but the force, as well of the faces, of these young people have not allowed the issue to begin its usual fade to the background.
Instead, the call to pass gun restrictions — and buck the NRA — has grown louder.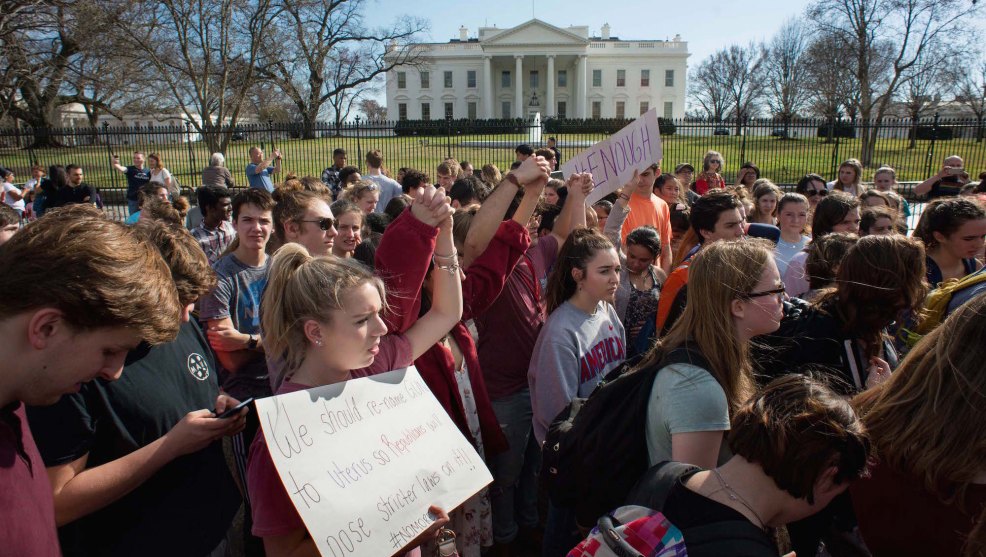 This publication would normally contain statements and proposals from the delegation on several different topics. One might have proposed a bill to help veterans, while another might seek to provide greater access to children's health care.
Unless weighing in on gun control measures, the delegation has been relatively quiet. GOP Sen. Marco Rubio, who can typically be counted upon to offer statements on several topics both foreign and domestic, went five full days without anything coming from his office.
During that time, we only saw him serving as the punching bag (fairly or unfairly), along with the spokeswoman for the NRA, at last week's CNN event. He is now trying to talk about other important issues, as he should (see below).
Some gun restrictions could pass with Republicans beginning to express an openness about regulating assault rifles. The recent New York Times Op-Ed by Palm City Republican Brian Mast (see below), President Donald Trump's move to ban "bump stocks" and Gov. Rick Scott's call for an age limit to buy guns are just examples.
If a core group of Republicans now think like Mast, Trump, and Scott, the likelihood of some gun restrictions rises significantly. Those Republicans would need something on mental health funding and school safety in return.
But other critical issues remain.
Two weeks ago, the need to produce a legislative fix for Dreamers was on the agenda, and still is. After the Senate failed to pass any of four proposals, the House is next up.
On Monday, the U.S. Supreme Court made moot Trump's 6-month deadline to fix DACA (which expires Monday) by not agreeing to hear the administration's appeal of a lower-court ruling. By not taking the case, the Court will let the process play out in the 9th Circuit Court of Appeals, which effectively prevents any deportation of Dreamers.
As for importance, the gun issue is on a level by itself.
Students will be watching, and if things do not move fast enough, they are planning to re-create their Tallahassee activism with a march on Washington on March 24.
Nelson, Scott getting early jump on Senate campaign
Though not officially running against each other, Florida's GOP governor and the three-term Democratic senator seem to be engaging in a campaign. The topic of gun control has led to a back-and-forth exchange of public statements and through the media.
During last week's town hall televised nationally on CNN, Nelson went after Scott for not attending. He also spent time responding to a question from a wounded student by further criticizing Scott.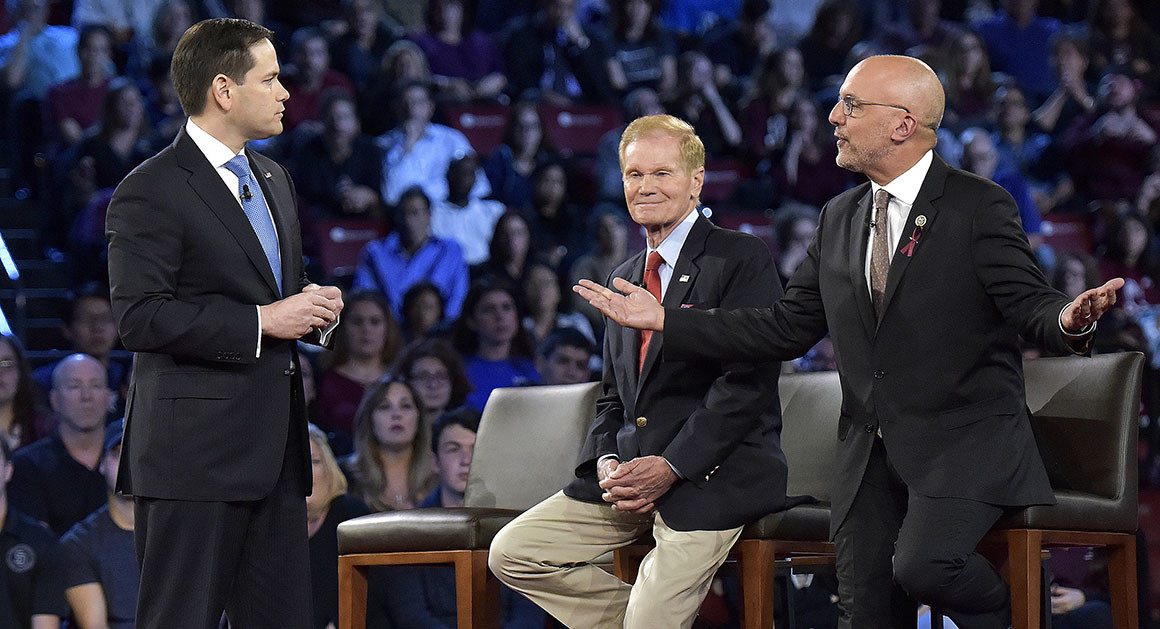 Scott followed with a $500 million school safety package on Friday that the GOP-led Legislature is now debating during the closing stages of the 2018 session. Most of that funding would go toward putting a law enforcement officer in every public school, and beefing up Safe Schools funding to provide metal detectors, bulletproof glass and steel doors in classrooms.
The proposal also calls for gun purchase restrictions for those committed under the Baker Act and, perhaps most notably because it goes up against the NRA, a law requiring all people buying firearms to be 21 or older.
Scott then accused Nelson of "doing nothing" in the area of gun control.
That one clearly got under Nelson's skin.
"I have voted for and sponsored every major piece of legislation, including the comprehensive background checks, as well as getting the assault rifles off the streets," Nelson told reporters Sunday following a church service he attended at Bethel African American Episcopal in East Tampa.
He also pointed to the fact that Democrats are the minority party and are unable to drive the agenda in Congress. Democrats did hold substantial majorities in both chambers in 2009 and 2010, including a filibuster-proof majority in the Senate for a few months.
Nelson went back on offense saying he was unimpressed with the leadership coming from the governor's office was "weak" and that he was choosing to only to listen to the NRA, and not the voices of the friends and family members of the Parkland victims who are calling for a ban on assault weapons.
The veteran Senator did offer some brief kind words. He said he was "encouraged" by Scott's call to limit gun sales to those over 21 and similar gun control measures suggested by Trump, including banning "bump stocks."
Rubio, Nelson back FDLE's $1 million reimbursement request
Within days of the Florida Department of Law Enforcement requesting $1 million in emergency funding to reimburse local law enforcement that responded to the Parkland shootings, both Florida Senators pitched in to help. Nelson and Rubio wrote to the Department of Justice supporting the request.
"First responders spent many hours processing the crime scene, conducting investigations, tending to victims, and monitoring the suspect while in custody," they wrote. "Because of this, state and local law enforcement incurred significant costs that they are unable to afford on their own."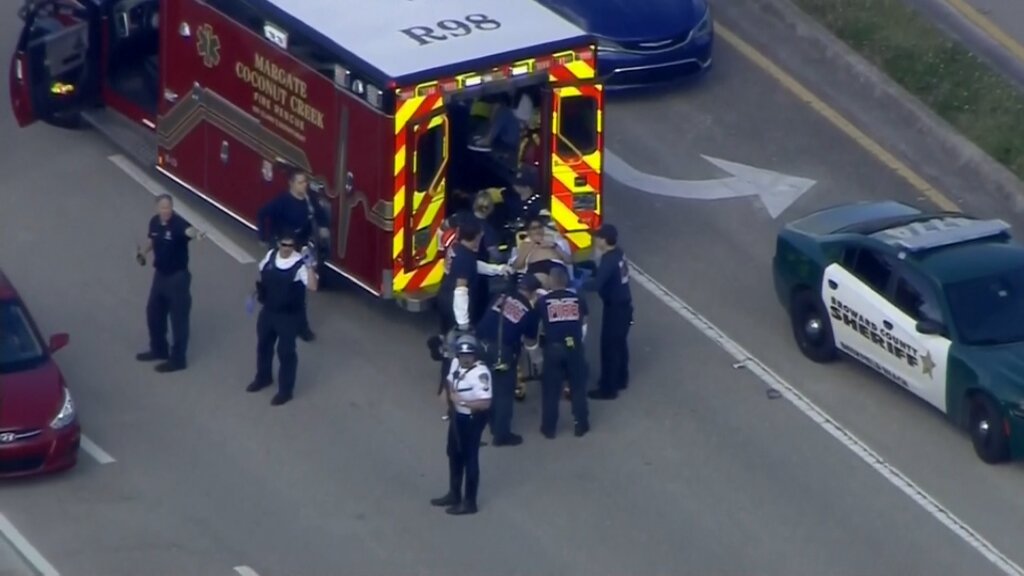 The funds would come via Edward Byrne Memorial Justice Assistance Grant (JAG) Precipitous Increase in Crime emergency funds. More may be needed in the future.
"The community is still reeling from this tragedy, and law enforcement is doing their best to return some sense of safety and normalcy to those affected," the Senators continued. "However, federal aid is needed in those efforts."
Rubio joins push for North America World Cup bid
Last week Florida's junior Senator joined with a bipartisan group of his Senate colleagues to express support for an effort to bring soccer's World Cup to North America. Rubio signed on to a bipartisan letter to Trump, led by Maryland Democrat Chris Van Hollen and Missouri Republican Roy Blunt, expressing support for the effort known as United 2026.
United 2026 is a bid by the United States, Canada, and Mexico to host the 2026 FIFA World Cup jointly.
"We believe this effort presents an exceptional opportunity to showcase our nations' shared passion for soccer and its positive impact in local communities and on the international stage," the Senators wrote. "Dozens of U.S. cities that we represent have already conveyed their interest in being part of the United Bid effort that will showcase America, promote tourism, and stimulate economic growth."
As part of the United 2026 effort, cities across the nation are pursuing opportunities to be part of the combined bid to host teams from around the world, which bring tens of thousands of fans to the host country. If selected, this would be the first World Cup to be hosted in three countries.
Scott breaks with Trump over idea to arm teachers
Among those who support the idea of arming some teachers or school administrators as a way to prevent potential mass murderers in schools is Trump. He said last week that "adept" teachers could make a difference by either providing a deterrent or actually neutralizing a shooter.
"If you had a teacher with — who was adept at firearms, they could very well end the attack very quickly," he said during a White House session with Stoneman Douglas survivors and family members. He also said "gun free zones" such as schools serve as "a magnet for bad people."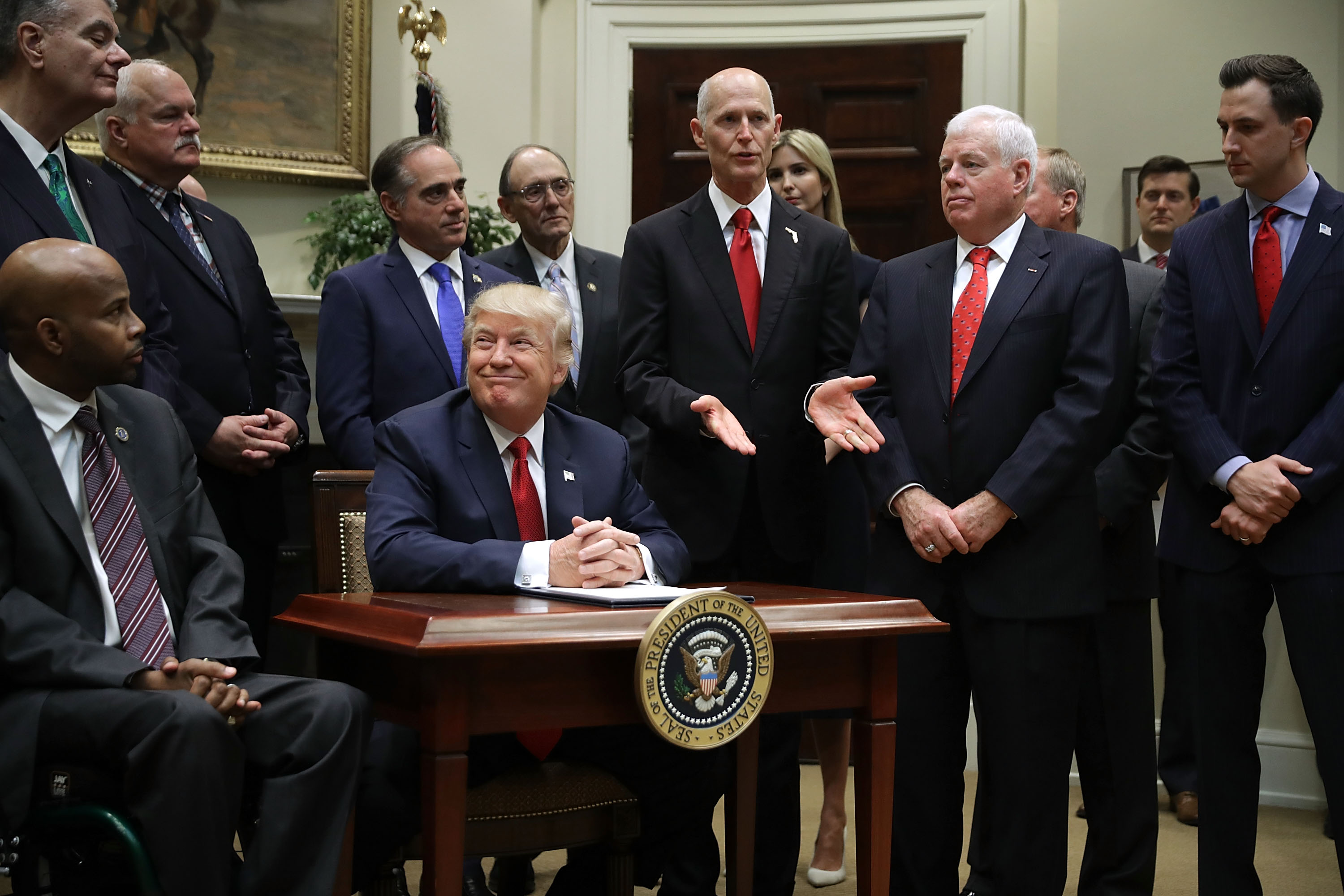 GOP Gov. Scott, who is expected to challenge Democratic Sen. Nelson in the fall, sides typically with Trump on issues, but not this time. During an interview on Fox News Sunday, Scott is not comfortable with teachers having firearms in schools.
"I disagree with him. I believe you have to focus on the people who are well-trained, law enforcement, who are trained to do this," Scott said. "I want our teachers to teach, and I want our law enforcement to be able to protect the students. I want each group to focus on what they're good at."
Scott has put forward his own proposal for enhancing school security, Among the provisions is raising the minimum to buy a gun to 21 and providing $450 million on mental health and fortifying schools.
"We have to make sure our schools are safe," Scott said. "I'm an NRA member. I'm thinking most members agree with me. … I want my state to be safe. I want every child to be in a safe environment when they're trying to be educated."
Olympian unhappy with Ivanka's presence at closing ceremonies
Going into the Winter Olympics, President Trump was on the minds of some of the athletes. Skiing star Lindsey Vonn she wanted to "represent the people of the United States, not the President." When asked if she would go to the White House if asked, she responded: "Absolutely not."
Trump did not attend the Olympics, dispatching Vice-President Mike Pence to represent the country at the opening ceremonies. For Sunday's closing ceremonies, Ivanka Trump represented the United States, but even that ticked off some.
Freestyle skier Gus Kenworthy praised his fellow Olympic teammates saying "Everybody here has worked so hard to make it to the Olympics and have the opportunity to walk in the closing ceremony!" he tweeted. "Well … everyone except Ivanka. Honestly, tf is she doing here."
So proud of all these people! Everybody here has worked so hard to make it to the Olympics and have the opportunity to walk in the closing ceremony! Well… Everyone except Ivanka. Honestly, tf is she doing here?? pic.twitter.com/sfJKi0VTDb

— Gus Kenworthy (@guskenworthy) February 25, 2018
During the ceremonies, Ivanka sat with South Korean President Moon Jae-in and First Lady Kim Jung-sook.
Bilirakis: 'Everything is on the table' to protect schools
According to the Republican from New Port Richey, "everything is on the table" when it comes to protecting students and staff at local schools. Last week Bilirakis joined with local school officials to discuss the mass shooting in Parkland and what to do to prevent a future occurrence.
Among those discussed was taking action on gun control. When asked by ABC Action News in Tampa, whether he would consider gun law reforms, Bilirakis answered: "Well, if that's what it takes, sure."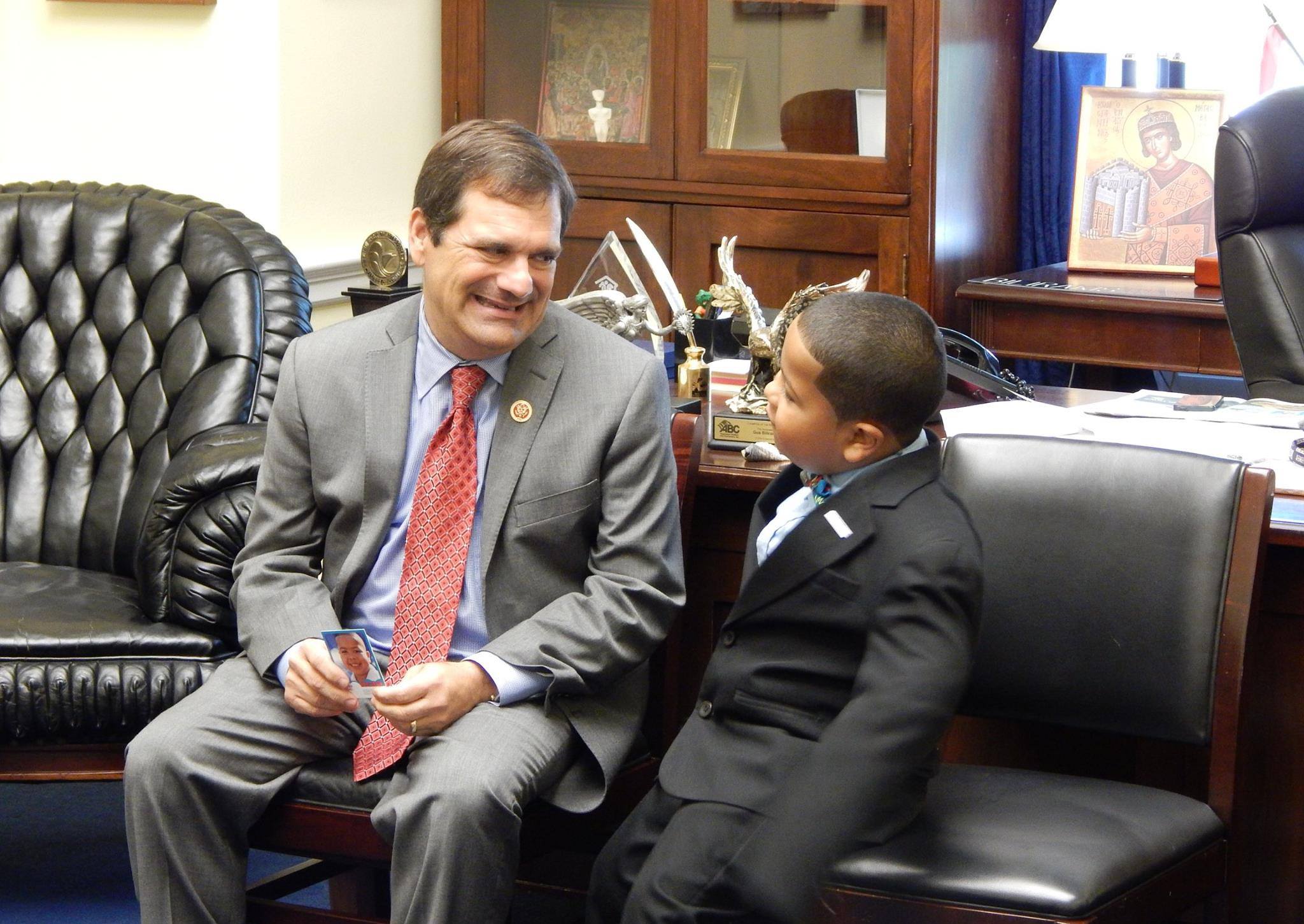 Among the possible solutions discussed was adding at least one, maybe more, School Resource Officers (SRO) to stop potential attackers. While such a step would have a high cost, it would have more support than arming teachers and school officials.
"I think that we need more SRO's in the schools and that's why we're here, and that's a no-brainer," said Bilirakis. "One SRO is not enough for these schools, and the elementary schools don't have any in Pasco County."
According to Bilirakis, an additional $4.5 million would be needed to place an SRO in each school. Building a 10-foot fence around each school would require between $11 million and $13 million.
Crist awards grant to St. Petersburg College
The first-term Democrat from St. Petersburg paid a visit Monday to St. Petersburg College. He did not come empty-handed.
Crist announced a $1.5 million STEM grant from the National Science Foundation dedicated to the Tampa Bay Bridge to the Baccalaureate (TB-B2B) program that is providing diversity in core academic degree programs. St. Petersburg College serves as the lead institution for the program that aims to increase the number of minority students transferring into four-year baccalaureate STEM program by 50 percent.
"I am so proud of St. Petersburg College's efforts to diversify the STEM workforce," said Crist. "This well-deserved grant will help further this important work, greatly benefiting our community and economy."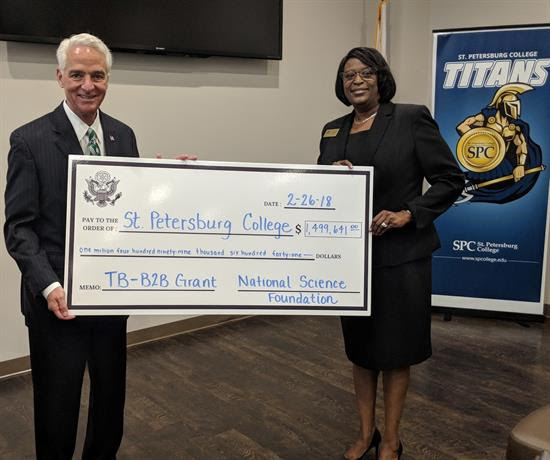 The TB-B2B is a partnership between St. Petersburg College (SPC), Hillsborough Community College (HCC) and State College of Florida, Manatee-Sarasota (SCF). The three colleges see more than 400 of their minority students transfer into STEM programs at a four-year university each year.
"We are so honored to be a part of this partnership, which will give underrepresented, minority students opportunities to pursue baccalaureate degrees n STEM fields leading to high-wage jobs that can help end generational cycles of poverty," said Dr. Tonjua Williams, President of St. Petersburg College.
Buchanan blasts IRS for rewarding 'bad employees'
The Republican from Longboat Key is incensed by a report showing IRS employees who have tax problems of their own, continue to earn bonuses funded by taxpayers. According to a report from a Department of Treasury Inspector General, some of these employees have committed other offenses as well.
"What do sexual assault, drug possession and tax evasion get you at the IRS?" Buchanan asked. "A bonus, of course!"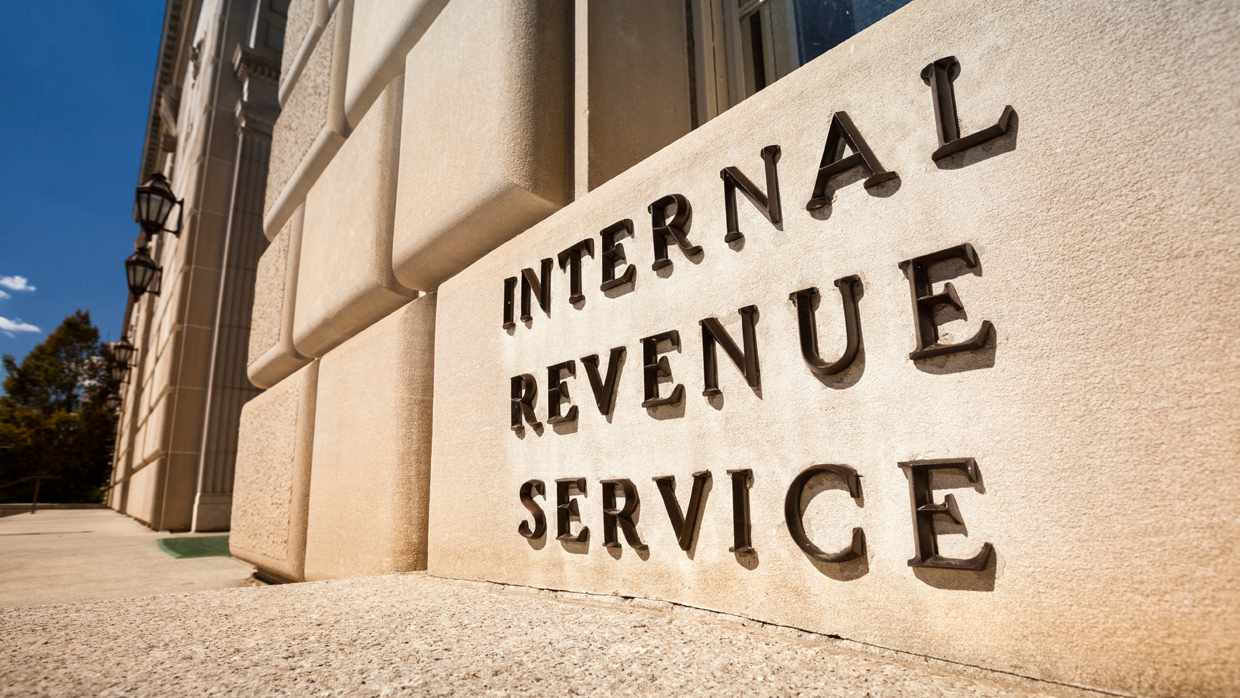 A recent report from the Treasury Inspector General for Tax Administration revealed 1,962 employees with discipline problems received combined bonuses of $1.7 million in 2016 and 2017. Of those, 26 had been found guilty of intentionally cheating on their tax returns.
This is not the first problem among IRS employees. A previous IG audit found more than 2,800 employees with conduct problems received bonuses from 2010-2012.
The IRS said they would implement three suggestions provided in the audit to help prevent future occurrences, but they would not be fully instituted until January.
"This is outrageous," Buchanan said in a news release. "Congress needs to pass the No Bonuses for Tax Delinquent IRS Employees Act."
That bill, sponsored by Texas Republican Sam Johnson, was introduced in Congress more than 11 months ago.
Mast joins call for banning AR-15
The call to ban certain weapons has largely been reserved for Democrats and liberals. In the current raging debate, a prominent Republican has joined with Democrats.
Palm City Republican Brian Mast, someone who has used assault weapons while a member of the U.S. Army in Afghanistan, has written an op-ed for The New York Times saying it is time to ban the AR-15 rifle for public use.
Mast wrote of his family's longtime membership in the National Rifle Association (NRA). He also spoke of his pride of being a responsible gun owner, but determined there are those who cannot or will not.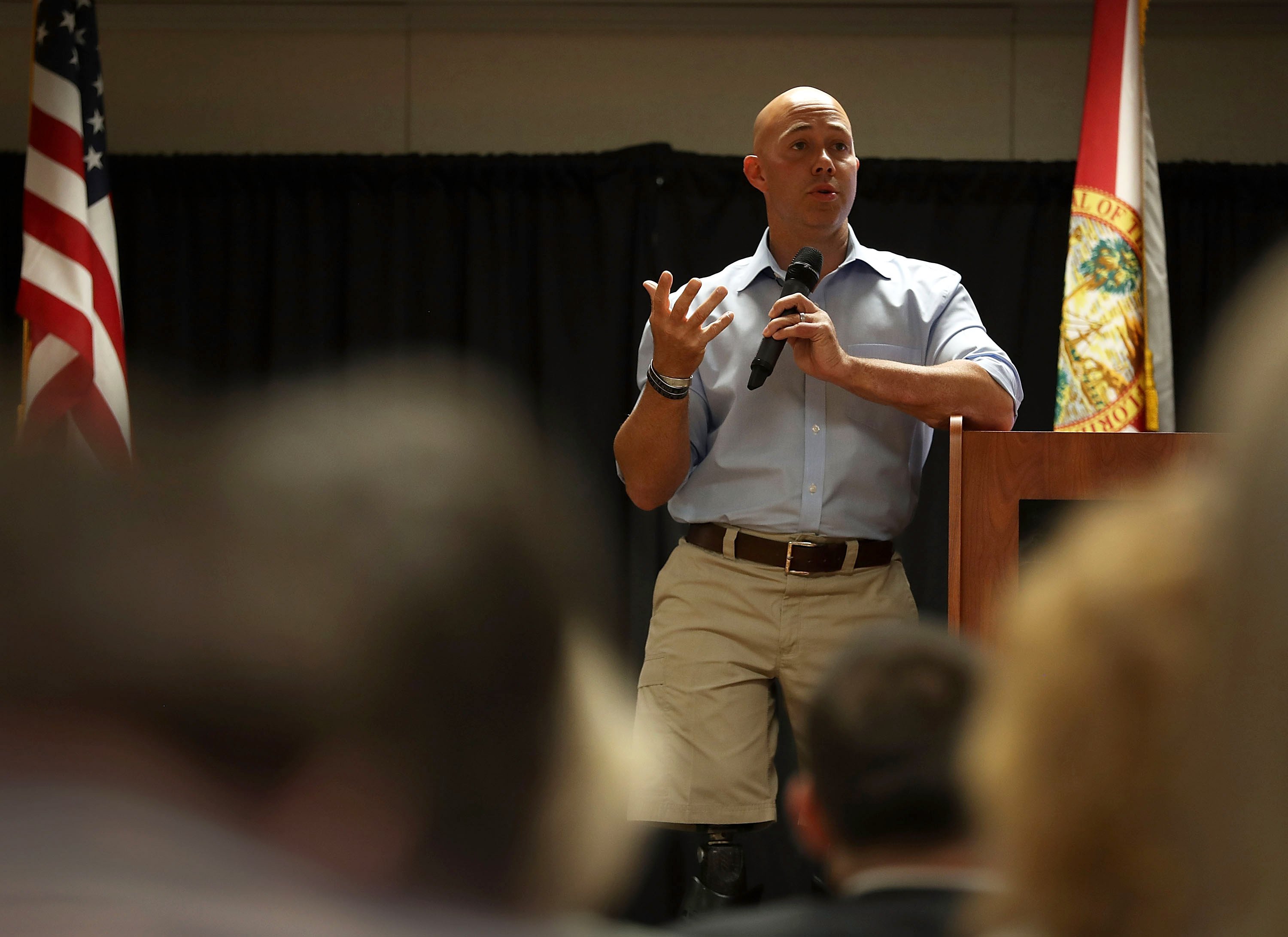 "The AR-15 is an excellent platform for recreational shooters to learn to be outstanding marksmen," he wrote. "Unfortunately, it is an excellent platform for those who wish to kill the innocent."
The Congressman from the 18th Congressional District also addressed the notion of an absolute right to own any gun.
"The Second Amendment is unimpeachable. It guarantees the right of citizens to defend themselves," he continued. "I accept, however, that it does not guarantee that every civilian can bear any and all arms."
Mast also noted the failures of the FBI, state government and Broward County Sheriff's deputies in not stopping the shooter. He also called for further research "into the nexus of gun violence "on all concerned to help find the solution.
"The president, House of Representatives, Senate, every state legislature, sheriffs, police officers, school boards, students and parents must unite with one mission: that no one will ever be murdered in school again."
Deutch delivers weekly Democratic address; introduces assault weapons ban
The Democratic Congressman from Boca Raton, who represents the Parkland area, provided the Democrats' weekly address Saturday. Early on, Deutch listed the names of all 17 victims of the Marjory Stoneman Douglas High School shootings, then continued the call for action on protecting Americans from gun violence.
"The Stoneman Douglas community deserves your thoughts and prayers," he said. "But thoughts and prayers are not nearly enough. Congress owes them something more. We owe them action."
Watch Deutch's address by clicking the image below:
Last week, students from the school, joined by many others, marched on the state capitol in Tallahassee demanding action. Deutch revealed the next phase of their effort, tagged #NeverAgain.
"On March 24, 2018, students — survivors — from Marjory Stoneman Douglas High School will march on Washington," Deutch continued. "They will be joined by students from around the country who want nothing more to be safe in schools."
He ticked off the list of legislative fixes sought by those seeking gun control. Those include requiring background checks on every sale and transfer, keep guns out of the hands of suspected terrorists, outlaw bump stocks, forbid the sale of any gun unless that person is 21 and ban assault weapons.
"It's time for the Republicans in Congress to show just a shred of the courage of American students," he said.
Deutch kept his word about introducing gun control measures when he returned to Washington. On Monday, he joined Rhode Island Republican David Cicilline to introduce the Assault Weapons Ban of 2018.
"Americans don't own tanks or missiles; so why should our streets be flooded with weapons of war made for the sole purpose of killing people?" Deutch asked. "Banning assault weapons isn't a Democratic idea, nor is it new; President [Ronald] Reagan supported the initial ban, which expired in 2004. Most Americans support the assault weapons ban. Now it's time for Congress to listen and pass sensible legislation to get these weapons of war off our streets."
Koch Brothers-aligned group urges Congress to protect Dreamers
A group aligned with the arch-conservative Koch Brothers is running an online ad calling on Congress to do something to protect Dreamers while also improving border security. Libre Initiative is running the ad, made public Monday, on Facebook, Twitter and Google searches, the group said.
Libre Initiative, a Koch-brothers affiliated group designed to attract Hispanic voters to the GOP is targeting a small group of areas. The ads will run in Florida, Arizona, California, North Carolina and Washington, D.C.
"With the March 5 DACA deadline around the corner and Congress back in session this week, our elected officials — both Democrats and Republicans — are responsible for reaching a compromise that provides certainty for Dreamers and improves our border security," Libre Initiative President Daniel Garza said in a release.
"The young people brought here as children — who today are workers, students, and men and women in our military — face uncertainty and worry," he continued. "Americans expect a compassionate and responsible law that will bring certainty to the Dreamers and security to our nation — that also allows the private sector to respond to economic demands all while upholding the importance of family and community."
Murphy named senior fellow at FIU's Green School
Former Congressman Patrick Murphy has been named a senior fellow at FIU's Steven J. Green School of International and Public Affairs, where he will assist the Jack D. Gordon Institute for Public Policy with the launch of a new public policy fellowship.
The fellowship — expected to begin this fall — will be a multidisciplinary workforce development initiative designed to combine academics with mentorship, public policy research, professional development and internship opportunities.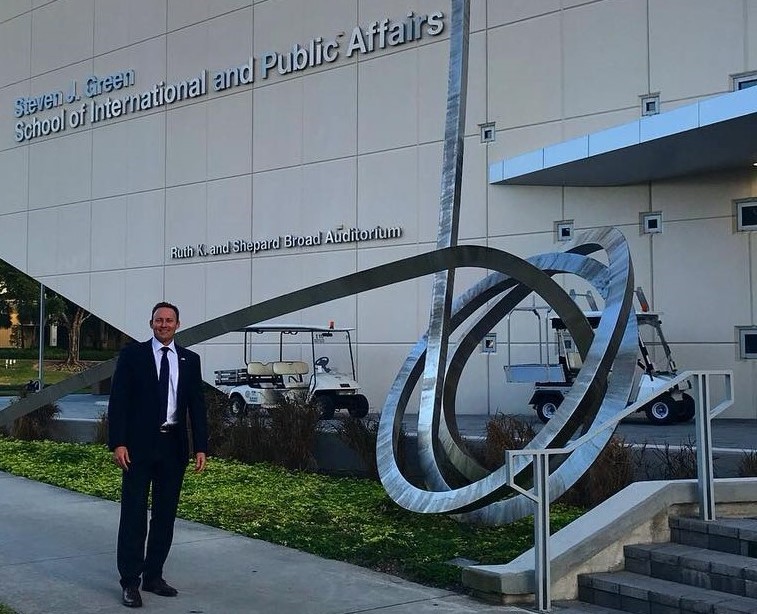 "At such a critical juncture in our nation's history, I believe it's important that our country's next generation of leaders learns as much as possible about the political process," said Murphy, a two-term Congressman first elected when he was 29.
"I plan to cover everything from being a candidate, being a member, the issues millennials will face as they enter the gig economy, and the need for our political leaders to start addressing automation, artificial intelligence (AI) and the future of work."
Murphy's accomplishments range from helping to secure nearly $2 billion in Everglades restoration funding to introducing the bipartisan SAVE Act (Savings, Accountability, Value and Efficiency) and reducing government spending. He was a member of the bipartisan United Solutions Caucus, earning a reputation for his independent voting record.
Embattled island nation leader calls on Ballard for help
Why would the Republican of Maldives, a tiny island nation in the Indian Ocean, need the services of Brian Ballard? The arrest of several prominent government officials by President Abdulla Yameen might have something to do with it.
Yameen prompted international outrage when he cracked down on opponents, media, and its courts by arresting justices, including Supreme Court Chief Justice Abdulla Saeed.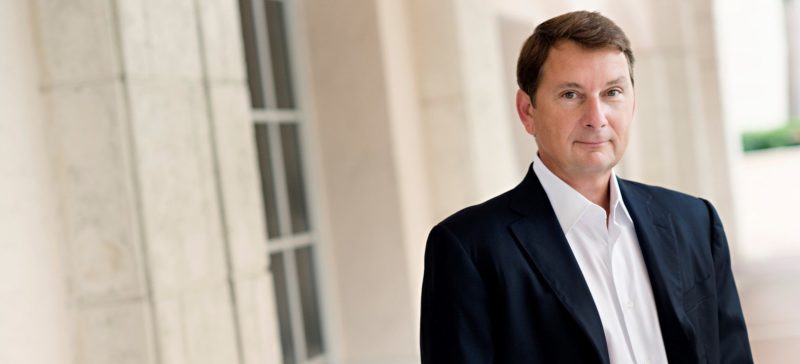 Earlier this month, the U.S. State Department said in a statement Yameen "has systematically alienated his coalition, jailed or exiled every major opposition political figure, deprived elected Members of Parliament of their right to represent their voters in the legislature, revised laws to erode human rights, especially freedom of expression, and weakened the institutions of government."
Last week, Ballard Partners inked a deal with the Maldives for a one-year contract worth $600,000 to help build support from policymakers and the U.S. government.
Ballard has been called on for his considerable talents to help the Maldives, as the popular tourist destination faces a national crisis which included the county's leader declaring a 15-day state of emergency. Ballard, an influential Republican fundraiser and lobbyist with a close relationship to President Donald Trump, will partner with the government-funded Maldives Marketing and PR Corp., to provide consulting and advocacy during the country's crisis.
Ballard and his team may point to another crisis as a way to assist his new client. While all of this is going on, China has established an observatory in the Maldives, which has concerned the Indian government.
Florida wins by modernizing NAFTA
Brandon Arnold, of the National Taxpayers Union, notes that trade officials from the Trump administration recently wrapped up the sixth of seven scheduled rounds of discussions with counterparts from Mexico and Canada to revise and renegotiate the North American Free Trade Agreement.
According to new research from the Business Roundtable, terminating NAFTA would come at an extraordinary cost for the country. The total short to medium term job losses would be between 1.8 and 3.6 million. More than 200,000 jobs could be at risk in Florida alone.
The damage to economic output would be staggering — GDP would fall by an estimated $119 to 231 billion per year. Florida's state economic output would drop by at least $6.3 billion — partly because ending NAFTA would reduce Florida's exports by $980 million.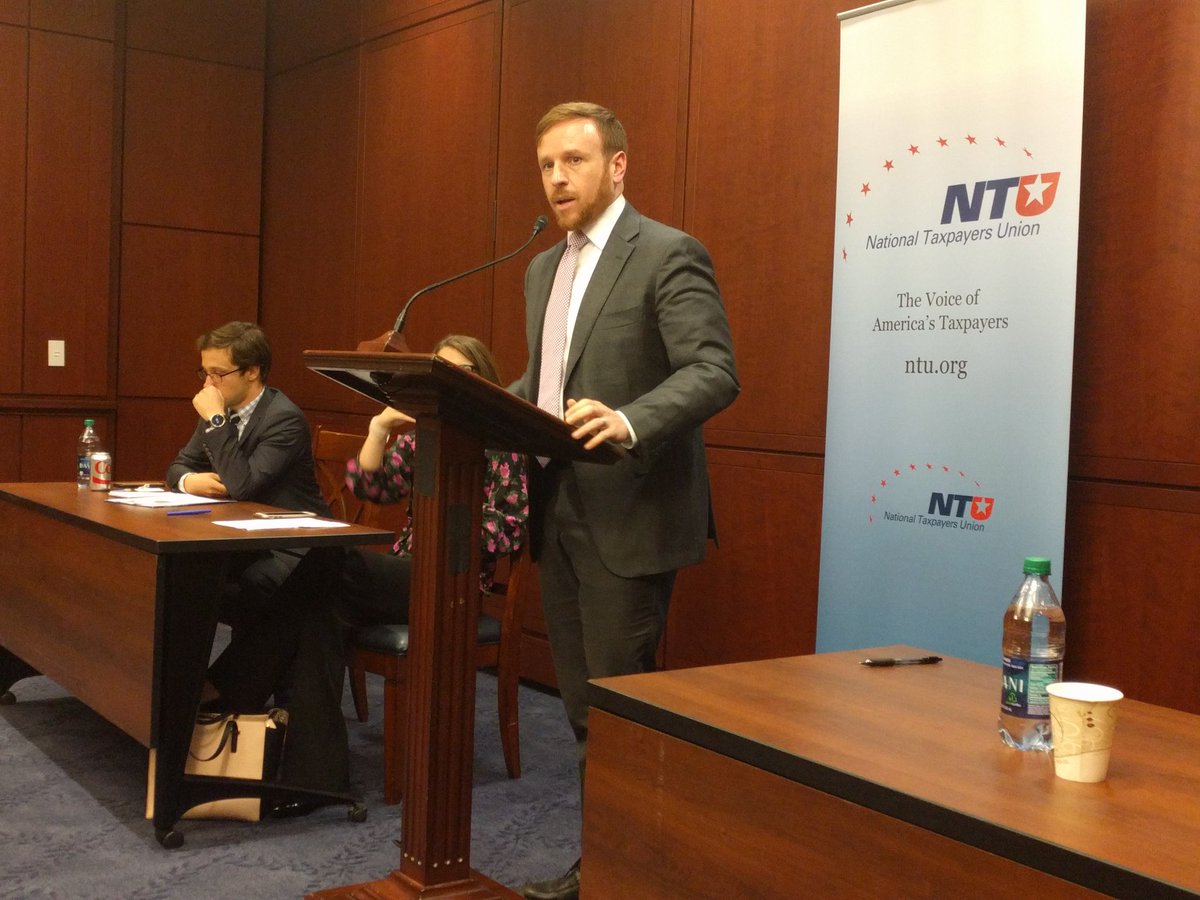 Rather than scrapping NAFTA, U.S. officials should continue to work with our trading partners to update and modernize the deal. Indeed, there is plenty of room for improvement. The original pact was crafted in the early 90s, before the advent of the digital economy and the formation of large tech companies like Google and Amazon.
As Florida's economy expands, creates jobs, and pushes wages upward, residents and businesses should keep a close eye on how the Trump administration handles trade policy. There are certainly gains to be made by modernizing existing deals, opening up new foreign markets, and leveling the playing field for American businesses.
But extreme actions like withdrawing from NAFTA could be calamitous and undo many of the economic gains our nation has made recently.
Paulson's Politics:  Will 2018 be the real year of the women?
In politics, 1992 was labeled as the Year of Women.
The catalyst was the U.S. Senate confirmation hearings for Clarence Thomas to a position on the Supreme Court. During those hearings, Anita Hill accused Thomas of sexual harassment of her and other women. Many Americans were shocked by her allegations, and even more shocked by the harsh attacks on Hill by the members of the Judiciary Committee.
The number of women elected in 1992 was relatively small. Even today, only 19.8 percent of the members of Congress are women, making them far more underrepresented than any segment of the American electorate.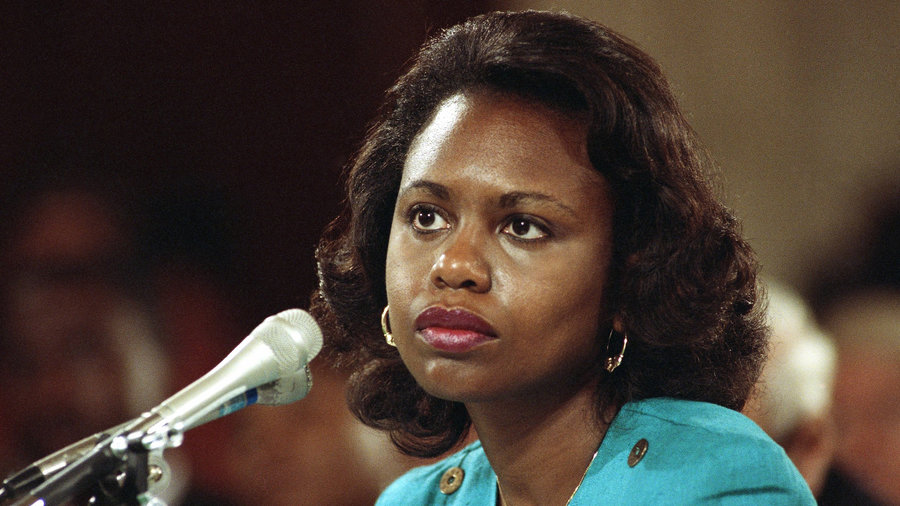 2018 may be the real Year of Women in Politics. We already have a record number of women announcing they are running for Congress. 431 women are running for the House, compared to 212 in 2016; 339 of the women are Democrats, and 92 are Republican. Fifty women are running for the Senate (29 Democrats, 21 Republicans), compared to 25 who ran in 2016.
Eighty percent of women running for Congress are Democrats. As Deborah Walsh, director of the Center for American Women and Politics at Rutgers University comments: "I think the energy and the excitement and the determination not just to run but also in terms of who's going to show up to vote, right now, that's on the side of the Democrats."
What's motivating so many women to run in 2018?  The primary factor is the election of Trump. During the campaign, many women came forward and talked about Trump sexually harassing them. In addition, Trump spoke in lurid language about his treatment of women.
2017 started with the inauguration of Trump, followed the next day by a massive march of women protesting his election and treatment of women. The year ended with the #MeToo movement. From January through September 2017, there was an average of 3,000 stories a month about sexual harassment. The Harvey Weinstein scandal drove that number up to 12,000 stories in October. The Matt Lauer and U.S. Representative John Conyers scandal elevated the number of stories to 28,000 in December.
The focus of stories on sexual harassment is vital because although studies have shown that women are no more inclined to support female candidates, women who believe sexual harassment is a significant problem are more likely to support women.
There is little doubt that 2018 will see many more women elected to Congress, and most will be Democrats. How this transforms politics remains to be seen.
Association of Counties Legislative Summit
The National Association of Counties (NACo) is holding its annual Legislative Conference March 3-7 in the nation's capital. Nearly 2,000 elected and appointed county officials from across the country will focus on federal policy issues facing county governments. Set to appear are national experts, consider policy resolutions and meet with administration officials and members of Congress.
Many of the events will be at Washington Hilton Hotel, 1919 Connecticut Ave. NW in Washington, D.C.
Highlighted speakers include Transportation Secretary Elaine Chao, Secretary of Veterans Affairs David Shulkin, Federal Emergency Management Agency Administrator Brock Long, Commerce Secretary Wilbur Long and U.S. Sen. Cory Booker of New Jersey.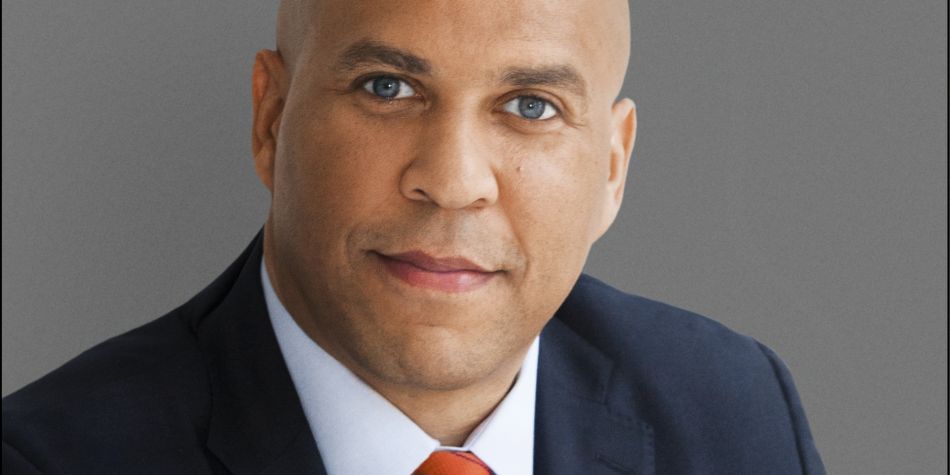 Among the Capitol Hill briefings: "America's Counties: The Foundation for American Infrastructure" and "How Counties are Tackling Multigenerational Cycles of Poverty."
Discussions will include "Disaster Response and Recovery," "The Opioid Crisis: Updates on Opioid-Related Litigation" and workshops on county-driven international economic development, fueling job growth by tapping into the new energy economy, designing and financing "smart" county infrastructure and a town hall on how counties are leveraging technology to modernize services.
The full NACo Legislative Conference schedule is available here.
 On this date in the headlines
February 27, 1973 — North Vietnam has halted the release of American POWs, saying they would not resume until the U.S. kept their end of the truce agreement negotiated between the two countries. The first group of freed POWs began arriving at California's Travis Air Force Base on Valentine's Day.
February 27, 2008 — In a feisty Democratic presidential debate, Sen. Barack Obama and Hillary Clinton argued on major issues including NAFTA and health care. Clinton defended herself from attacks by her opponent, who claimed she would force people to buy health care whether they could afford it or not.