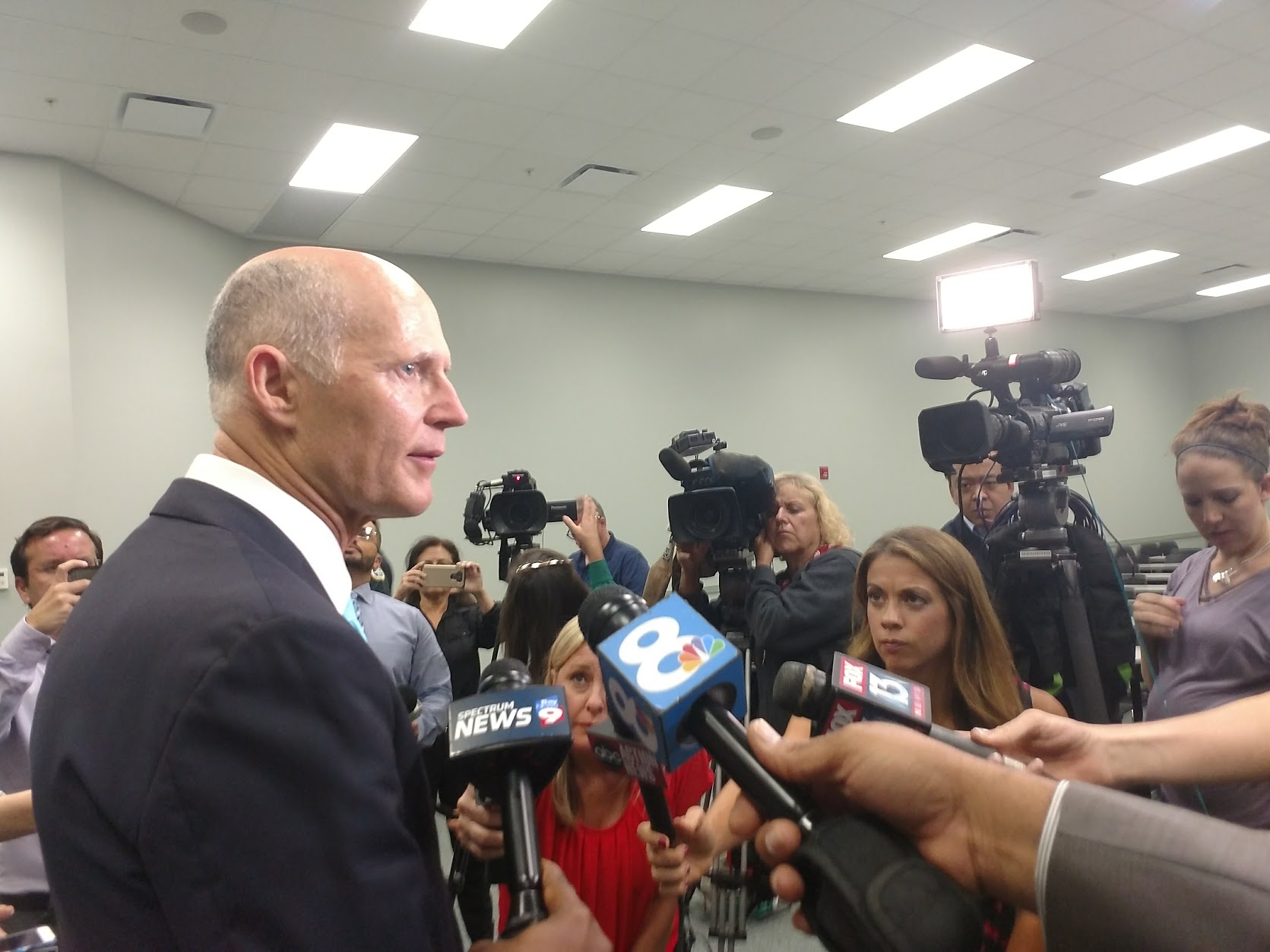 In Tampa Wednesday, Gov. Rick Scott continued a statewide tour touting his proposed $500 million to make Florida's public schools safer in the aftermath of the massacre at Stoneman Douglas High School two weeks ago.
The Governor's plan includes putting law enforcement officers in every Florida public school, assembling a "threat-assessment team" that would embed a member of the Department of Children and Families in every local sheriff's department.
Scott's recommended team would work with officials from school districts and the Department of Juvenile Justice to prevent people struggling with a mental illness from acquiring a firearm. He is also calling for hiring more mental health counselors and providing additional mental health resources.
Notably, Scott's plan does not include arming schoolteachers, a controversial proposal that has been a part of school safety packages making way through both the Florida House and Senate.
"I believe our law enforcement ought to do their job, and our teachers oughta teach," Scott told a pack of reporters Wednesday morning at the Hillsborough County Sheriffs Office in east Tampa.
Scott, as he did Tuesday in Miami — and undoubtedly later Wednesday in Jacksonville — would not say what he will do if the school safety bill that passes the Legislature next week and arrives on his desk includes funding for what is being called the "Marshal Program" to train and arm school staff.
"I'll review the bill, but I believe that law enforcement should be doing public safety, and teachers oughta be teaching."
Another discrepancy between the Governor and the Legislature is that the House and Senate include a three-day waiting period to purchase military-style semi-automatic rifles.
"With regard to the waiting period, It wouldn't have changed anything here. I want to do the things that have an actual impact," Scott said, repeating he is looking to change the law that will have an impact.
The Marshall plan calls for arming teachers in schools if district superintendents or school boards approve of such a policy. Hillsborough County School Superintendent Jeff Eakins says he backs the governor's stance on the issue, not the Legislature's.
"I think security and law enforcement should do their jobs and I think our teachers should be doing their jobs," Eakins said. "No school district should be forced to do that. This should be a discussion locally — school board, law enforcement, we should all be seeing what's best for the community, and it shouldn't be jumping to arming our teachers."
Although a $500 million program with just a week and a half before the legislative session is scheduled to end is a big ask, Scott says that Florida is blessed because the state has a surplus that will allow them to spend so much to harden schools and prevent the mentally ill from getting firearms.
He deferred questions that such funding would require reallocating funds from other discretionary spending.
Scott came up with his plan after consulting with educators, parents and law enforcement officials, such as Hillsborough County Sheriff Chad Chronister and Pinellas County Sheriff Bob Gualtieri, both of whom were in attendance.
In introducing Scott, Chronister thanked him for "not taking any knee-jerk, emotional actions in light of the Parkland tragedy, but instead developing a common-sense approach keeping our children, our schools, and our community safe."
Attorney General Pam Bondi said the state will now have a "see something, say something" hotline, website and app for students to anonymously report overheard threats, suicides or bullying.
While such a program may make it easier to report troubling behavior, it was well-reported that various local, state and federal agencies did have advance knowledge the Parkland shooter, Nikolas Cruz, was disturbed and threatened to become violent.
"I don't care what happened in this instance, from now on, it will be given the attention it deserves," Bondi insisted about the new app/hotline.
When asked why he's not going after assault weapons or high capacity magazines, Scott said the answer was not to ban specific weapons but specific people from having such weapons. He mentioned Oklahoma City bomber Timothy McVeigh, the Boston Marathon bomber, and terrorists in the U.S. and overseas who have used U-Haul trucks to mow down people on the streets.
"I want to focus on the people who we can track," Scott said. "There's evidence what they're going to do. Let's focus on them."
A poll taken since the Parkland shooting shows about 70 percent of Florida residents want more restrictions on guns, and 56 percent do not want to arm teachers, the South Florida Sun-Sentinel reports.