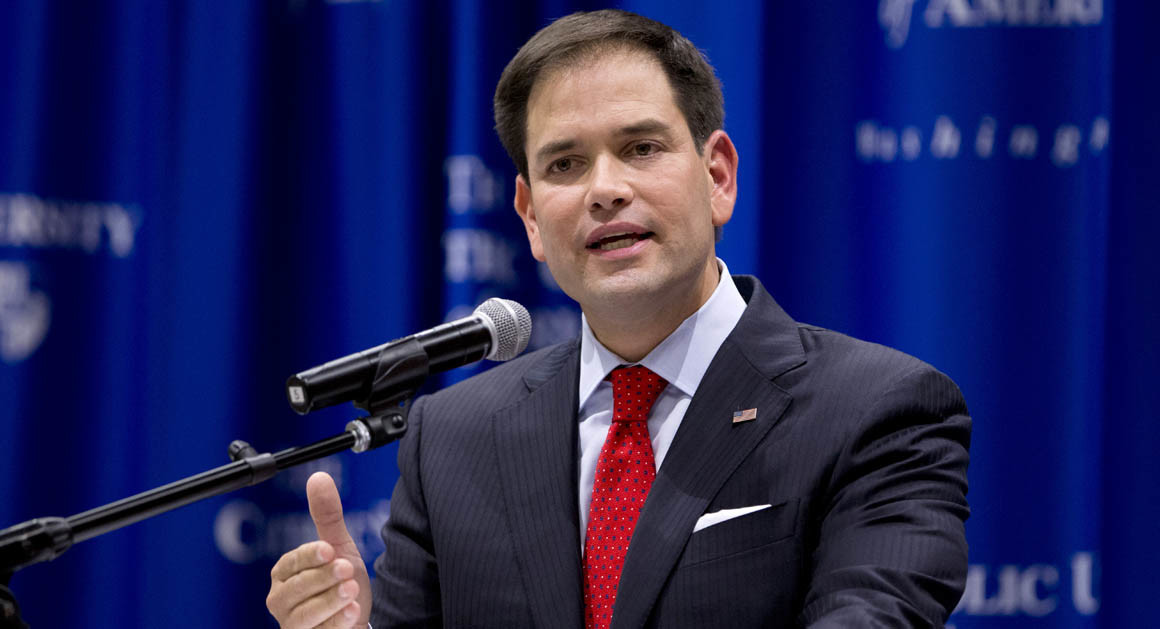 Florida's Republican U.S. Senator Marco Rubio on Thursday announced his Senate plan to respond to the Parkland massacre, which includes strengthening school security, providing for "restraining order" powers for police to confiscate weapons from dangerous individuals and adding to the gun purchase background-check databases.
Rubio said his plan, which he called a comprehensive response, has emerged from his meetings over the past two weeks with law enforcement, firearms sales experts, students, teachers, and administrators, including discussions at his CNN town hall appearance last month.
"I have also been in constant contact with several of the parents of the victims who lost their lives," he said.
However, it does not explicitly address two things he declared on CNN that he would support: raising the minimum age for weapons purchases, or limiting capacity sizes for ammunition magazines. He said Thursday he would "explore" such reform prospects, in the face of their current unlikelihood in Congress.
Much of Rubio's plan involved supporting or adopting ideas pushed by his colleagues. He outlined it in a speech on the floor of the U.S. Senate.
"After the tragic events of February 14, the Parkland community, the residents of Florida, and the entire nation have demanded action," he said. "While there are sharp differences on restrictions to the Second Amendment, there is widespread agreement that we must act now to prevent another tragedy like Parkland from happening anywhere else, ever again. "
Rubio reiterated his focus on the reports that the Brevard County Sheriff's Office and the FBI had plenty of reasons to suspect that charged attacker Nikolas Cruz was about to commit an atrocity, but failed to take action before he allegedly opened fire with an AR-15 in Marjory Stoneman Douglas High School, killing 17. His plan addresses several responsibilities and potential changes in procedures for federal, state, and local law enforcement, and for schools working with them.
"I believe this attack could have been prevented if current law had been fully enforced. This killer was a well-known danger to the school district and the Broward Sheriff's office. He was also the subject of two separate and specific warnings to law enforcement agencies. People saw something and said something. And yet this deranged and violent individual was able to pass a background check and buy 10 separate firearms, and ultimately walk right into a public school and take the lives of 17 innocent Floridians," Rubio said in a news release issued by his office.
"This tragedy is the result of a massive multi-systemic failure involving federal, state and local authorities who failed to identify the threat he posed and coordinate a response to stop him before he took action. It is this failure which we should focus on by addressing the shortcomings and vulnerabilities in our current laws and policies," he added.
Among his plan:
– He said he would join the Utah Republican U.S. Sen. Orrin Hatch's "Stop School Violence Act," to strengthen school security, provide school training to identify threats, and create school-threat assessment and crisis intervention teams to coordinate with law enforcement.
– The introduction of a "Gun Violence Restraining Orders" bill, similar in concept to others previously introduced by such members of Congress as U.S. Rep. Stephanie Murphy, the Democrat from Winter Park, and California Democratic U.S. Sen. Diane Feinstein, which would give law enforcement protocols to remove guns from individuals who pose a threat.
– Support for the "Fix NICS Act," introduced last year by Texas Republican U.S. Sen. John Cornyn, which would require all federal agencies, and would incentivize states, to fully report all relevant information to a national background check database that could be used when background checks are run on people purchasing guns.
– Support for a new bill called "Lie and Try," modeled after some states' legislation, which would alert law enforcement and prosecutors of individuals who attempt to purchase guns and fail background checks, "so that they can be investigated and prosecuted."
"I will continue to explore additional reforms involving age limits and potentially magazine capacity," he said. "These reforms do not enjoy the sort of widespread support in Congress that the other measures announced today enjoy. In order to successfully achieve passage of these ideas, they will need to be crafted in a way that actually contributes to greater public safety, while also not unnecessarily or unfairly infringing on the 2nd Amendment right of all law abiding adults to protect themselves, hunt or participate in recreational shooting."