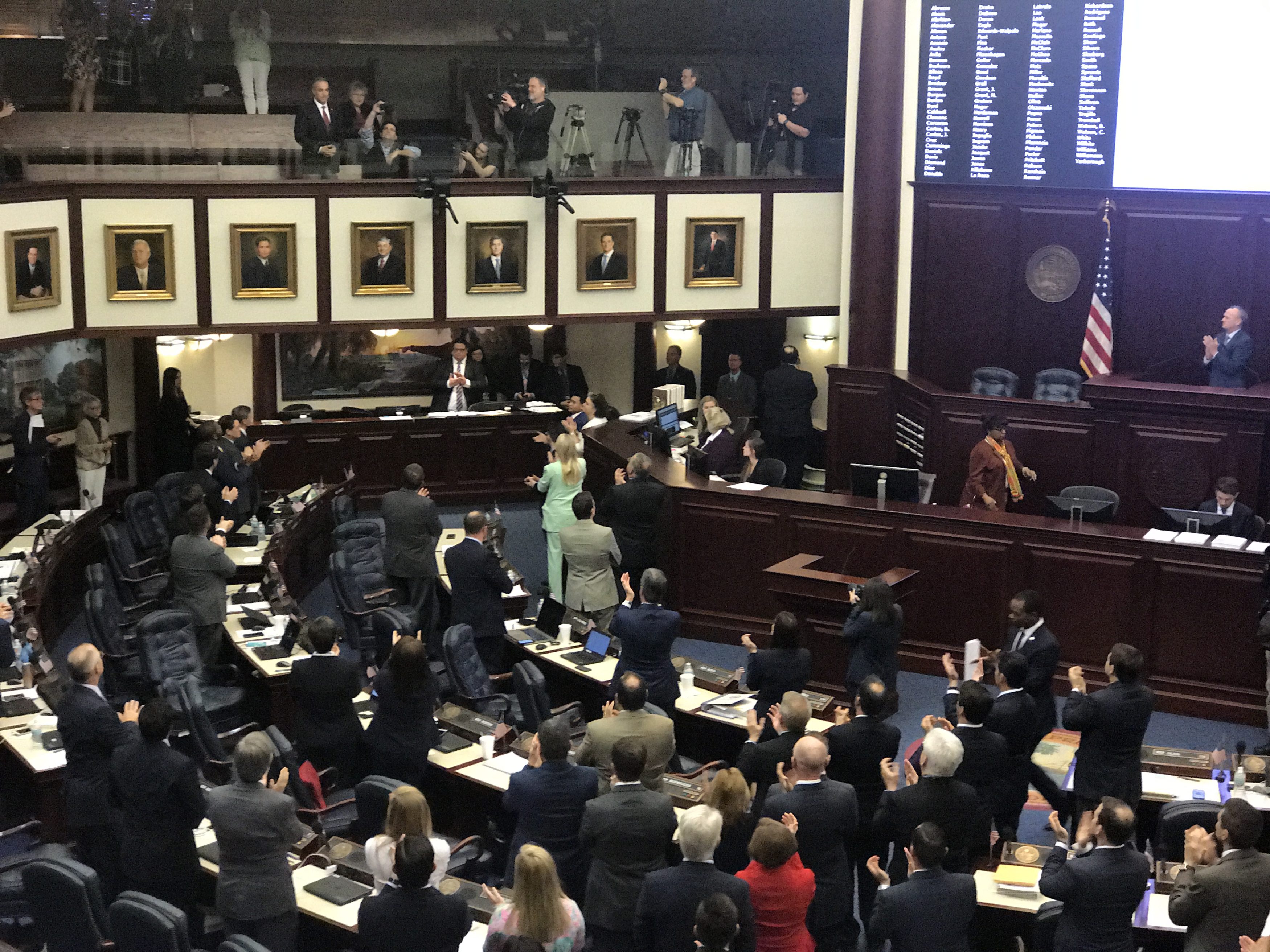 After the Florida House passed contentious legislation Wednesday that would arms school personnel and create unprecedented gun restrictions in the state, members took a moment to applaud Andrew Pollack, the father of a girl shot dead at Marjory Stoneman Douglas High School.
The hastily crafted bill, HB 7026, passed the Republican-controlled House on a 67-50 vote after almost eight hours of emotional debate. The proposal divided Democrats and Republicans in the Legislature in the weeks that followed the Valentine's Day school massacre.
But all eyes are now on Gov. Rick Scott, who on Wednesday would not commit to its final passage. He said he would take his time to read every line of the bill before signing it into law.
The $400 million gun and school safety proposal includes funding to demolish the building where teenagers and teachers were slaughtered by a 19-year-old gunman. It also includes gun-control provisions banning the sale of bump stock and raising the legal age to buy an assault rifle from 18 to 21 that hardline Republicans, like state Rep. Jay Fant opposed.
The bill that now heads to the governor also includes language that would allow local governments to participate in a program that would arm school personnel and train them to react in case of an active shooting on campus.
Pollack and Ryan Petty, the father of a 14-year-old girl who was also killed in the school shooting, told reporters Wednesday they were in favor of the proposal because it had a lot of good in it.
"As families, we have different opinions and different backgrounds, but we came together and are united behind this legislation and our ask is that the House comes together, as the families have, to pass this bill," Petty said.
Petty did not get to see the House vote on legislation because he had to catch a flight. Pollack had a flight at 7pm, but likely missed it in order to watch what legislators would do in response to the tragedy that took his kid.
But even with parents being in support of it, some lawmakers were still not fans of the legislation.
"There is language in here that are lot of folks don't love, but will support," said Rep. Kristin Jacobs, whose district includes the high school, in Parkland. "We don't support it because we love it but because we know it is the first of many steps, (and) when we take incremental steps, we get somewhere.
"We understand there are sections (in the bill) we can't stomach, but we must move forward together," she added.
Rep. Evan Jenne of Dania Beach, the House Democratic Caucus policy chair, noted lawmakers have all "been through a lot … this has not been a good last couple of weeks."
He said he spoke with Parkland students, who made clear they "didn't want more guns in their classrooms, that wasn't going to make them feel safe."
Jenne went on to say the bill "reads like the rough first draft of a Steven Seagal movie, like the cafeteria ladies are going to spring into action."
Members of the Florida Legislative Black Caucus pointing to concerns about black and brown children being targeted if school staff are allowed to carry guns in schools.
"Each and every day, black and brown boys and girl face the threat of gun violence whenever they leave their homes," said Democratic state Rep. Tracie Davis said.
"This issue affects our communities in a way that some in this chamber will never understand," she added, "while we are having this debate, I ask that we keep their lives in mind, their futures in mind, their dreams in mind, because too often, this legislature has not."