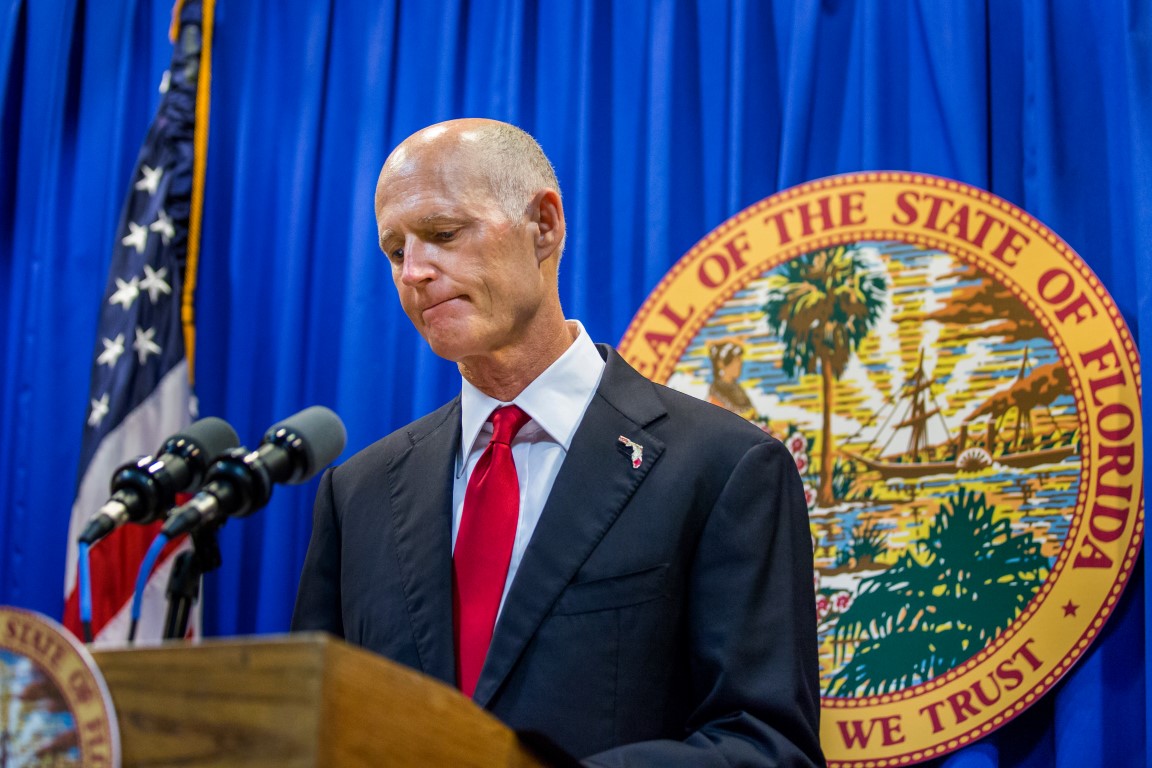 Republican Gov. Rick Scott still isn't officially in the race for Florida's U.S. Senate election this year but that's not stopping Democrats from hammering him with two new digital ads being released Monday, raising questions about his financial blind trust and his missing nursing home voicemails.
The Democratic Senatorial Campaign Committee is releasing the digital ads "Truth" and "Blind," and both question whether Scott is using the governor's office to enhance his own wealth.
"Rick Scott has only ever looked out for one person: himself," David Bergstein of the Democratic Senatorial Campaign Committee stated in a news release. "In order to advance his agenda, Scott's shown he'll mislead Floridians, abuse his position as governor to make himself richer, and help his political donors and cronies at Floridians' expense. He'll say and do anything to benefit himself, which is why Floridians just don't trust Scott to look out for them."
Scott is widely anticipated to be preparing a run for the U.S. Senate against Democratic U.S. Sen. Bill Nelson this year, and most polls have shown the race to be fairly close. However, he has not filed yet, leaving a little of a gray hole on if and how he might respond. The governor's office was asked if it would respond but has not done so yet.
The "Blind" ad cites media reports including one from the Tampa Bay Times and FloridaBulldog.com that suggest that Scott's has handled his finances in a way as governor that would not be permitted if and when he runs for federal office, and raising questions about potential conflicts of interest.
"Is Rick Scott using the governor's office to enrich himself? He's had a close business partner manage his so-called blind trust, something prohibited for federal officeholders," a narrator inquires. "He's a walking conflict of interest, taking actions as governor to help entities doing business in Florida that he's owned stock in. One company he owned just sold for $825 million, but he won't tell us how much he personally made — hiding behind a secretive blind trust. Rick Scott: is he in it for Florida, or for himself?"
The other ad, "Truth," questions three different instances in which the narrator contends Scott cannot tell the truth, including an oldie used against Scott in his first election run in 2010: a deposition video in which he appears to be unwilling to even acknowledge his own signature in a suit alleging Medicare fraud against his former company. The ad also cites the missing cellphone voicemails dating from his conversations last September with nursing home executives about Hurricane Irma and finishes again with questioning the source of his personal wealth.
"He refused to tell the truth 75 times under oath when he led a company that was fined 1.7 billion for committing the largest Medicare fraud in history," the narrator states. "He hid the truth by deleting voicemails on his cellphone during the recent nursing home tragedy. He has avoided telling the full truth about how he's increased his personal wealth by 46 million dollars while governor. Let's face it, Rick Scott just can't tell the truth."