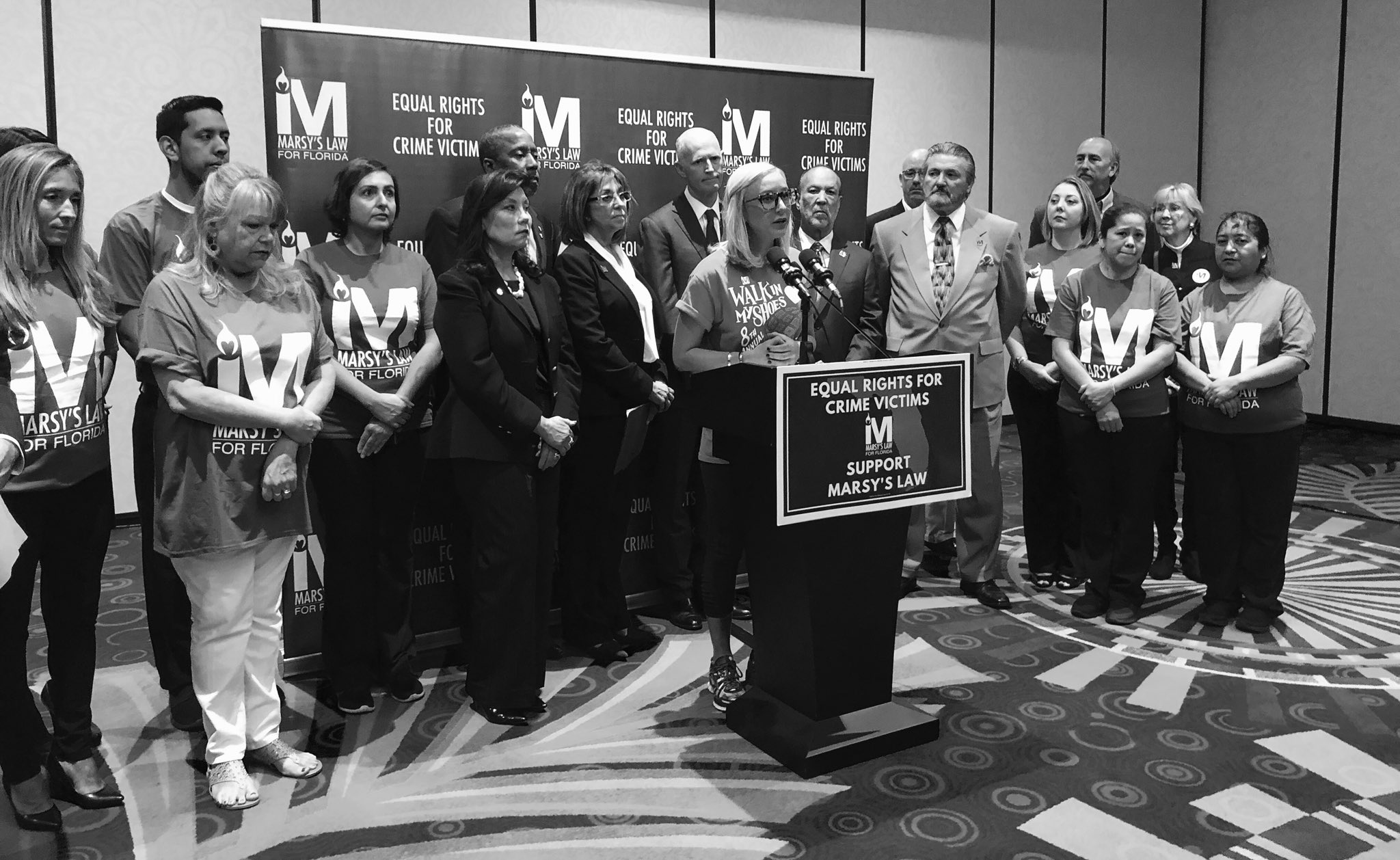 Before the Constitution Revision Commission (CRC) convened its final public hearing Tuesday in St. Petersburg, Gov. Rick Scott joined others to support Marsy's Law for Florida. 
A proposed constitutional amendment would grant equal rights to defendants and convicted criminals, and to victims and their family members.
"It's very important that Marsy's Law becomes the law of the land," Scott said.
Most states have taken steps to amend their constitutions to enumerate victims' rights. Fifteen have not – including Florida. 
Marys's Law takes its namesake from Marsalee "Marsy" Nicholas of California, who was stalked and killed by her ex-boyfriend in 1983.
Later, Marsy's brother and mother were confronted by the accused murderer in a grocery store. The two had not been told the ex-boyfriend had been released on bail.
The amendment includes the rights "to refuse an interview, deposition, or other … request by the defense," "to be heard in any public proceeding involving pretrial or other release," and to "full and timely restitution in every case."
State Attorneys Katherine Rundle of the 11th Circuit and Andrew Warren of the 13th Circuit said Monday they were in favor of the proposal.
It's also supported by Sen. Lauren Book, a Plantation Democrat and child sexual abuse survivor who founded "Lauren's Kids," an organization to prevent childhood sexual abuse and help other survivors.
"Victims should be treated with respect and humanity," she said Tuesday.

Now, the full CRC has to approve the proposal by no less than 22 votes out of its 37 members.
If cleared by the CRC, Marsy's Law would be placed on the 2018 statewide ballot, where it needs 60 percent approval to become a part of the constitution.
The Commission meets every 20 years to review and propose changes to the Florida Constitution.
A link to the press conference video is here.