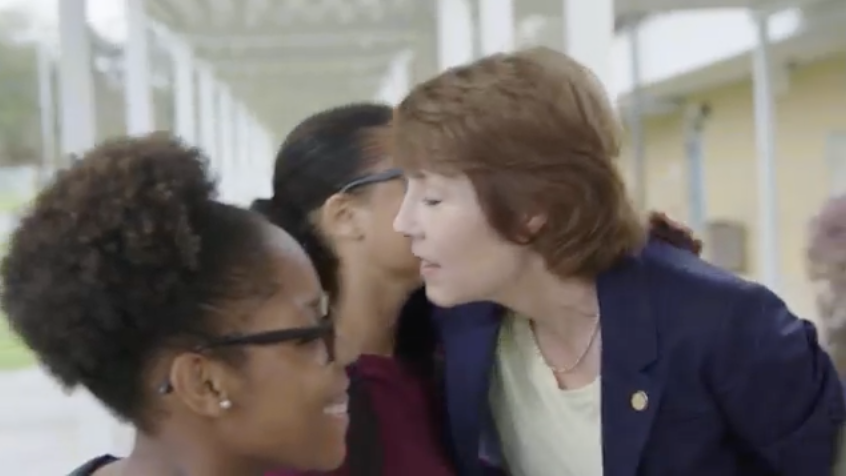 Democratic gubernatorial candidate Gwen Graham goes hard against President Donald Trump in her first digital video ad of the 2018 election, calling him an embarrassment, a divider, and a bully, and vowing that as Governor she would stand up against him.
As graphics play out her words, Graham begins the video by saying that she wants to be someone who bridges divisiveness, something she believes Trump deliberately promotes.
"Donald Trump is an embarrassment. Donald Trump is an example of a bully," Graham says in the ad, as the video switches to show some of her characteristic hugs. "I see it as my job to stand up to Donald Trump. It is the Governor's job to look out for the state of Florida. And I will look out for the state of Florida. Donald Trump is not going to be able to stand in my way of doing what's right for the people of Florida."
Graham's campaign said the ad will be backed by a "significant buy" across various digital platforms, and will begin by targeting the Palm Beach area before expanding statewide.
Graham is in a battle royale for the August 28 Democratic primary, with Tallahassee Mayor Andrew Gillum, former Miami Beach Mayor Philip Levine, and Winter Park businessman Chris King. The leading Republicans are Florida Agriculture Commissioner Adam Putnam and U.S. Rep. Ron DeSantis.
"While our country and state face serious challenges, Donald Trump is still taking weekly vacations to Mar-a-Lago and spending much of his time on the golf course," Graham stated in a news release announcing the ad. "I hope Trump sees this ad during one of the many occasions he is checking Twitter because I want him to know that I will always put Florida first."