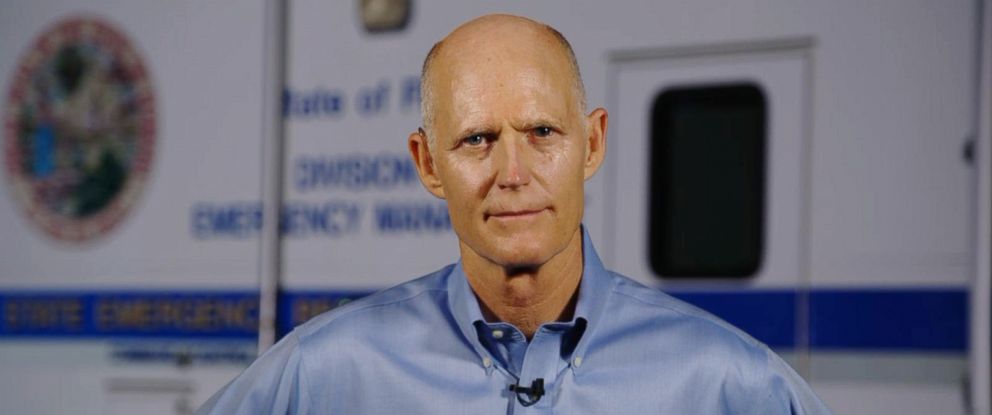 In advance of Gov. Rick Scott's expected announcement next Monday that he's running for the U.S. Senate, the Democratic-campaign supporting PAC American Bridge 21st Century is laying out a discussion of five weak points it says Scott has that Democrats should pummel.
American Bridge contends that public opinion on current hot issues, the anticipated Democratic political wave, Scott's tendency to underperform compared with other Republicans, the dramatic increase in Puerto Rican voters in Florida, and personal financial disclosure laws all are going to make it far more difficult for Scott to beat incumbent Democratic U.S. Sen. Bill Nelson in November than it was for him to win two Governor's elections.
"Rick Scott's decision to run for U.S. Senate will go down as one of the biggest mistakes in recent Florida political history," American Bridge 21st Century predicted in a campaign strategy memorandum issued Wednesday.
The memorandum, first shared with Florida Politics, argues in detail that Scott's 2010 and 2014 victories came in years of Republican waves, while a Democratic wave is being projected this year. Even within those GOP waves, the group states Scott underperformed other Republicans on the ballot.
"This time, Scott's putative Senate bid will run into a Democratic headwind the likes of which he has never encountered and for which his political brand is totally unprepared," the memo declares.
Republicans are ridiculing the memo. Republican National Committee spokesperson Taryn Fenske called Nelson one of America's "most vulnerable Democrats."
"It's laughable American Bridge thinks career politician Bill Nelson, with only half of the state recognizing his name despite nearly two decades in office, is a shoo-in to keep a Senate seat," Fenske stated in a written response to the memo. "With little to show for his time in Washington, other than his free ride to space as a Congressman, it isn't hard to see why Do-Nothing Democrat Bill Nelson is one of America's least effective and most vulnerable Democrats."
American Bridge, founded by political operative David Brock, operates largely as a research organization for Democratic campaign strategies. This memo lays out five points American Bridge contends are Scott weaknesses:
– In both of his elections, 2010 and '14, there were Republican waves, with final polls favoring generic Republicans by about 4 points. Scott didn't cover that spread in either election, winning each by about 1 point.
The memorandum also contends that Scott ran as an anti-President Barack Obama crusader who helped increase Republican turnout. This year Scott not only has no such national foil to use to excite the grassroots, but Republican President Donald Trump's underwater popularity ratings might quell Republican turnout.
– Scott is, in the PAC's assessment and words, "a historically weak vote-getter." In his previous elections, he received fewer votes than other statewide Republicans on the ballot, Marco Rubio in 2010, and Pam Bondi, Adam Putnam and Jeff Atwater in both 2010 and 2014.
– Florida has seen an unprecedented influx of new voters, especially from Puerto Rico.
More than 100,000 Puerto Ricans have moved to Florida following the devastation of Hurricane Irma last September, and tens of thousands of others were already migrating to Florida every year for several years. When they have voted, Puerto Rican voters have favored Democrats significantly over Republicans.
However, the memorandum does not note any gains Scott may have earned within Florida's Puerto Rican community with his multiple trips to Puerto Rico this past fall and winter, or with his administration's multi-pronged initiatives aimed at offering services and cutting red tape for Puerto Rican migrants.
– Because of tough federal disclosure laws, Scott's money will be an issue "like never before," the memorandum predicts.
"Rick Scott's net worth has gone up by $46 million during his time as governor, but he keeps it hidden from public view," the memo declares, calling Scott's blind trust "unethical" and noting it is run by his friend. "Federal disclosure laws are considerably stronger than Florida's, and Scott will be forced to open the books on his wealth after he announces for U.S. Senate," the memo continues. "Count on drip-drip-drip of negative headlines."
In particular, the memo contends that Scott's investments could be vulnerable to negative news because he is invested in a company that wants to drill in the Everglades; that a Medicaid privatization bill he pushed could have steered contracts to a health care company he owned; that he has a stake in a pipeline firm with a $3 billion natural gas pipeline through Florida and his appointees "shepherded" the project through regulatory hurdles; and that he personally owned stock in an Irish health care products company while approving tax rebates for that company.
– "The key issues in the 2018 election will be uniquely unfavorable to Rick Scott," the memo claims.
Among them: opioids, gun reform, and disaster management.
"Without backlash against the White House to rely on, Scott will no doubt resort to spending millions on negative ads," the memo concludes. "But in 2010 and 2014, after twice setting a record for spending in a Florida campaign, Scott won the lowest number of votes of all the statewide Republicans on the ballot. The pattern is clear: even when Republicans have done well, Rick Scott has struggled. It is too early to tell if the Democratic wave in 2018 will be a surge or a tsunami, but one thing is clear: it will be too strong for Rick Scott to overcome."
Memo – Why Rick Scott Can't Win by Peter Schorsch on Scribd