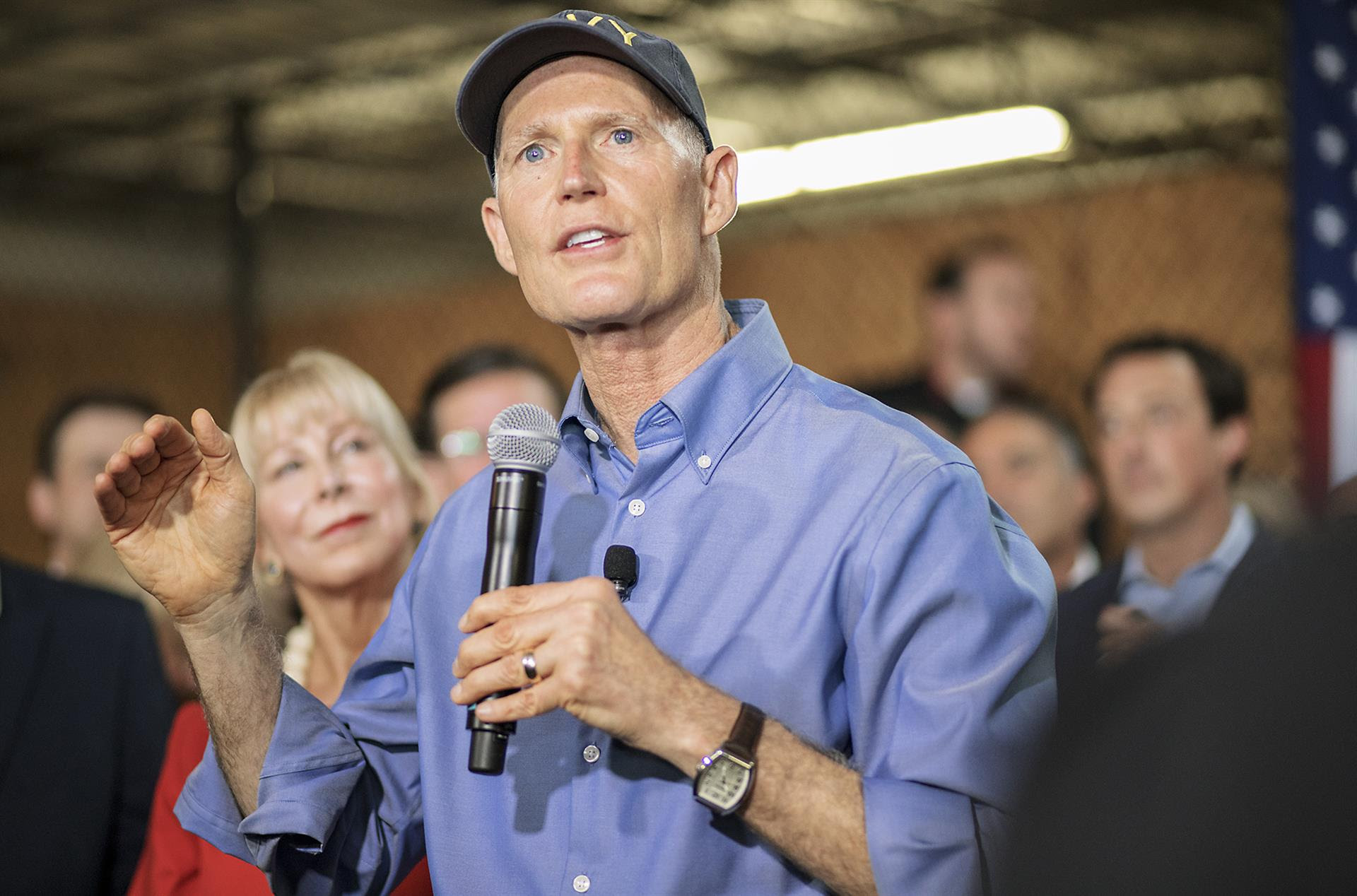 With the Republican Party of Hillsborough, $20,000 goes a long way.
First, it buys a spot at next month's Lincoln Day Dinner, seated at a table with Gov. Rick Scott.
Scott is headlining the event — themed "Let Freedom Ring" — along with Attorney General Pam Bondi (as Master of Ceremonies) and U.S. Reps. Dennis Ross, Gus Bilirakis and Vern Buchanan.
Twenty large also gets "Platinum Sponsor" status, an exclusive mention at the dinner and six passes to the VIP reception, joining Scott and "visiting dignitaries."
Despite the potential ethics violation of buying access to Scott — as a newly minted U.S. Senate candidate — those cutting the big checks also get a special prize: 20 chances to win a Colt 1911 A1 G.I. 45 ACP (valued at $949).
Friday is the last day of the event's "early bird pricing." It's also the same day thousands of students across the country walked out of classrooms to protest for gun reform on the 19th anniversary of the Columbine High School massacre.
And there is no small irony in an event that features Scott and a raffle of a handgun (particularly a Colt), considering the Florida Governor's history of mingling guns and jobs, two issues that served as cornerstones of his political career.
In 2011, Scott pledged more than a million dollars to Colt Manufacturing to open an Osceola County plant to manufacture AR-15's — similar to the weapon used by Nikolas Cruz to kill 17 students and teachers in February's deadly Parkland high school shooting.
"Since Scott's first year in office, the governor has sought to bring gun makers to Florida," Florida Bulldog reporter Dan Christiansen wrote Feb. 20. "In 2011, for example, he promised $1.6 million in incentives to Colt Manufacturing Co. to open a plant and add 63 jobs in Osceola County to build AR-15 rifles, like the one police say was used in last week's slaughter at Marjory Stoneman Douglas High School in Parkland."
With the Colt incentive deal in hand, Scott wanted show Florida was both open for business (especially the gun business) and welcoming to gun rights supporters — key factors in Florida's much-derided reputation as the "Gunshine State."
"'As a supporter of new job creation and the Second Amendment, this announcement sends a clear message that Florida is both open for business and a defender of our right to bear arms,' said Scott, adding that he was personally involved in bringing Colt to Florida," the Bulldog piece noted.
Unfortunately for Scott, the boast was short-lived. The Colt deal later fell through because the gun manufacturer did not live up to the promised jobs.
The Hillsborough GOP Lincoln Day dinner is May 19 at TPepin's Hospitality Centre in Tampa, beginning promptly at 6 p.m.
According to the invite, the event starts with a reception and silent auction of "significant local and historical items of interest" — which presumably includes the Colt giveaway. Dinner begins at 7 p.m.