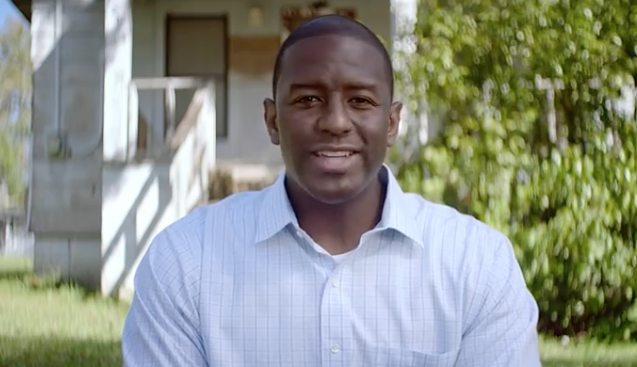 Democratic gubernatorial candidate Andrew Gillum is releasing a new digital ad his campaign says is backed by a five-figure buy, using his upbringing to inspire his views on opportunity.
The 30-second ad, "Opportunity," features Gillum, now the Mayor of Tallahassee, sitting in front of a modest house talking about the people who cared about and believed in him when he was young, and how he intends to do the same. It includes footage taken from a five-minute introductory video "Bring it Home" that he released at the start of his campaign last year.
"Were it not for a good public education, caring and loving parents, a grandmother who prayed for me, and, quite frankly, people who believed enough in me to say that I could, I wouldn't be the person I am today," Gillum states. "And I plan to work as hard as I can every day, if given the opportunity, to make sure every child has that same opportunity."
Gillum and his campaign have aggressively used the internet and social media. It earned more than a million organic impressions on Twitter when the campaign hosted a voter-registration drive in for Broward County high school students, and a Facebook Live statewide organizing event with Rep. Carlos Guillermo Smith. The campaign has boosted those and other digital videos on social media, but this ad will be the first all-out effort behind a video.
Gillum faces former Miami Beach Mayor Philip Levine, former U.S. Rep. Gwen Graham and Winter Park businessman Chris King in the 2018 Democratic gubernatorial primary.