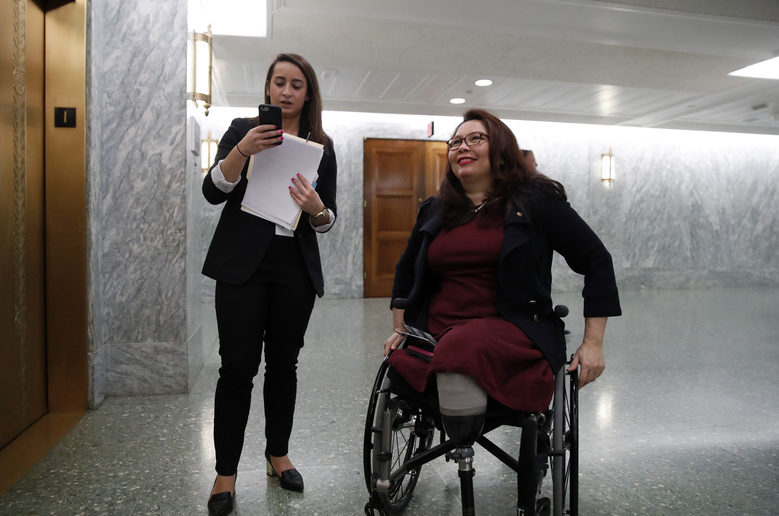 Democratic candidate for governor Gwen Graham says she's gotten the endorsement of U.S. Sen. Tammy Duckworth of Illinois, referred to as "a progressive trailblazer leading the charge against Trump in Congress."
"No one is better equipped to defend Florida against Donald Trump and his harmful policies than Gwen Graham," Duckworth said in a statement released by the Graham campaign.
Duckworth "was deployed to serve in the Iraq War in 2004 and lost both of her legs when her helicopter was struck," according to Biography.com.
She was elected to the U.S. House in 2012 and to the Senate four years later, "thereby becoming the first disabled woman and the second Asian-American woman in the Senate. In April 2018, Duckworth became the first female senator to give birth while holding office."
Graham, she said, "will take on Trump to defend the Affordable Care Act and expand healthcare for Florida families. Gwen will protect Florida's waters from Trump's dangerous oil drilling plans. And she will put people — not special interests — first by passing an increased minimum wage.
"Serving together in Congress, I saw Gwen fight for our shared progressive values," Duckworth continued. Duckworth, a Purple Heart recipient, and Graham served together in Congress. Graham served one term in 2015-17.
"When Republicans tried to repeal Obamacare, Gwen voted to save it. She defended a woman's right to choose and sponsored legislation to improve healthcare for mothers and babies. And after the devastating shooting (at the Pulse nightclub in Orlando), Gwen took on Paul Ryan to demand a vote on common sense gun safety legislation."
Graham returned the favor, calling Duckworth "one of the toughest women I know."
"She sets an incredible example for all Americans, and I am honored to have her endorsement," Graham said. "As governor, I will fight with her to take on Donald Trump and fight to expand healthcare, protect our environment, and defend Floridians from his bullyish attacks."