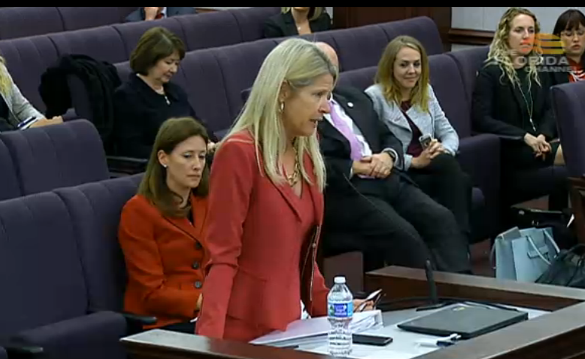 Armed with newly-raised congressional skepticism about the legitimacy of a financing method used by the company, state Sen. Debbie Mayfield on Wednesday urged Gov. Rick Scott to pull Florida from the financing deal backing Brightline's proposed private passenger railroad along the east coast.
Scott's office replied that it would review it.
At issue is $1.75 billion in federal, tax-exempt private activity bonds [PABs] that were approved last year for construction of the rail line for the privately owned and operated, higher-speed, passenger train railroad being developed by Brightline, formerly known as All Aboard Florida.
Brightline has promised high-speed, private passenger rail service connecting Miami, Fort Lauderdale, West Palm Beach and Orlando, pledging to do so with private money. Service already has begun between West Palm Beach and Fort Lauderdale, and is expected this year to connect to Miami, with Orlando still a few years away.
Opposition has centered largely within the ride-over counties of Florida's Treasure and Space coasts, between the planned stops in West Palm Beach and Orlando. They have raised strong objections to potential safety and disruption issues the trains may pose.
Yet now the company's decision to seek and use federally-tax exempt PABs to raise capital for the project has led critics, notably now Mayfield, a Republican from Melbourne, to seize on this financing option as a potential critical weakness in the project.
Last week a congressional hearing raised questions about whether Brightline should have been approved for the bonds. Following up this week, Florida's U.S. Sen. Marco Rubio wrote U.S. Transportation Secretary Elaine Chao raising more questions about the deal.
Brightline has noted that it followed all federal rules and received the approval through appropriate processes, and that courts that reviewed the financing have agreed.
On Wednesday Mayfield sought to bring those questions to Scott's attention and caution him that he should do something about protecting Florida's reputation, and specifically that of the Florida Development Finance Corporation, which also approved Brightline's PAB financing plan, and through which the bonds would be sold.
"In light of the cloud of uncertainty that has been placed on the legitimacy of the allocation of PABs to AAF, there must be an effort to protect the FDFC from a potentially embarrassing situation that could also jeopardize the state of Florida's reputation," Mayfield wrote.
Brightline already has spent $600 million to upgrade railroad tracks in South Florida, between West Palm Beach and  Miami. The longer, higher-speed, more expensive phase involves upgrading tracks and laying new tracks between West Palm Beach and Orlando. And that's next.
Mayfield called for Scott to not let Florida participate in financing that deal, at least for the time being.
"As I previously indicated, I respectfully request that you take action and direct the FDFC to not act as a conduit for AAF, its affiliate Brightline North Segment Borrower LLC, or any other affiliate of AAF, to sell $1.15 billion in PABs while there is an active discussion and analysis taking place at the federal level for the next 90 days."
A response from Scott's office declared, "We will review it."
Last week at a hearing of the U.S. House Subcommittee on Government Operations, largely under questions from Republican U.S. Reps. Brian Mast of Palm City and Bill Posey of Rockledge, federal officials revealed they had approved the bonds under a very broad interpretation of the law. That led subcommittee Chairman U.S. Rep. Mark Meadows, a North Carolina Republican, to suggest that what happened appeared to him to be outside what Congress intended when it authorized the financing mechanism.
Rubio wrote Chao Tuesday wanting to know any precedents that might compare with Brightline's case.