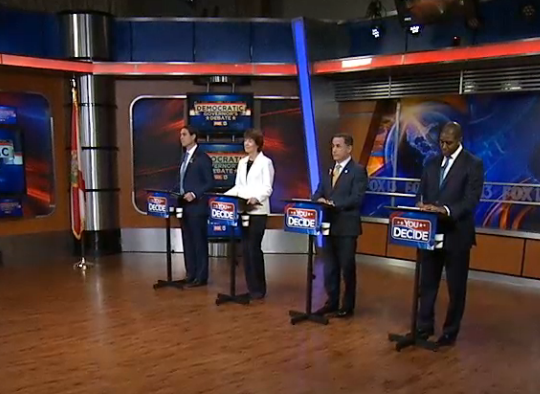 The four candidates vying for the Democratic nomination for Florida governor will have four more televised debates scheduled this summer, the Florida Democratic Party announced Friday.
The quartet of debates kicks off in St. Petersburg June 9. From there, there will be a June 11 debate in Miramar, followed by July 18 in Fort Myers and Aug. 2 in Miami.
All debates will include former U.S. Rep. Gwen Graham, Tallahassee Mayor Andrew Gillum, Winter Park businessman Chris King, and Miami Beach Mayor Philip Levine.
The goal, said FDP Executive Director Juan Penalosa​​, is to get the message out to voters that Democrats have "real solutions" to statewide problems.
"Our candidates, and our party is committed to ensuring that all voters have the opportunity to hear ​real solutions to the ​issues​ facing Floridians​ – from innovation to education, our candidates are talking about how to create a fair economy, a fair public school system, and opportunities for every Floridian to thrive, regardless of the zip code they live in," Penalosa asserted.
"​After over 20 years of failed Republican leadership," Penalosa added, "Floridians are ready for change – and the Democratic party is offering it. ​Through this debate process we know voters will see a stark difference between Democrats who are fighting to fully fund public schools, lower healthcare costs and create an economy that works for everyone, and the Republican ​party that has created an economy in Florida where more than half the state is in recession and nearly half of working families are classified as working poor."
The candidates debated in Tampa earlier this month, but now they have four more opportunities to make their cases to voters. And the Florida Democratic Party contrasts that to the one televised debate agreed to by Republican candidates Ron DeSantis and Adam Putnam.
"While Ron DeSantis and Adam Putnam stick to Fox News and campaign platitudes, Democrats are taking their case to the voters by hosting five debates. After twenty years of Republican rule, Democrats are eager to have an open and substantive discussion about how to raise wages, fully fund our public schools, and expand access to health care. The fact that Republicans are only hosting one debate shows they're out of ideas and afraid to talk with voters about their plans for Florida," asserted Kevin Donohoe, FDP spokesman
Levine's camp offered a statement heralding the quartet of debates, via senior adviser Christian Ulvert.
"Mayor Levine looks forward to the opportunity to share his vision and platform in the upcoming debates and forums as agreed to, and negotiated by all the Democratic Gubernatorial campaigns. As Mayor Levine travels the state to meet with Floridians in their living rooms across all 67-counties, he reaffirms that this is one of the most important elections in our lifetime," Ulvert said.
"His track record as a progressive, successful two-term Mayor and self-made entrepreneur puts us on a path to victory this November as we excite Democrats to turn out and bring together a coalition of voters who are ready to break up the status quo in Tallahassee. I commend the Florida Democratic Party for facilitating the discussions and leading the way on having an inclusive and engaging debate and forum schedule that ensures voters get to hear from candidates directly," Ulvert added.
However, at least one campaign — that of Andrew Gillum — calls attention to a proposal for a debate in Jacksonville that was spiked by the Levine and Graham  camps.
"What are Gwen Graham and Phil Levine afraid of in Jacksonville? We've already accepted a debate in Jacksonville, but some of our fellow Democrats have refused to do the same. From JEA, to important criminal justice issues, to Duval County public schools, Jacksonville's residents want to know where their next Governor stands, and they deserve to hear from us in a debate," asserted Gillum's communications director, Geoff Burgan, on Friday morning.
The Graham and Levine camps wanted a Panhandle debate, which Gillum and King vetoed, setting up this impasse, as the Levine camp asserted
Christian Ulvert, on behalf of Levine, said the following: ""It's sad that the Gillum campaign would be disingenuous and misleading in their accounts of our debate negotiations. As the FDP noted, unlike the Republican field of candidates who are playing duck and cover, Democrats have accepted a number of debates and forums. We even accepted doing a Panhandle debate—one the Gillum campaign outright rejected. Our campaign has been in communication with Jacksonville University regarding their debate request, but given the stunt pulled this morning, it makes it harder to proceed in good faith."
Graham spox Matt Harringer took the high road when asked for comment: ""Gwen thoroughly enjoyed the first debate, and the opportunity to share her views with the people of Florida — so, of course, she's really looking forward to participating in the four additional debates the Democratic Party has announced and many more events in Jacksonville."
That debate was slated for Jacksonville University's Public Policy Institute on Aug. 9, with WJXT co-hosting the event. However, sources close to the discussions say that there may be an alternative to a debate, such as a town hall with each candidate getting a block of time to discuss the issues more deeply.