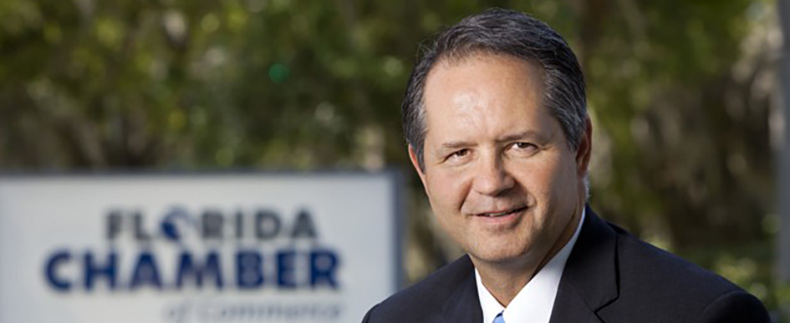 Florida Chamber of Commerce head Mark Wilson said that Florida businesses need to start working toward solutions on poverty – and fast.
Wilson made the remarks during the opening hour of the Chamber's Summit on Prosperity and Economic Opportunity, held Thursday in Orlando.
His talk opened up with a top-level overview of where the Sunshine State stands on several poverty and prosperity metrics, from 3rd grade reading scores to "fiscal cliffs" that disincentivize some of the most needy Floridians from improving their standing.
Wilson asked, rhetorically, whether a single parent making $18,000 a year would be better off than one making $50,000 a year before delving into what the Chamber identified as the "root causes" of poverty and the impact of those fiscal cliffs – healthcare, child care and housing being the biggest, according to a report released ahead of the summit.
The 10 factors: Job opportunities, education and training, housing, transportation, health, food security, child and family care, safety, justice and agency-community voice.
The Chamber data showed the localized nature of Florida poverty – putting in elbow grease in just a handful of zip codes could put a substantial dent into the 2.9 million Floridians living in poverty, it says.
The maps show half of the Floridians under the poverty line live within 192 zip codes – the state has 1,472, of which 982 are populated. One in 10 impoverished Floridians live within just 21 zips.
Wilson, a Tallahassee resident, then pulled up a map of Leon County showing 9,000-plus impoverished households within a few mile radius of his own daily commute.
"Almost 900,000 kids in Florida live in poverty. You can't blame anybody for that, but now that you know you can't ignore it," he said.
"So, is that single parent better off making $18,000 or $50,000 a year – $9 an hour or $25 an hour," he said, returning to his original question. "This person is better off making $18,000 a year all the way until they make $50,000 a year."
Those cliffs, Wilson said, are an example of "smart people, stupid systems. And the business community can't put up with that anymore."
Why does the Chamber care?
For those only moved by the bottom line, the Chamber pointed to projected increases in entitlement spending, pegged make up larger and larger portions of government spending.
Then there's the issue of remaining relevant as voters start deciding how they believe root causes should be attacked. Floridians, especially Floridians who vote, are getting frustrated with some of those root causes – Chamber data showed they saw transportation and housing as the state's biggest weak points in the, and those voters say they think it's getting worse.
Wilson said the Chamber needs to address such issues if they expect business priorities to get attention from the next generation of Florida electeds.
"We need to do this and we need to do it now," he said.