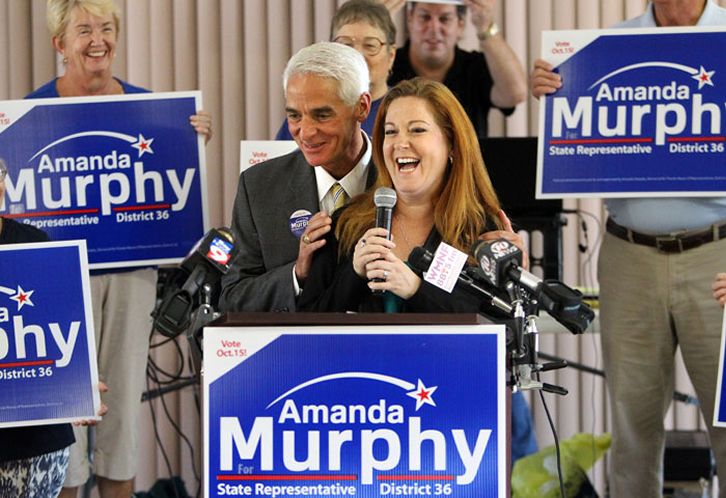 Former Democratic Rep. Amanda Murphy said she would run for Senate District 16 last week, and on Wednesday she made it official by filing her paperwork with the Florida Division of Elections.
"I am running because the people of Pasco and Pinellas Counties need someone who will put them first, someone who knows what it means to get up every morning, go to work and earn a living, someone who is not beholden to Tallahassee politicians and their special interest handlers," Murphy said in a press release. "I know how to fight – and win – for the hard-working people of this region and I am ready to fight for them every day."
The campaign announcement mentioned the recent mass shooting at Marjory Stoneman Douglas High School in Parkland and Hurricane Irma recovery efforts as key issues facing the state, and pitched Murphy as a "'matter of fact' problem-solver" who will prioritize her constituents rather than special interests.
"At this time in our state's history and where we are as a nation, we need someone who will look out for hard working people and not special interests. That's exactly who I've always been, and that will never change," she said.
Murphy is one of several candidates who were recruited by Senate Democrats to run in 2018 as the party looks to expand its map and possibly break the GOP's decades-long grip on state government.

Murphy, who represented HD 36 from 2013 through 2016, joins Bernie Fensterwald in the Democratic Primary. Her true test, however, will be former Clearwater Republican Rep. Ed Hooper, who has been in the race and piling on the campaign funds for nearly 2 years.
Through the end of March, Hooper had nearly $250,000 in his campaign account and another $95,000 in his political committee, Friends of Ed Hooper. Fensterwald has raised about $65,000, mainly through loans, and has $28,500 on hand. Also running is Republican restauranteur Leo Karulli, whose campaign account dipped into the negative with his April report.
SD 16 covers northern Pinellas County and southwestern Pasco County, including Clearwater, Dunedin, Safety Harbor, Palm Harbor, New Port Richey and Oldsmar. Republicans make up about 38 percent of the district's electorate, while Democrats make up about a third.
A Republican advantage? Yes. A Republican deadlock? No. At least not according to Florida Democrats, who referred to it as a "swing seat" in Murphy's announcement.
That's a generous assessment given 2016, when the seat voted plus-12 for President Donald Trump, but it's not totally off the mark. In the 2008 presidential election, President Barack Obama won SD 16 by 2 points, and four years later the district voted only slimly in favor of Republican nominee Mitt Romney while simultaneously voting to re-elect U.S. Bill Nelson by about 15 points.
The district also voted for former Gov. Charlie Crist by 4 points when he ran against Gov. Rick Scott's as a Democrat in 2014. That's probably the most comparable election – not only is it also a midterm, but Murphy, like Crist, is a more centrist Democrat.
To that point, the release pointed to a poll conducted earlier this year by Anzalone Liszt Grove Research that found Murphy leading Hooper by a similar margin in a hypothetical matchup.
Murphy does have a history of outperforming expectations Republican-leaning districts.
Her old seat in the House was held by former Republican Rep. Mike Fasano until Scott appointed him as Pasco's Tax Collector, a job he still holds. She won the 2013 special election to replace him – with his blessing, no less – by just a few hundred votes, and in 2014 she handily defeated Republican Chris Gregg with 55 percent of the vote.
Her 2016 campaign against current HD 36 Rep. Amber Mariano fell short by just 691 votes despite the district voting overwhelmingly for Trump.