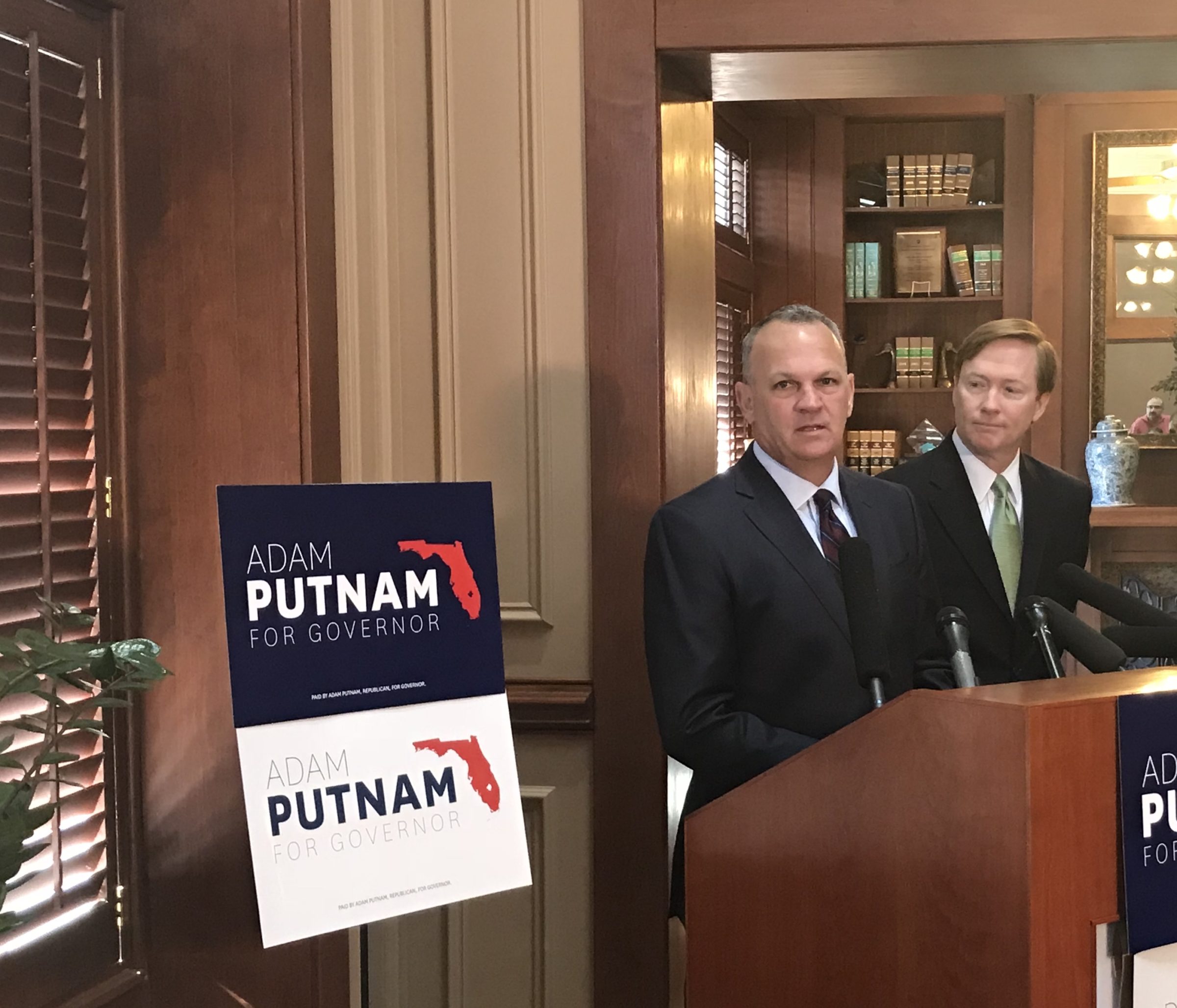 State House Speaker Richard Corcoran, once widely expected to enter the Governor's race, has endorsed Republican gubernatorial candidate Adam Putnam.
Corcoran, a Land O' Lakes Republican, made the announcement Wednesday morning at the Florida Association of Realtors. The move ends long-running speculation the Speaker would run for Governor — or any other office in 2018. 
Corcoran, who is term-limited this fall, framed the decision to stay off the ballot as sticking to his "word." He told media repeatedly that he'd run for Governor or otherwise "go home."
"I'm proud to say that decision is, thoroughly, we're going home," Corcoran said after delivering his endorsement of the Agriculture Commissioner.
News broke Tuesday night of Corcoran's intent to back Putnam and stay out of the gubernatorial race. He teased a "big announcement" last week, at which point guesswork from political circles produced theories of an entrance into the Attorney General race or maintained he'd make a late debut into the Governor's race.
In endorsing Putnam, Corcoran lauded the Bartow native's character and commitment to the state.
"Adam is sincere, he is authentic, he is principled, he is passionate," Corcoran said. "He loves this state."
The Speaker also pointed to the field of gubernatorial competition, particularly Democrats, and messaged his support as a move to avoid the consequence of a potential Democratic victory.
He listed the accomplishments of Republican control in Florida. Among them: cutting taxes and red tape, reducing state debt, adding to reserves, building up the state university system and contributing to overall job growth.
All Democratic candidates, Corcoran said, intend to walk back those successes.
"What's daunting, what's troubling is that we have every Democratic candidate taking the position that they're going to roll back and overregulate as much as they possibly can. They're going to raise taxes, they're going to take all of those victories and put those burdens back on the people of the state that can ill-afford them — while right now [Floridians] are prospering to a tremendous degree," Corcoran said.
Corcoran said he isn't one to "sit on the sidelines" after making a decision. After opting not to run for the Governor's Mansion, it took him "2.2. seconds" to determine he'd back Putnam.
Fundraising totals evidenced the Speaker's early intent to run. At the end of 2017, Corcoran-affiliated Watchdog PAC had amassed more than $6 million in contributions. Testing the waters of the electorate, the PAC doled out early spends on issue-based ads and self-promos in 2018, so much so that at the end of April Watchdog had under $2 million at the ready. The amount pales in comparison to Putnam's cash prowess; he's raised more than $28 million to date.
As far as the remaining cash in Watchdog is concerned, Corcoran said he'd sit down with leadership to discuss where the money should go. He hinted it might shift over to competitive statewide legislative races.
"I think what's also important is that we maintain a majority in the [state] House and a majority in the [state] Senate," Corcoran said. He added he'll be meeting with state Senate President-designate Bill Galvano, who chairs the Florida Republican Senatorial Campaign Committee, or the GOP campaign arm of the state Senate. 
Some of the cash also could end up in Putnam's hands, Corcoran said.
"I think it's important that Florida is a bellwether state; what happens in Florida goes to every other single state," Corcoran said.
The Republican primary now boasts just two candidates. Putnam will compete with full-throated support from Corcoran as a longtime concierge of the Sunshine State, while U.S. Rep. Ron DeSantis, of Ponte Vedra, will run with the backing of President Donald Trump.
The DeSantis campaign has framed the recent endorsement as something that "only matters to insiders."
"Conservative principles don't matter to career insiders, just deals and deal making," DeSantis camp press secretary David Vasquez said. "That's why we're not surprised to see this corrupt bargain even after Richard Corcoran accurately called out Adam Putnam's support for amnesty for illegal immigrants. Or after Adam Putnam said he wouldn't have signed Richard Corcoran's signature school choice legislation. But when you're in the Tallahassee swamp, conservative principles are expendable for political expediency."
Talk of DeSantis was limited Wednesday morning, though Corcoran showed that he won't refrain from campaigning against the congressman on Putnam's behalf.
When asked about DeSantis' remarks, Corcoran quipped, "Was it from a studio in New York?"