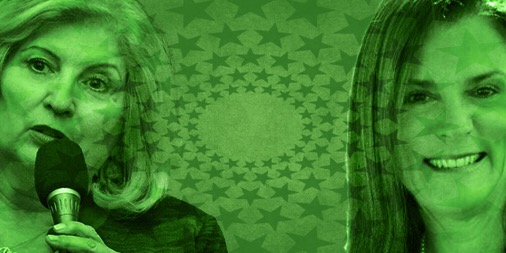 House Minority Leader Janet Cruz nearly matched Tampa Republican Sen. Dana Young in April fundraising despite joining the Senate District 18 race 10 days into the month.
Cruz, a Tampa Democrat, said her April campaign and committee reports will show $146,600 in contributions for the 21 days she was a candidate last month, putting her just a few thousand dollars shy of Young's $152,500 effort for the whole of April.
"We're earning the support we need to win and get things done in the Florida Senate, including making healthcare more affordable, fully funding our public schools and teachers, and combating gun violence," said Cruz. "We are strong out of the gate and just getting warmed up because the hard working people of Tampa deserve to have a voice in Tallahassee — and that hasn't been the case recently."
About $31,600 of the new money came in through Cruz' campaign account. Its report is not yet viewable on the Florida Division of Elections website. The rest came in through her political committee, Building the Bay PC, which shows $117,700 in contributions.
The bulk of that cash came in through two $50,000 checks, one from political committee Florida For All, Inc. and another from Miami attorney Robert Rubenstein. Spending was minimal, with Democratic data firm NGP VAN receiving $2,700 of the $3,300 spent.
The committee finished the month with about $176,500 on hand including the $62,000 Cruz banked prior to launching her Senate campaign. Her campaign account also started with money in the bank due to her now-cancelled bid for Hillsborough County Commission. Cruz said those funds make for $271,000 in total fundraising, though she didn't announce an overall cash-on-hand total.
While Cruz ceded little ground in her first month, she is far from matching Young's overall totals of $1.45 million raised and $1.1 million on hand.
Young's reports showed a near even split, with $79,544 raised for her campaign account and $73,000 raised for her political committee, Friends of Dana Young.
The campaign cash was spread across 131 contributions and included 60 checks for $1,000, the maximum contribution for state legislative campaigns. The committee donor roll was similar in compactness to her opponent's, with a $35,000 check from beverage distributor Kent Bailey taking the top spot among seven contributions.
Campaign and committee spending totaled $16,422, including $5,500 on ad spending and a $5,000 check to Bascom Communications for consulting work and $3,600. Heading into May, Young had $802,000 in her committee account and $298,000 in her campaign account.
If Cruz keeps the funds rolling in SD 18 could turn into a major pickup for Florida Democrats, who see 2018 as an opportunity to break Republican's grip on the state legislature. The Hillsborough-based district has 7,500 more registered Democratic voters than Republican, and it voted plus-5 for Hillary Clinton in 2018.
Young was elected to the Senate in 2016 after taking 48 percent of the vote compared to 41 percent for 2016 Democratic nominee and one-time 2018 candidate Bob Buesing. Nearly 10 percent of the remaining ballots were cast for businessman Joe Redner while no-party candidate Sheldon Upthegrove received 1 percent support.