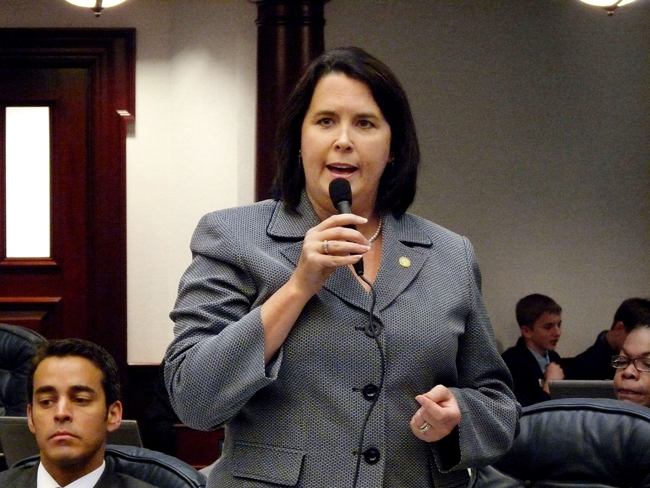 Republican state Sen. Kelli Stargel put her foot on the gas somewhat in raising money in April for her re-election campaign in Florida Senate District 22, bringing in $36,850.
The haul is Stargel's largest yet in the 2018 campaign cycle, marks the first significant fundraising month for her campaign since last October, and was tops among all Florida Senate candidates in Central Florida, from Lake County to Brevard County, and Volusia County to Osceola County.
Stargel's April fundraising was highlighted by $1,750 from the Florida Republican Senatorial Campaign and 28 checks, mostly from political action committees and businesses, for the maximum $1,000 donation, including three from different Walt Disney World entities.
Stargel, of Lakeland, now has raised $183,583, and entered May with $133,614 in cash reserves.
SD 22 covers parts of northern Polk and southern Lake counties, including part of the Four Corners community at Walt Disney World's backdoor.
Her chief rival, retired Circuit Court Judge Bob Doyel of Winter Haven, who had out-raised  Stargel's campaign the past three months, as she lost fundraising time during the Florida Legislative Session, reported raising $11,069 in April. His campaign entered May with $75,650 still in the bank.
Fellow Democrat former state Rep. Ricardo Rangel of Auburndale reported raising $3,010 in April, and entering May with $3,467 in the bank.
In District 14, Republican state Sen. Dorothy Hukill brought in $27,750 in campaign contributions in April for her re-election bid.
The take brought Hukill's total campaign fundraising to $148,400 and left her with just under $100,000 left in the bank for her re-election campaign for SD 14, covering southern Volusia and northern Brevard counties..
Democrat Melissa Martin of Cocoa  reported raising just $1,689, but also loaned $2,000 to her campaign in April. That brought her total raised to $28,106, and left her with $24,750 in cash reserves at the beginning of May. A second Democrat, Brandon Maggard of Cocoa, entered the race in April but did not file any financial reports.
In Senate District 12, Republican state Sen. Dennis Baxley of Ocala did not raise much, but still nearly doubled his Democratic opponent in April. Baxley raised $6,100, and entered May with $112,482 in the bank. Democrat Gary McKechnie of Mount Dora reported raising $3,262 in April, and came into May with $22,788 in cash.
Looking ahead to 2020 races, Republican state Sen. Travis Hutson raised $4,250 for his re-election in District 7, covering north Volusia County on up into St. Augustine; Republican state Sen. Debbie Mayfield raised $4,000 for her re-election in District 17, covering south Brevard County and the north Treasure Coast; state Rep. Jason Brodeur reported raising $1,000 in his bid for the open seat of Senate District 9 in Seminole County; and Democratic state Sen. Linda Stewart reported picking up $700 for her re-election in District 13, in central and east Orange County. Neither Democratic state Sen. Randolph Bracy of District 11, in west Orange County, nor Democratic state Sen. Victor Torres of District 15, in south Orange County and Osceola County, reported raising any money last month for their 2020 re-election bids.