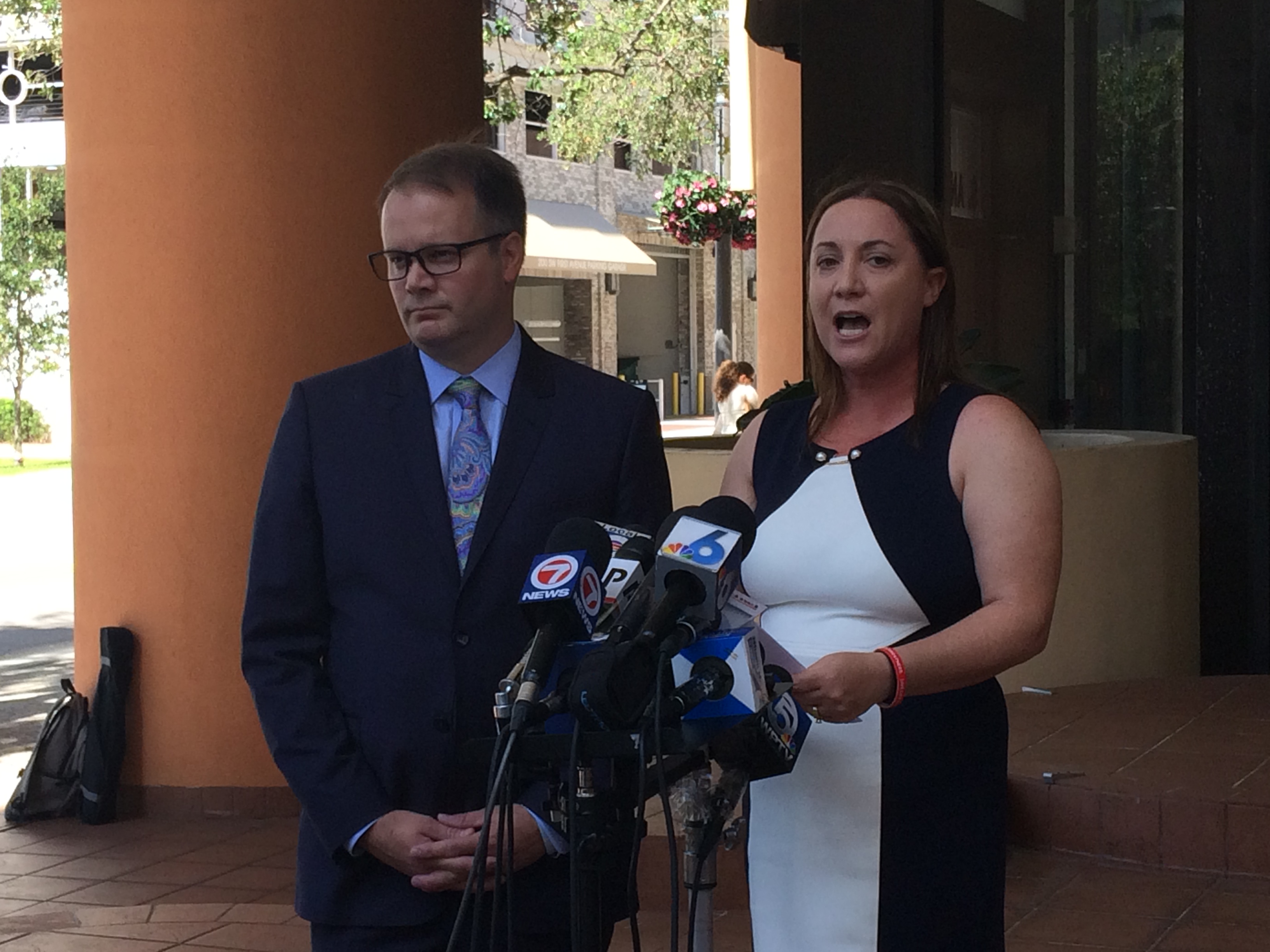 A mother and father of two unrelated students slain in the Marjory Stoneman Douglas High School shooting will run for two separate seats on the School Board of Broward County.
Lori Alhadeff, mother to the late Stoneman Douglas student Alyssa Alhadeff, will enter the race for the District 4 post, which oversees the forever-changed Parkland high school. Ryan Petty, who lost his daughter Alaina Petty in the Feb. 14 shooting, will run for the countywide At-Large Seat 8.
The seat sought by Lori Alhadeff is held by Abby M. Freedman and is on the ballot in 2018. Freedman, though, has yet to file for re-election. Nathalie Adams had filed to run for the seat, but she's since withdrawn, according to the Broward County Supervisor of Elections website.
Ryan Petty will compete against Seat 8 incumbent Donna P. Korn and challenger Elijah Manley.
Both parents took aim at Broward County's PROMISE Program, a controversial diversion initiative under scrutiny, in announcing their bids at a Tuesday news conference. "It's a program that's supposed to be giving kids second chances," said Alhadeff. But she says its moved too far to the extreme in its laxness in efforts to alleviate Broward County's school-to-prison pipeline problem. "The PROMISE Program needs to be revamped and we need to meet somewhere in the middle with our discipline policies."
Petty echoed those concerns, saying "There's a confusing matrix of discipline programs that allows students like Nikolas Cruz to fall through the cracks."
However, Alhadeff stressed she would not be a one-issue voter as a school board member.
"I don't want Alyssa's life to be in vain. I'm doing this because I don't want another parent to go through the pain and anguish that I have to go through every day," Alhadeff told POLITICO Florida. "I don't want any child to have to say to their mom, 'Mommy, am I going to die today if I go to school?' It is my job. It is my duty to make sure these schools are safe. And the only way I'm going to do that is if I get on the school board to make those decisions and make those changes."
A news release sent out Monday afternoon alerted media that Lori Alhadeff and Ryan Petty would make a joint announcement at 10:30 a.m. on Tuesday outside of the Broward County Governmental Center in Fort Lauderdale.
The two parents will be supported by Broward Parents for Better and Safer Schools, a newly-formed political committee helmed by Eric Johnson and Sean Phillippi (Monday's release came from Brendan Olsen, who works with Johnson). Petty has hired public affairs firm Mercury. Danielle Alvarez, recognized by INFLUENCE Magazine as one of the top communications pros in the state, will advise Petty.
Both Alhadeff and Petty told POLITICO Florida they wanted to bring more "accountability and transparency" to the Broward School Board.
"My eyes were open that day and I decided I needed to be more involved in how issues like safety and security are handled at the district to make sure our students and teachers are safe," Petty said. "Every child deserves to have a great education. But they have to feel safe. If they don't feel safe, it's really hard to learn."
Alhadeff holds a New Jersey teachers certification in Health and Physical Education and is a former classroom teacher. She also has her master's degree in education. In the wake of the Valentine's Day tragedy, she founded the nonprofit Make Our Schools Safe. Its website states the foundation's mission is "to improve the safety of schools, research and test best practices, as well as implement those protocols by creating model schools, beginning in South Florida and spreading nationwide."
Petty, a telecom, media, and technology entrepreneur, was an active voice in the Legislature as lawmakers rushed to pass school safety reforms during the 2018 Legislative Session. The Tampa Bay Times reports that he was singled out by Rick Scott as the Republican Governor signed the sweeping provisions included in the Marjory Stoneman Douglas High School Public Safety Act into law. He has endorsed Scott in his bid for the U.S. Senate against incumbent Democrat Bill Nelson.
When news broke last week that the charged Parkland shooter Cruz was at one point assigned to the area's PROMISE program, Petty was vocal in his criticism of the School Board, which had previously claimed there was no connection between PROMISE and Cruz.
"The Broward County School Board has failed in its responsibility as an oversight body. It has forgotten its duty to students, educators and parents," wrote Petty on Twitter. "We must continue to shine a disinfecting light on the Broward County Schools. Parents must have the information they need to protect their children and to ensure Broward schools deliver the education they promise."
However, both Petty and Alhadeff stopped short of calling for Broward Superintendent Robert Runcie to step down on Tuesday. "This isn't about replacing the superintendent," said Petty.
The School Board in April voted against participating in the Coach Aaron Feis Guardian Program, named after a faculty member among the 17 fatalities of the Stoneman Douglas massacre. The controversial provision included in the high-profile school safety package provides funding to train, arm and pay non-teacher personnel to be 'Guardians' at schools in districts that opt to participate.