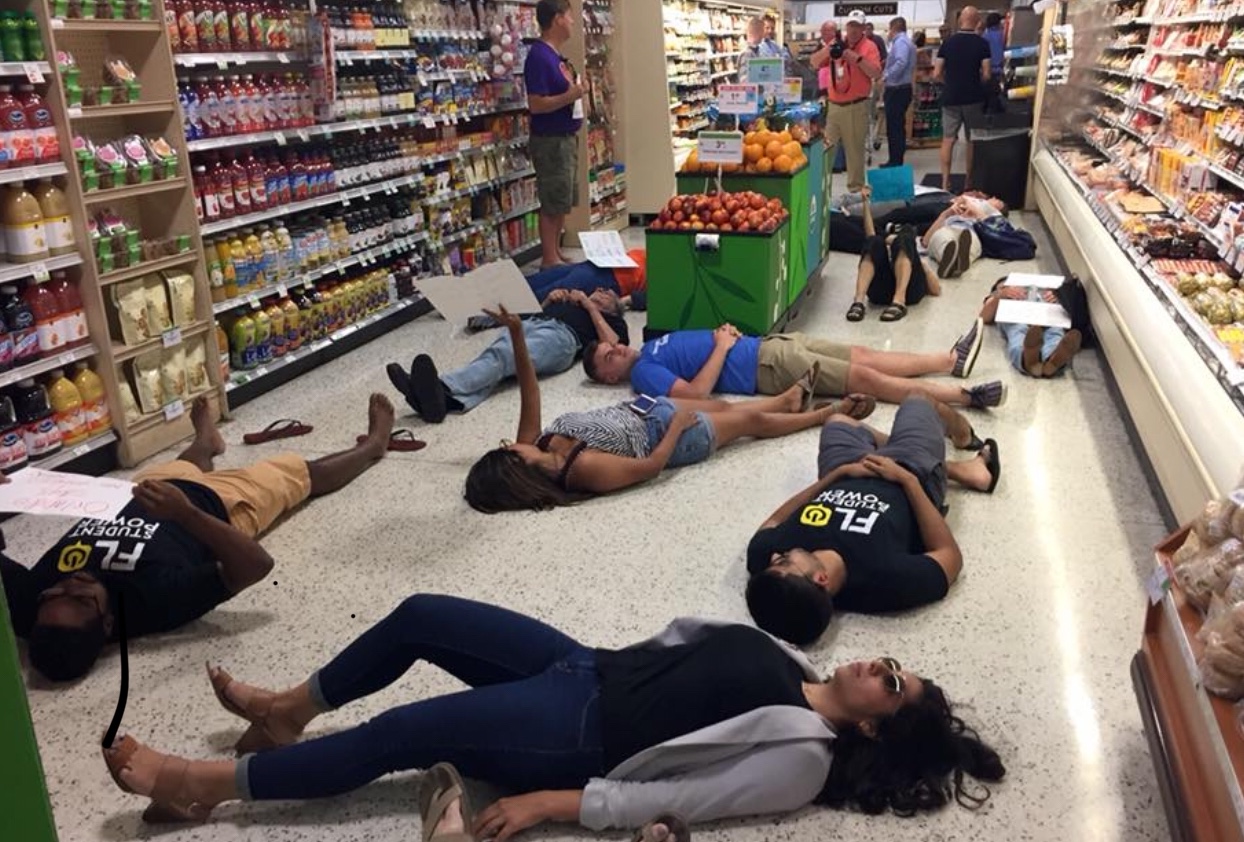 Publix's decision, in the face of protests over its Adam Putnam donations, to suspend its political giving this year could mean more than $1 million that the company will not donate this year to various political campaigns and groups.
The company, whose slogan, "Where Shopping is a Pleasure" has graced Florida and other states it serves, announced Friday afternoon it would suspend its political giving, as protesters, called to action by Marjory Stoneman Douglas High School shooting survivor and activist David Hogg and others, began protests in stores.
They were upset with the more than $670,000 the Polk County-based company had donated to the political committee of Republican gubernatorial candidate Adam Putnam, someone who has called himself an "NRA sellout." Hogg and many other Stoneman Douglas survivors have emerged as national leaders of a campaign for gun control since a gunman murdered 17 people in their school Feb. 14.
The Republican state agriculture commissioner, also from Polk County, is not the only beneficiary of Publix's political donations, and the company likely was far from finished in giving this year.
In the past 10 years Publix has donated nearly $10.9 million to politics, according to records at the Florida Division of Elections reviewed by FloridaPolitics. In the last two election years Publix donated $1.8 million in 2014 and $2 million in 2016. So far this year the company has donated just $620,000. That could mean the company still had plenty more ready to be distributed in 2018, though it could have placed most of its bets last year. Publix's 2017 donations of $1.5 million was the most ever for the company in an off-year.
Publix has given to both Republicans and Democrats, though it prefers Republicans by a large ratio. Since Jan. 1, 2009, Publix has donated $615,519 to the Republican Party of Florida and has made another 541 contributions to individual Republicans running for office, providing $367,054 to their campaigns. Publix has donated $365,000 to the Florida Democratic Party and made donations to 151 individual Democrats, providing $90,521 to their campaigns during the same period.
Those contributions include money provided to 14 Democrats for this election cycle, including several who have aligned themselves closely with the Stoneman Douglas students movement for gun control.
Forty-nine Republicans have gotten contributions in this election cycle including Putnam and attorney general candidate state Rep. Frank White, who both have gotten the maximum candidate contributions of $1,000.
Otherwise, the big losers in Publix decision could be the Florida Chamber of Commerce, the Florida Retail Federation, and the National Association of Independent Businesses of Florida, which are used to getting big donations to their own political action committees from the grocery store company, and then spending it on their own political interests.
Since 2009 Publix has funneled $4.1 million into the chamber's various PACs, and $3.0 million into the retail federation's various PACs. Another $450,000 has gone to the NAIB-Florida's PAC.
Publix also has donated more than $100,000 to the Florida Justice Reform Committee, the Committee for Florida Justice Reform, the Florida Prosperity Fund, and the Committee for Smarter Growth. Gov Rick Scott's Let's Get To Work PAC has garnered $50,000.