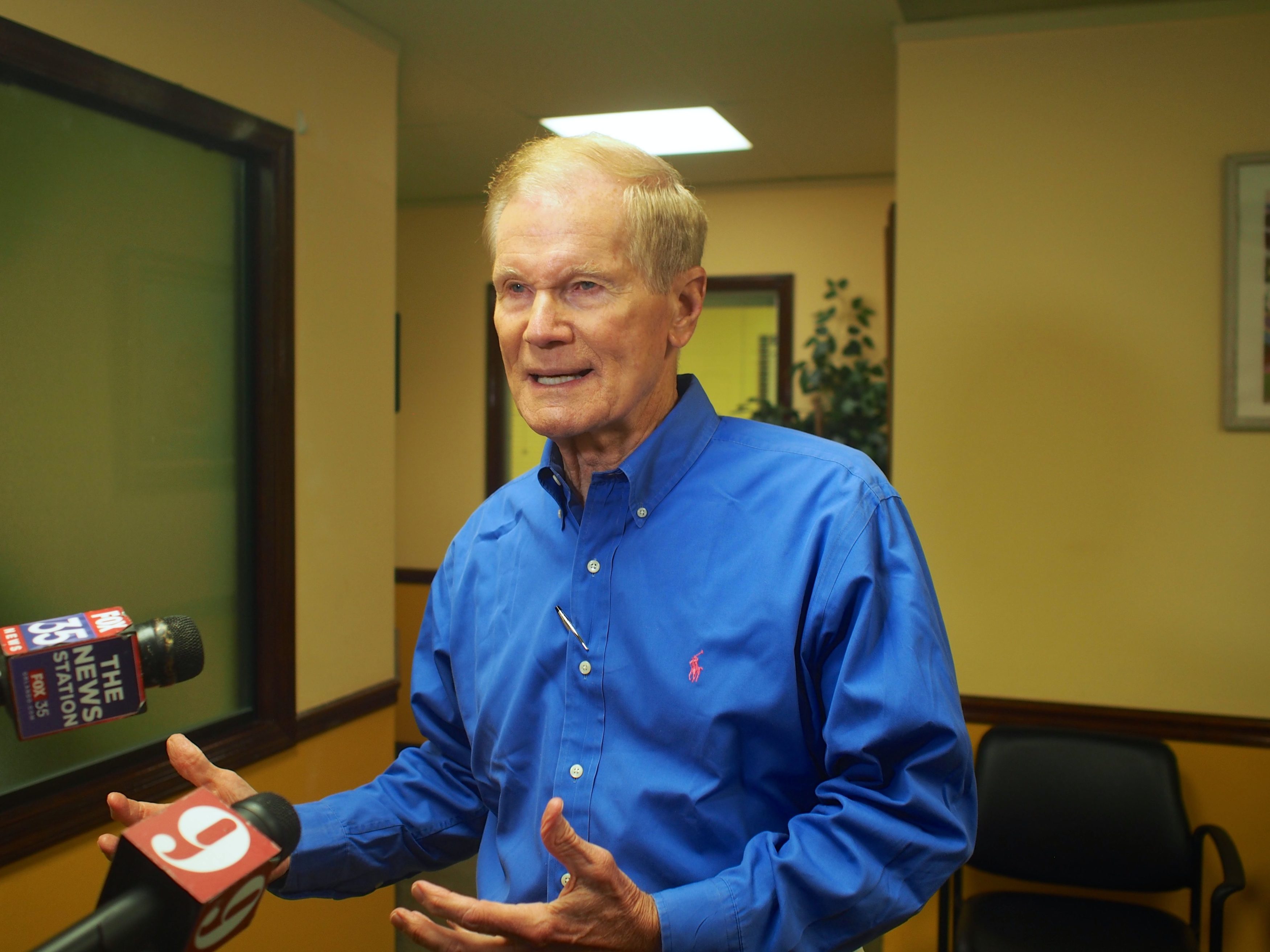 Florida Democratic U.S. Sen. Bill Nelson sat with a room full of public health officials Tuesday morning who declared that Florida is suffering through a crisis of health-care access and he put the blame squarely on his Republican rival in this year's election, Gov. Rick Scott.
Nelson, holding a roundtable on health care in Orlando Tuesday as part of his re-election campaign, waffled somewhat in talking with reporters earlier about whether the access-to-health-care problems were all Scott's doing, or shared by him and the Florida Legislature.
But sitting down with public health and mental health services advocates, he pointed to Scott, who in 2015 took a firm stand against Florida accepting the federal offer of $5 billion a year to expand Medicaid to serve people who did not qualify for Medicaid and were too poor to afford health insurance. Scott and the Florida Legislative leaders raised concerns that the long-term costs to Florida might be too high.
Thirty-one other states accepted the Medicaid expansion program, while Florida continues to pass.
"Why didn't they do it? Well, I'll tell you exactly why. It was Gov. Scott," Nelson said.
Estimates on how many Floridians that decision affected by Florida not accepting Medicaid expansion have ranged from 650,000 to over 1 million, with the consensus coming down on 800,000. Those at the table with Nelson Tuesday, including Brendan Ramirez, executive director of Pan American Behavioral Health Services of Florida, and Marni Stahlman, president of Shepherd's Hope, said that Florida is now in crisis for people needing mental health services, for children without health care, for Puerto Rican migrants who qualified for Medicaid on the island but don't in Florida, and also for veterans.
Ramirez hosted the round-table discussion at his Medicaid-based mental health center in Orlando. He and others spoke of Orlando being an epicenter for people who cannot afford health care services.
"We have a man-made disaster in this state," said Candice Crawford, president of the Mental Health Alliance of Central Florida. "I don't know what the end result is going to be but unless something changes, I'm going to be really, really bad. My last research has 66,000 adults with major mental health issues in this state, without access. Sixty-six thousand adults. Serious mental health issues."
A new governor would be a good start, Nelson suggested. He said he looks forward to working with whomever succeeds Scott.
The Scott campaign's Deputy Communications Director Kerri Wyland discountetald any k of crisis, saying the state's Medicaid program is operating at the "highest level of quality in its history" and that Nelson has done nothing.
"Bill Nelson has had decades of opportunities to take action on healthcare services for Floridians, but instead, he only decides to take up the issue during an election year," Wyland wrote. "While Nelson continues to be all talk, Florida's Medicaid program is operating at the highest level of quality in its history and Governor Scott will continue to work toward real solutions for lowering healthcare cost and improving access."
Nelson had pushed for Florida to accept the Medicaid expansion since it became available through the Affordable Care Act in 2011, and has long been a critic of Florida not accepting it, most recently last week when he took to the Senate floor to criticize the decision. But Nelson generally has been more generic about the target of his ire, blaming the state's Republican-controlled government. At this event, organized by his re-election campaign, Nelson made it a clear issue with Scott and the election campaign.
Nelson compared Scott's decision with the governor's earlier decision to refuse more than $1 billion in federal grants to build the high-speed rail system that once had been planned to connect Orlando and Tampa.
"Gov. Scott said, 'No, I'm not having anything to do with Obama.' It was purely partisan, ideological politics," Nelson said. "So, same thing comes along with the ACA, Obamacare, [and he is] not expanding health care. And by the way, of those 31 states there are a lot of Republican governors and Republican legislatures in those 31 states that expanded it, because they saw the value of poor folks being able to have health care."