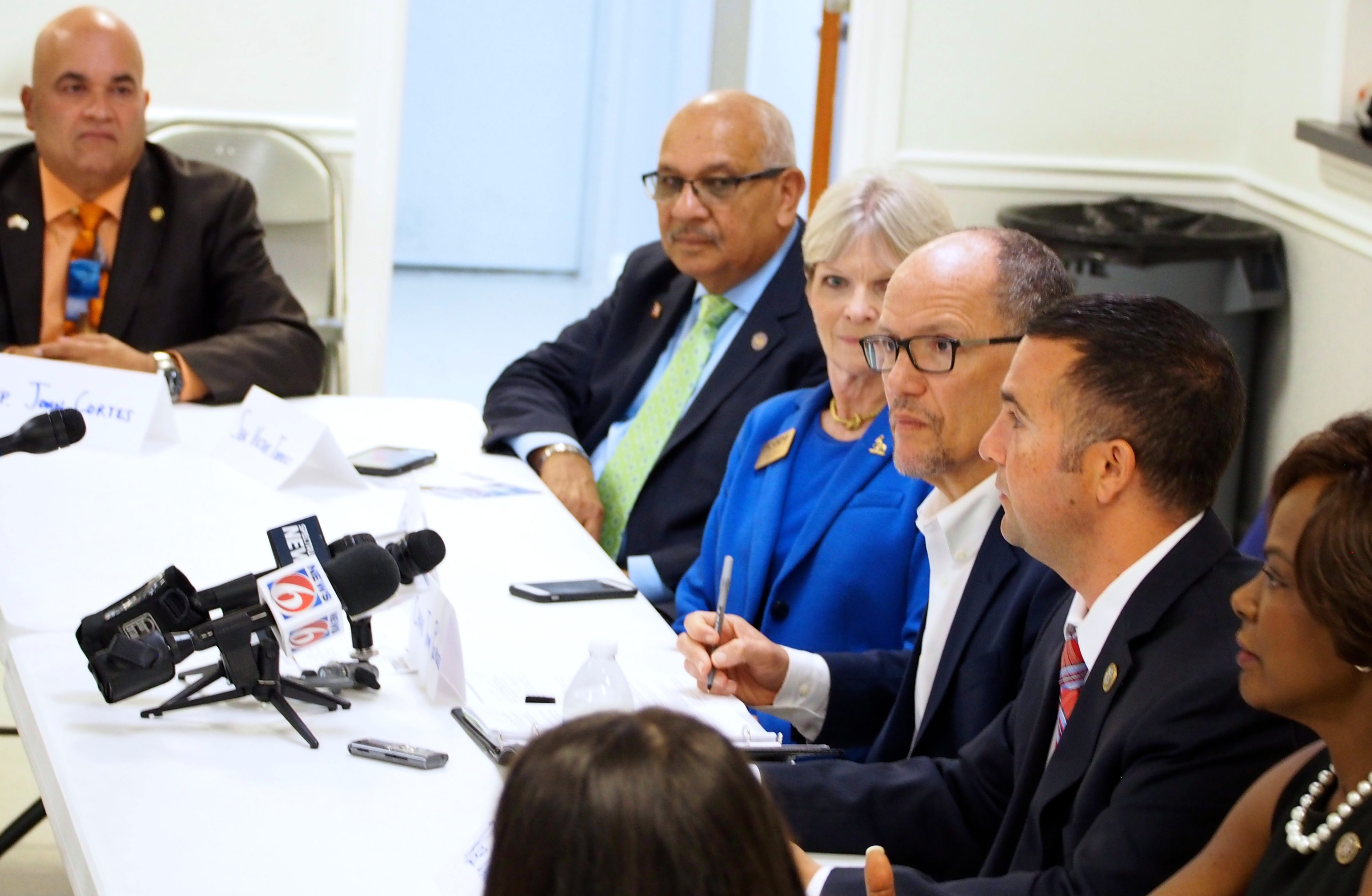 The Democratic National Committee just weighed in on the Florida partisan fight for Puerto Rican voters, providing the state party with a $100,000 grant and arguments on why they should register as Democrats.
DNC Chair Tom Perez and Florida Democratic Party Chair Terrie Rizzo joined U.S. Reps. Darren Soto and Val Demings and others in Orlando Wednesday to announce the grant, amidst a drumbeat of criticism for how Puerto Ricans desperately need help and Republican-led Washington is not delivering.
It began with Soto arguing that the island territory already was in dire straights when Hurricane Maria caused $90 billion in damage, yet got $18.9 billion in aid, adding, "We had to fight for each inch for what they got … The worry I have is in Washington the attitude is, 'Puerto Ricans should be grateful for what they got,' because they're not a state."
That led to the mass migration of people from the island to Florida, a scenario the Democrats see as a beacon call, and Soto, Demings, state Sen. Victor Torres, states Rep. John Cortes and Carlos Guillermo Smith, Orange County Commissioner Emily Bonilla and others all made arguments that they have every reason to want to join the Democratic Party.
"The Democratic Party is the party that is going to be fighting for working people; it's the party that's going to be fighting for immigration, for living wage, for making sure we have a fully-funded affordable housing fund – and the Republican Party is the party of Donald Trump," Smith said.
Perez, the former U.S. Labor Secretary under President Barack Obama, charged that under President Donald Trump the federal government offered clear double standards with how it assisted Texas and Florida, compared with how it assisted Puerto Rico. He also put in plugs for Soto, Demings, U.S. Rep. Stephanie Murphy, and U.S. Sen. Bill Nelson for supporting Puerto Rico and Puerto Ricans who came to Florida.
"When all you see from Republican leadership is throwing paper towels, that's insulting. What we have on the island is an economic crisis. It's a health care crisis. It's a humanitarian crisis, and frankly it's a moral crisis," said Perez a Dominican-American who said he has family ties in Puerto Rico.
Yet in Florida the Democratic Party faces a challenge in convincing Puerto Rican voters that Republicans are not addressing the moral crisis, as Nelson's opponent, Gov. Rick Scott, and others in the party such as state Reps. Bob Cortes and Rene Plasencia, like Nelson, Soto, Torres, John Cortes, Smith and other Democrats, made numerous trips to the island and pushed hard to organize and provide aid, and to help displaced Puerto Ricans in Florida.
"While the Republican National Committee, in conjunction with the Florida GOP, has been working to ensure the Puerto Rican community in Florida has all the resources they need after Maria, Tom Perez is showing up right on time to support Bill Nelson and Congressional Democrats with more empty rhetoric in a tough campaign year. We are here to continue to be supportive of the people of Puerto Rico. They deserve nothing less than that, and we're going to continue to be focused on helping in every way we can," RNC spokesperson Taryn Fenske said in a written statement.
The DNC grant money comes from a party"s new State Party Innovation Fund the DNC established.
"Florida Democrats have been working tirelessly to organize in every community, and mobilize voters in every election," Perez said in a news release. "With this grant, we're making sure that Florida Democrats have the tools they need to identify and connect with new Puerto Rican voters, and provide them with the support they need as they settle in the Sunshine State. By using innovative digital outreach efforts combined with grassroots organizing, we will be able to reach thousands of potential voters. The DNC is proud to partner with the Florida Democratic Party through this grant to expand our engagement in every single ZIP code."