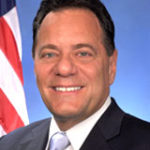 Gov. Rick Scott has ordered flags at half-staff to honor the late John Morroni, a former House member from Pinellas County. Morroni died Sunday.
He represented House District 50, which covered parts of Pinellas County, from 1992 to 2000.
Morroni spent the last 18 years on the Pinellas County Commission, serving as chairman in 2005, 2012, and 2015.
"As a symbol of respect for the memory of former state Rep. Morroni, and his service to Florida, I hereby direct the flags of the United States and the State of Florida to be flown at half-staff at the Pinellas County Courthouse and County Administration Building in Clearwater, the City Hall of Treasure Island, and at the State Capitol in Tallahassee, from sunrise to sunset (on) Friday, June 1," Scott said in a statement.