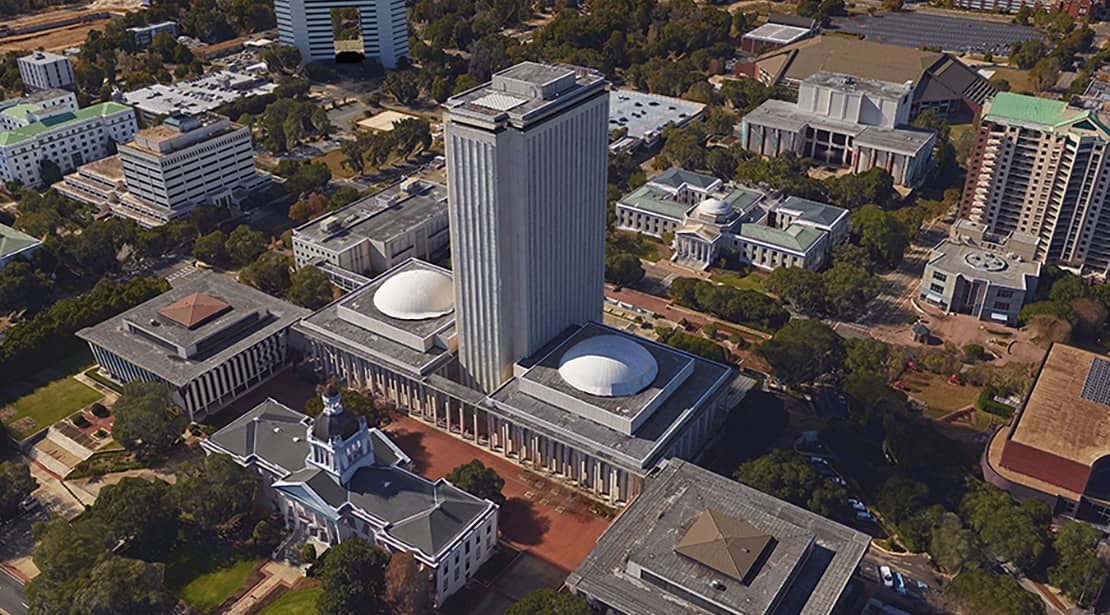 Sunburn — The morning read of what's hot in Florida politics.
By Peter Schorsch, Phil Ammann, Daniel McAuliffe, Jim Rosica, and Drew Wilson.
As the nation and politicians in Florida are engulfed in an emotional debate about immigration and the deplorable practice of separating children from their parents, it's important to note that one aspect of the overall debate has turned out to be a surefire loser for candidates running this cycle.
The cheap promise, espoused by so many Republican candidates, about ending so-called sanctuary cities, has done nothing for the candidates spouting this line.
On Tuesday, arch-conservative Jay Fant ended his went-nowhere bid for Attorney General. As a state lawmaker, Fant was a leading sponsor of a bill to shut down sanctuary cities. On the campaign trail, Fant was even more shrill, promising to send immigrant-protecting mayors to jail if he had been elected Florida's next AG.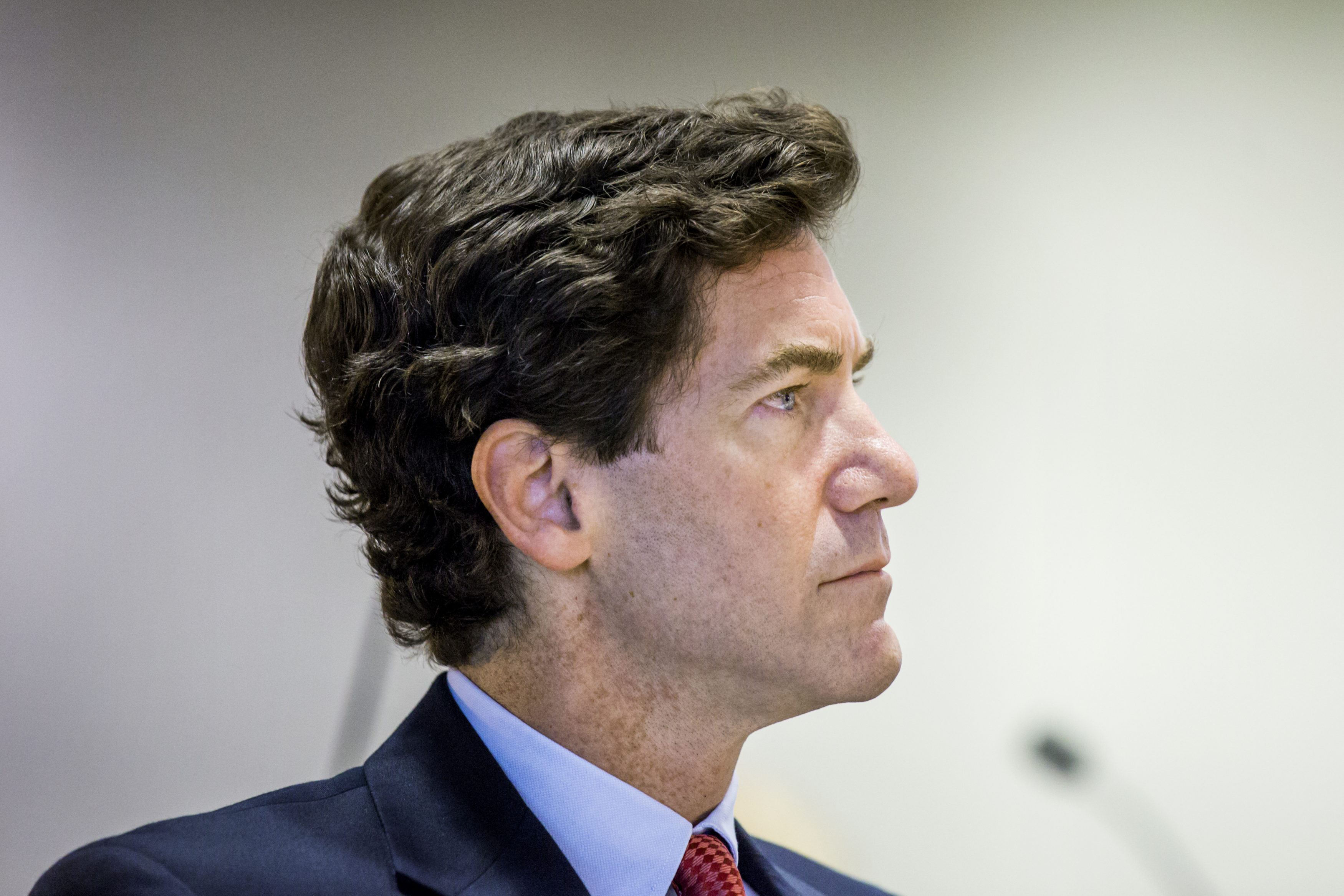 Fortunately, neither of these situations are now a possibility.
Fant joins House Speaker Richard Corcoran on the list of statewide candidates who attempted to reach statewide office by making a crackdown on sanctuary cities such a prominent part of their campaign. Corcoran infamously ran a frightening television ad about the issue (specifically about the case of Kate Steinle) that was roundly criticized for its not-so-subtle racism. The Pasco Republican really never recovered from that disaster.
But it's not just statewide candidates who have made the mistake of playing the anti-immigration card too hard. James Buchanan, the son of the popular U.S. Representative who was running in a special election for the state House, also saw his promising campaign undone because he went to the well once (or twice or three times) too often on the sanctuary city issue. Buchanan, heavily favored to win the special election at the outset of the race, lost to Democrat Margaret Good.
There are probably other cases where Republicans who made the sanctuary city issue their touchstone ended up fizzling out like Fant or losing like Buchanan. But these three cases should serve as enough of a warning to all GOP candidates that tacking so far to the right on this issue may play well on Fox News, but it has not worked out so well for those running in Florida.
— SITUATIONAL AWARENESS —
—@SenBillNelson: The company running this facility told us we would be welcomed to tour the facility. HHS then denied us entry and said that they need "two weeks notice" to allow us inside. That's ridiculous and it's clear this administration is hiding something.
—@RosLehtinen: No, @POTUS, saying immigrants "infest" our country is repugnant, reprehensible, + repulsive. To dehumanize those who wish to make a better life for themselves + their families flies in the face of decency. The real infestation is only one of your baseless rhetoric
—@RepTedDeutch: Mr. President, while you are on Capitol Hill talking with Republicans about your family separation policy, how about you stop by my office? I want to ask how you can defend this cruel policy and tell you about my constituents who are demanding you end it. #KeepFamiliesTogether
—@learyreports: [email protected] office on border kids: Have received about 1,000 calls total, 600 since yesterday. Also received about 1,400 emails since last night. 99% of calls and emails are against Trump's policy.
—@anaceballos_: When news broke yesterday that a facility in Florida was housing migrant children, @FLGovScott said it was not aware of any old or new facilities in the state housing children as a result of Trump's "zero tolerance policy" Today, he says he knew facility reopened in February.
—@fineout: Documents released by @FLGovScott office show that HHS informed state officials and members of Congress about the pending reopening of the Homestead facility in February. But at that time the facility was to be used for "unaccompanied alien children."
—@TroyKinsey: #Florida GOP state @SenReneGarcia on @realDonaldTrump admin's #BorderChildren policy: "This is unethical and shameful to say the least."
—@Ananavarro: After attacks on a disabled reporter, McCain, Judge Curiel, & the Khan's, the Access Hollywood tapes, Charlottesville, 2nd-class treatment of Puerto Ricans, & the countless lies, I thought I'd reached a point where I could not possibly feel any more disdain for Trump. I was wrong.
—@KevinCate: Hug your babies. Then make sure other parents can do the same.
— DAYS UNTIL —
Close of candidate qualifying for statewide office — 2; Florida GOP Sunshine Summit starts — 8; Democratic gubernatorial candidates debate in Fort Myers — 18; MLB All-Star Game — 27; Deadline for filing claim bills — 42; 'The Race for Governor' Republican gubernatorial debate — 42; 'The Race for Governor' Democratic gubernatorial debate in Miami — 43; Start of the U.S. Open — 68; Primary Election Day — 69; College Football opening weekend — 71; NFL season starts — 79; Future of Florida Forum — 98; 'Before You Vote' Florida U.S. Senate debate — 125; 'Before You Vote' Florida Governor debate — 126; General Election Day — 139; 'Hamilton' comes to the Straz Center — 239; 2019 Legislative Session starts — 258.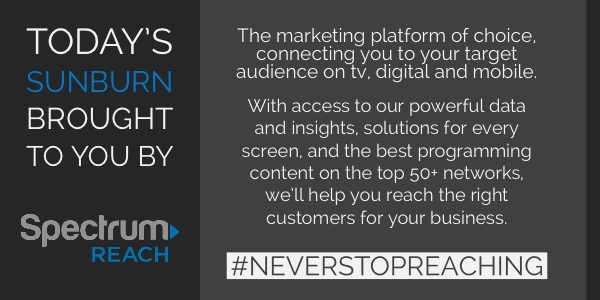 — TOP STORY —
"'Bullhuckey:' Bill Nelson, Debbie Wasserman Schultz denied access to immigrant kid lockup" via Marc Caputo of POLITICO Florida — U.S. Sen. Nelson and Rep. Wasserman Schultz were denied access to a 1,000-bed federal facility in the state that was opened to receive an influx of immigrant children, some of whom may have been detained due to Donald Trump's new family separation policy for the undocumented. "What they are doing is a cover-up for the president," Nelson said. "The president is dug in on a policy, and he doesn't like all the flak that he's getting, even from some Republican senators." Nelson said the Office of Refugee Resettlement, which ultimately denied access to the lawmakers — including state House Minority Leader Kionne McGhee, the district's state representative — was "being obstinate, headstrong." He said the agency's decision was "an affront as the senior senator of this state that an agency head would tell me that I do not have entrance into a federally funded facility where the life and health of children are at stake."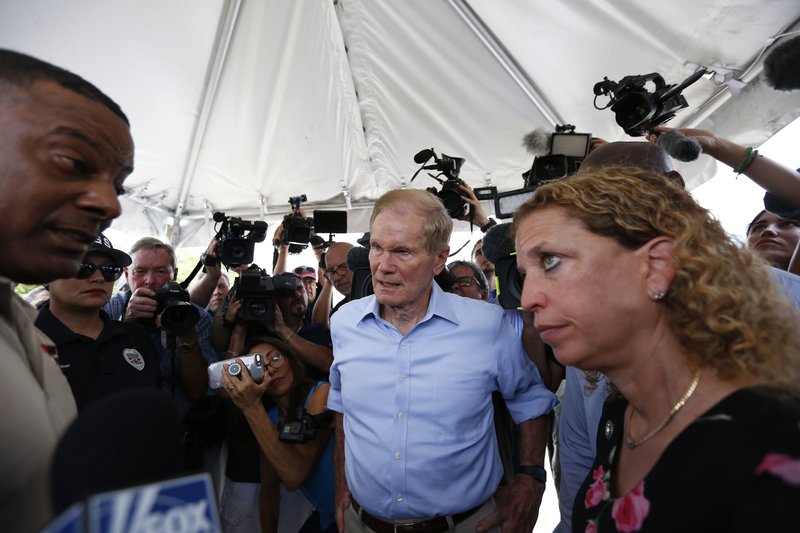 It's unclear how many children are now at the Homestead Temporary Shelter for Unaccompanied Children or how many were taken there under the president's policy separating minors from parents who have requested asylum of a border patrol agent but have crossed illegally.
— "Miami-Dade schools chief swipes at Trump, says detained immigrant kids need to be educated" via Marc Caputo of POLITICO Florida
"Congress flails as family separation crisis spirals" via Burgess Everett and Heather Caygle — Republican and Democratic senators are beginning to talk across the aisle about ending President Donald Trump's practice of splitting families at the border. But so far, they're mostly talking past each other. And with Trump showing no sign he'll back down despite the growing public pressure, the result is that migrant children may continue to be ripped from their parents' arms for weeks to come if they cross the border illegally. Democratic leaders note Trump can change the policy now without Congress' help and have rallied around legislation written by Sen. Dianne Feinstein to stop the family separation, though it's gotten zero GOP supporters. Republican leaders are devising their own bill to end the practice based on preliminary work from Sen. Ted Cruz, but so far GOP leaders have barely reached out to Democrats, who are skeptical that Trump would sign Cruz's legislation.
— The story that made Rachel Maddow cry on air — "Youngest migrants held in 'tender age' shelters" via Garance Burke of The Associated Press
— NELSON VS. SCOTT —
"Rick Scott is wealthiest governor in Florida history. In July, he must reveal details." via Steve Bousquet of the Tampa Bay Times — Required as part of Scott's U.S. Senate candidacy, the much-anticipated disclosure has some environmental groups and Democrats ready to raise questions about whether Scott's personal holdings in the energy industry have helped steer Florida's policy on climate change. "It seems pretty obvious he's making decisions that will benefit companies in which he has an interest," said Susan Glickman of the Southern Alliance for Clean Energy. The alliance was not one of the groups that sued Scott and his administration in April to demand a science-based climate recovery plan and to acknowledge the reality of climate change, but it supports the legal action. Scott held $14.7 million in stock in 2014 in Argan Inc., a Maryland holding company in power generation and renewable energy fields. In April, Argan told the SEC: "We may be affected by regulatory responses to the fear of climate change." About two dozen other firms in Scott's portfolio expressed similar concerns. Those energy-related companies accounted for nearly one-sixth of Scott's net worth of $132.7 million in 2014, or about $20 million.
Florida Democrats call on Scott to acknowledge climate change — After the Tampa Bay Times reported on Scott's financial interests in various companies that would benefit from inaction on climate change. The Florida Democratic Party is launching a petition calling on the Senate candidate to "put self-interest aside" and acknowledge the harmful impacts of climate change. FDP spokesperson Nate Evans said in a statement: "We always knew Rick Scott was a climate denier, but now we have a clearer picture as to why. In true self-serving Scott form, he has millions of dollars in investments in companies that have directly advocated against climate change regulation. It's time that Scott, who has continued to get richer at taxpayer's expense, put Florida's best interest first and finally acknowledge the harmful impacts that climate change is having on the state."
— QUALIFYING WEEK SURPRISE #2 —
"Jay Fant drops out of attorney general race to seek OFR post" via Matt Dixon of POLITICO Florida — The Jacksonville Republican decided to end his campaign, which was struggling to gain momentum, to apply to become commissioner of the Office of Financial Regulation, a spot that came open earlier this month when OFR Commissioner Drew Breakspear resigned amid pressure from CFO Patronis, who oversees the office. "Florida is the third-largest state, but not the third-most influential state for financial headquarters," Fant told POLITICO. "There is no reason that can't change. We need safety and soundness along with an understanding that we need to make Florida more attractive from a regulatory perspective." He also said that he wants to instill a "servants culture" in the office. One of Patronis' biggest public criticisms of Breakspear was that he failed to meet with some financial interests that his office regulated … Breakspear clashed with bankers and other interests he oversaw, prompting some to go to Patronis for help.
— NOTES FROM THE CAMPAIGN TRAIL —
"Gwen Graham goes after Scott on child detentions" via Dara Kam of the News Service of Florida — Graham's following up on reports that children being separated from their parents at the Arizona-Mexico border are being transported to a Homestead detention center. She wants to know how much Scott knows about the facility — or others — and when he learned about it. "Seeing photos of these children, listening to their screams, I think of my own children and how hard I would fight if anyone tried to separate us," Graham said in a news release. "Floridians deserve to know what Rick Scott knows about the Trump administration using our state in their political plot to separate families and what he's doing to assist or stop Trump from bringing children to our state."
"Jeff Greene launches two TV commercials, blasting Trump, remembering dad" via Scott Powers of Florida Politics — Greene is going up in a big way, spending $2.9 million of his own money on this week alone on the TV ads and a digital buy, which his campaign said is four times the dollar amount of his closest Democratic competitor … The 30-second ad is called "Jeff Greene Stands Up to Trump" … an early theme of Greene's campaign rhetoric: "The timid need not apply." A news release states: "Greene's unique appeal to Florida Democrats lies in his ability to spend whatever it takes to go toe-to-toe with historically better-funded Republicans in the general election to help Democrats regain control of the governor's mansion for the first time in 20 years without being beholden to special interest groups." The Trump commercial begins with a narrator declaring, "Jeff Greene stood up to Trump on national TV." Greene is then shown appearing on CNBC in a pre-2016 election interview in which he says, "I know enough about Donald Trump to be scared to death to see him as our president."
Matt Dixon gets results — "Phil Levine says he'll sell $600K in oil industry stocks following POLITICO inquiry" via POLITICO Florida — With a campaign focused in large part on climate change and sea level rise, Democratic gubernatorial candidate Philip Levine said Tuesday he would sell nearly $600,000 in oil industry stock after POLITICO asked about the investments that appeared in his latest financial disclosure report. The environmental issue is a heated one in Democratic politics, but especially sensitive for Levine, who as a former mayor of Miami Beach was on the front lines of dealing with flooding stemming from rising sea levels. And much of the charged campaign trail rhetoric is directed at one source: oil companies. That toxic perception of holding ownership in oil industry interests while campaigning as a climate change crusader did not square for Levine, whose top campaign official said they began the process of selling his oil industry investments after getting questions from POLITICO. "This was part of an investment adviser's portfolio recommendation — the mayor has instructed them to sell the stocks," said Christian Ulvert, a Levine campaign senior adviser.
Adam Putnam endorsed by eight sheriffs — Putnam announced Tuesday that eight Panhandle Area sheriffs have endorsed Putnam in his run for Governor. The announcement took place during a stop in Lynn Haven where Putnam shared his "Secure Florida First" agenda … Putnam was joined today by Walton County Sheriff Michael A. Adkinson, Jr., Washington County Sheriff Kevin Crews, Bay County Sheriff Tommy Ford, Gulf County Sheriff Mike Harrison and Liberty County Sheriff Eddie Joe White.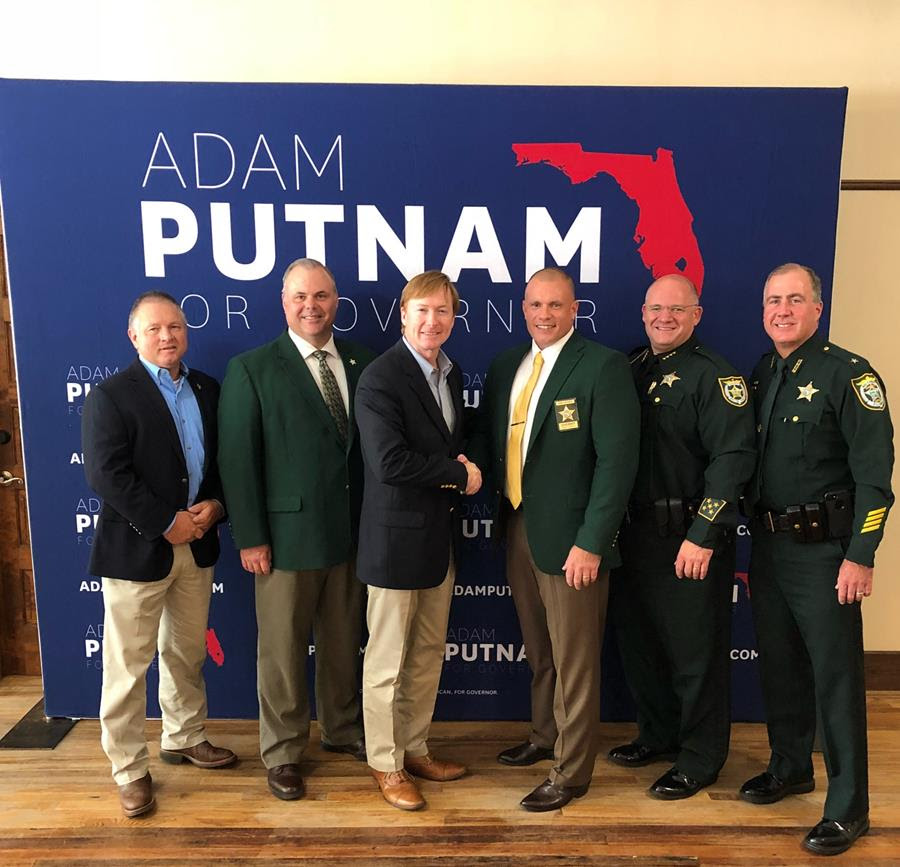 Assignment editors — Republican Agriculture Commissioner candidate Denise Grimsley will attend the Florida Cattlemen's Association Cattlemen's Supper, 6 p.m., Omni Orlando Resort at ChampionsGate, 1500 Masters Blvd., ChampionsGate.
"Jimmy Patronis, Jeremy Ring net worth's top $5 million" via the News Service of Florida — As he qualified for the race, incumbent Republican CFO Patronis filed a financial-disclosure form that listed a net worth of $6.49 million. The largest chunks of Patronis' assets, totaling about $4.72 million, were in stock, partnership interests and a retirement account in family businesses … Patronis' family, at least in part, owns Capt. Anderson's Restaurant in Panama City Beach. Patronis also listed a $486,000 home in Panama City Beach. Democratic candidate Ring, a former state senator from Broward County, filed a financial disclosure this month listing a net worth of $5.12 million. Ring, a former executive with Yahoo who also qualified for the Cabinet race and listed assets including $4.35 million in securities and a $962,000 home in Parkland.
"Matt Haggman repeats call to shut down ICE in new CD 27 ad" via Ryan Nicol of Florida Politics — In the midst of increasing criticism directed at the Trump administration's decision to separate thousands of children from their parents at the border, congressional candidate Matt Haggman is out with a new six-figure ad campaign. Once again, he's calling for the abolishment of Immigration and Customs Enforcement. Haggman, running for the Democratic nomination in Florida's 27th Congressional District, first announced his support to abolish ICE earlier this month: "ICE was created in 2003. We're talking about a 15-year-old agency that has far overstepped its intended, national security function and is sucking up government resources to deport families and detain children."
"Jayer Williamson draws late opponent for House seat" via the News Service of Florida — Bobbi Sue Osborne, a Jay resident running without party affiliation, opened a campaign account to challenge Williamson in House District 3, which is made up of parts of Okaloosa and Santa Rosa counties … Williamson had been running unopposed. He had raised $100,750 for his re-election bid as of May 31. Meanwhile, the race for an open seat in nearby House District 1 also drew a late candidate when Republican Lisa Doss opened a campaign account. The Escambia County seat is open because Pensacola Republican Rep. Clay Ingram faces term limits. Five candidates have opened campaign accounts, with two — Republican Rebekah Bydlak and Democrat Vikki Garrett — listed on the state website as having qualified as of early Tuesday afternoon.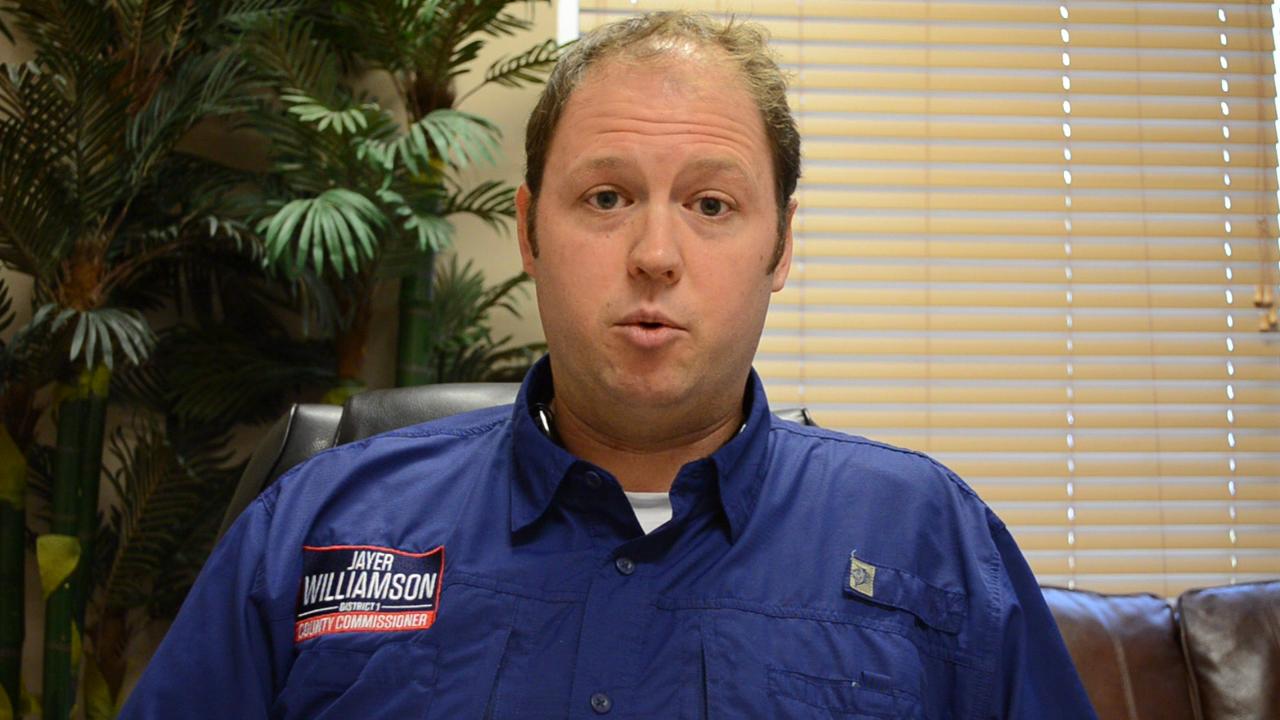 "New candidates emerge for Larry Lee, Jake Raburn seats" via the News Service of Florida — Port St. Lucie Republican Teri Pinney became the fifth candidate seeking to replace Lee in St. Lucie County's House District 84 … Two of the five candidates — Fort Pierce Democrat Forest Blanton and Port St. Lucie Republican Mark Gotz — had formally qualified for the race. Meanwhile, with Raburn announcing he will not seek another term, Lithia Republican Michael Sean McCoy opened a campaign account to run in Hillsborough County's House District 57. McCoy joined Democrats Layla Hartz and Debbie Katt in the race, with Katt listed on the state website as having qualified.
Joe Casello rolls out South Florida endorsements in HD 90 race — Boynton Beach Commissioner Casello is announcing endorsements from U.S. Reps. Lois Frankel and Ted Deutch, as well as the Palm Beach County Classroom Teachers Association. Casello, a retired firefighter and a veteran of the Air Force, is the only candidate remaining after several candidates withdrew from the race to replace Lori Berman in the heavily Democratic House District 90. Since entering the race May 2017, Casello has earned more than thirty endorsements from some of Palm Beach County's most well-respected public figures, business and civic organizations, and labor unions. "On the Boynton Beach City Commission, Joe Casello was a strong voice for the Democratic values we share and a tireless advocate for his community," Frankel said. "In Tallahassee, I know he'll continue to fight for workers' rights and organized labor, quality public education, expanded job creation, and our environment." Casello has served on the Boynton Beach City Commission since 2013.
Happening today — Former U.S. Sen. George LeMieux will speak at an event for the Federated Republican Women of North Dade. Invited guests include Rhonda Lopez, a candidate in state House District 115, Bibi Potestad, a candidate for HD 119, and candidate Joe Kaufman, who is running in Florida's 23rd Congressional District, 7 p.m., 94th Aero Squadron Restaurant, 1395 N.W. 57th Ave., Miami.
— DEMOCRATIC DISCOURSE —
Amid talks of a blue wave and ahead of a difficult but potentially game-changing election, Terrie Rizzo assumed leadership of the Florida Democratic Party.
She's keenly aware of the challenges ahead, but has high hopes for Democratic candidates this fall. In a recent five-question interview with the News Service of Florida, she acknowledged what appears to be Democratic energy, but pointed out the party is "not taking anything for granted."
"But believe me," Rizzo told the News Service. "There is a tremendous energy and excitement."
Presence: "We have tremendous candidates running in races where we haven't had people before recently," Rizzo said. It appears the Democrats are looking to show out from the top of the ticket all the way down, even in school board races.
The Republicans: Rick Scott's spending big — but that's expected, Rizzo said. As for the party's outreach in rural areas, "we're letting people in those districts know there are alternatives," Rizzo said.
What about the cash?: Democrats can't compete with Republican money. But, "we have the better policies, the better message and the better candidates," Rizzo said.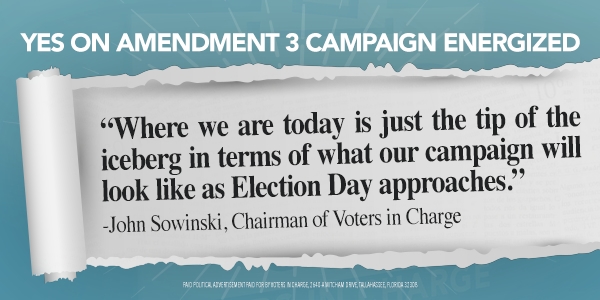 — STATEWIDE —
"Accounting watchdog claims Florida doesn't have enough money to pay its bills" via Danny McAuliffe of Florida Politics — A Chicago-based watchdog group says Florida owes more than it owns to the tune of $11.6 billion, earning it a C ranking in the group's annual report of state financial standings. Truth in Accounting released its letter-grade rankings of each state … The nonprofit was founded to highlight inaccurate government financial disclosures. "Florida's elected officials have made repeated financial decisions that have left the state with a debt burden of $11.6 billion, according to the analysis. That burden equates to $1,800 for every state taxpayer." Truth in Accounting figured Florida had $58.6 billion available in assets to pay $70.1 billion in spending. Most of the debt comes from pension funding, or a lack thereof. Per the report, "Of the $60.8 billion in retirement benefits promised, the state has not funded $10.9 billion of pension benefits and $9.3 billion of retiree health care benefits."
"Counties sue to remove amendments from Florida's November ballot" via Mary Ellen Klas of the Miami Herald — In separate lawsuits filed this month in Leon County Circuit Court, Broward and Volusia counties are asking the court to invalidate Amendment 10, the proposal placed on the November ballot by the Republican-controlled Constitution Revision Commission. The two counties argue that the proposal unconstitutionally misleads voters because it fails to explain that if approved, voters in Broward and Volusia counties would be stripped of their right to govern themselves. The amendment rolls together several ideas, the most controversial of which would overrule county charters and require Broward to elect a tax collector, Miami-Dade to elect a sheriff to replace its appointed law enforcement officer, and force Volusia County to reverse a decision voters made in 1970 to appoint its county officers. Miami-Dade County has not joined the lawsuit. "The ballot title and summary for Amendment 10 are misleading, inaccurate, and fail to fairly inform voters of the true effect and impact of the proposed amendment," wrote lawyers for Broward County in a lawsuit filed Friday.
"Citizens board may delay rate hike" via Lloyd Dunkleberger of the News Service of Florida — Citizens Property Insurance is poised to delay a 7.9 percent rate increase for policyholders, after some board members suggested Tuesday another rate hike may be too soon following a May 1 increase. The Citizens Board of Governors, which oversees the government-backed insurer that has some 443,000 policies in the state, will discuss the proposal at its Wednesday meeting in Maitland.
Department of Health seeks more time in marijuana appeal — It opposes a lower court's decision that Joe Redner, the Tampa strip club mogul, could grow and make juice of his own medical marijuana. The department filed a motion earlier this week asking for a deadline extension to file its initial brief. The filing asks the 1st District Court of Appeal for 60 more days, moving the deadline from this Wednesday to Aug. 20. "Due to numerous conflicting deadlines and previously scheduled events … the undersigned have not had adequate time to prepare the Initial Brief," it says, noting that Redner attorney Luke Lirot objected to the request. The department is represented in the appeal by Shutts & Bowen attorneys Amber Stoner and Jason Gonzalez. Redner, a lung cancer survivor, says his doctor recommended eight ounces daily of fresh, juiced marijuana as the best way to avoid a recurrence. In a separate filing, the court also rejected Redner's request to put the appeal on a fast track.
"Two more health plans get Medicaid contracts" via Christine Sexton of the News Service of Florida — Prestige Health Choice and Molina Healthcare will each be awarded contracts in two of Florida's 11 Medicaid regions … the state announced it would award additional Medicaid managed-care contracts to Aetna Better Health of Florida, UnitedHealthcare of Florida and Simply Healthcare. As a result of the decisions, Agency for Health Care Administration spokeswoman Mallory McManus said the state has settled legal challenges involving what are known in the Medicaid program as "managed medical assistance" contracts and "comprehensive" contracts. Plans with managed medical assistance contracts will provide services for general and acute health care needs, from childhood checkups to surgeries. Comprehensive plans will also offer long-term care such as skilled nursing services. However, legal challenges remain from companies that want to provide "specialty" services, including providing care to people with HIV and AIDS or serious mental illnesses. The state faces challenges from the AIDS Healthcare Foundation and Magellan Complete Care, among others.
"Judge close to decision in radio system bid protest" via Jim Rosica of Florida Politics — Lawyers late Monday filed recommendations as to how an administrative law judge should rule in a bid protest over the statewide law enforcement radio system, a deal potentially worth in the hundreds of millions of dollars. The recommended orders from Motorola Solutions and the Department of Management Services (DMS) were filed under seal, however, meaning they are unavailable for public view. Another filed by Harris Corp. was turned in with redactions, citing the need to protect confidential information, such as trade secrets. Attorneys argued the case last month before Administrative Law Judge J. Bruce Culpepper in Tallahassee.
"Judicial election fight remains in holding pattern" via the News Service of Florida — An appeals court kept in place a stay in a legal battle about whether a Northeast Florida circuit judge should be elected or appointed and refused to quickly send the case to the Florida Supreme Court. Jacksonville attorney David Trotti filed the lawsuit this spring, contending that an upcoming vacancy created by the retirement of 4th Judicial Circuit Judge Robert Foster should be filled in the November election, rather than through an appointment by Gov. Scott. Leon County Circuit Judge Charles Dodson agreed with Trotti, but the Scott administration appealed, triggering an automatic stay of Dodson's ruling. Trotti then went back to Dodson, who ruled that the stay should be lifted. But the 1st District Court of Appeal quashed Dodson's order to lift the stay and said the case should remain on hold until the appellate court can rule on the underlying issues.
— D.C. MATTERS —
"AARP polls Florida on Trump approval, U.S. Senate race" via Florida Politics — Trump's job approval rating is split 48 percent-49 percent among Florida registered voters, "higher than how he performed nationally," according to a new POLITICO/AARP poll released Tuesday. That rating was 43 percent approving and 52 percent disapproving, said Tyler Sinclair of Morning Consult, which conducted both polls … And older Floridians, specifically voters age 50 and over, "are more likely to give Trump higher marks": 51 percent approving of the way he handles the presidency and 44 percent disapproving … In the U.S. Senate matchup between term-limited Republican Gov. Scott and Nelson, they're "virtually neck and neck," with Scott polling at 40 percent and Nelson at 39 percent. Importantly, 21 percent said they "haven't made up their mind yet." Older Floridians are more likely to vote for Scott, by 44 percent-35 percent, according to the poll.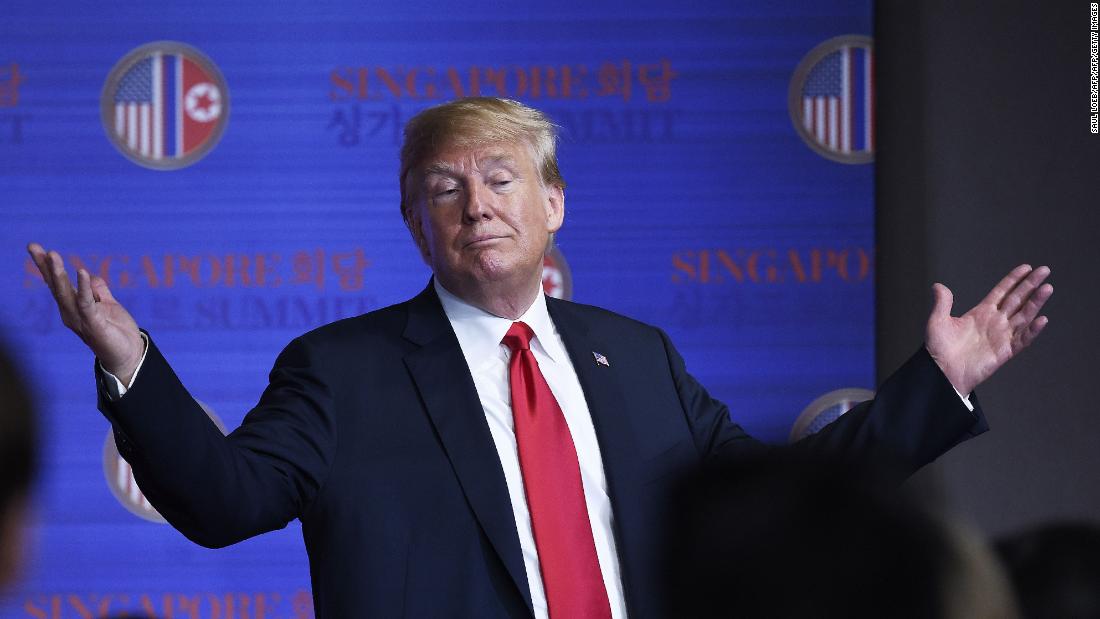 "Donald Trump Jr. cancels fundraiser with Jeb Bush son" via Jonathan Swan and Alayna Treene of Axios — Trump Jr. and George P. Bush had formed an unlikely alliance despite their fathers, Donald Trump and Jeb Bush, loathing each other — with Don Jr. backing George P. in his re-election campaign for Texas land commissioner, and even planning to headline a New York fundraiser for him on June 25 … Two sources close to Don Jr. tell Axios that he has decided to pull out of the fundraiser due to the Bush family's opposition to his father. Most recently, Jeb Bush tweeted that "children shouldn't be used as a negotiating tool" and that President Trump should end his "heartless policy" of family separation.
"Feds weigh entering lawsuit over FIU bridge records" via Jim Rosica of Florida Politics — The U.S. Attorney's Office for north Florida has told a Tallahassee judge it now "is considering participation" in a lawsuit by The Miami Herald seeking records on March's bridge collapse at Florida International University that killed six people. U.S. Attorney Christopher P. Canova sent a notice dated June 15 to Circuit Judge John Cooper saying federal law authorized him to "attend to the interests of the United States in (any state) lawsuit," court records show. The three-page document … says that the Herald "seek(s) to compel disclosure of certain records … (that) are the subject of a pending accident investigation by the National Transportation Safety Board (NTSB). "Thus, the United States may have an interest in setting forth for the court its views with respect to the pending motions and potential disclosure of information," it says. Canova asked Cooper to "defer (any) rulings" until it determines whether to get involved. The feds said they would let Cooper know by next Wednesday whether they would enter the case or stay on the sidelines.

— OPINIONS —
"Joe Henderson: Nelson visit was right thing to do (and good politics)" via Florida Politics — Florida's senior U.S. Senator, in a fight for his political life, traveled to inspect the Homestead Temporary Shelter for Unaccompanied Children facility. It's a holding camp keeping an estimated 1,000 children — some came to America without their parents, and others because their parents are being held elsewhere on suspicion of trying to enter the country illegally. Nelson said he set up the visit in advance through proper Health and Human Services channels but was advised it would have to be delayed because applications for such visits must be submitted to two weeks in advance. He went there anyway but was blocked from going inside for a firsthand look. He might have found a locked door there, but it was campaign gold and it didn't cost a cent. "They obviously are hiding something," he said. "They are using the excuse (that) you have to apply two weeks in advance (to visit). That is what the deputy secretary told me this morning." Nelson's righteous anger should make his Senate opponent, Gov. Scott, squirm a bit. In this case, though, he ceded the stage — and a whole bunch of free media — to Nelson. That's blunder No. 1. Blunder No. 2 was the refusal by HHS to allow Nelson's visit to continue. Officials could have told him that cameras had to stay outside but to walk around and check things for himself.
"Ron Littlepage: Hocus-pocus from Lenny Curry and the Sheriff" via RonLittlepage.com — It was comical as well as maddening watching efforts to drag out of the Jacksonville Sheriff's Office exactly how many police officers are employed by the agency now. JSO, under the leadership of Mr. Transparency Mike Williams, kept telling the news station that number wasn't available. Come on. The agency doesn't know how many people are on its payroll? The number is a sensitive issue for the sheriff and Mayor Curry. As you might recall, Curry hammered Mayor Alvin Brown during their campaign battle for reducing the number of police, basically saying that Brown was responsible for the city's high murder rate. In Curry's current re-election campaign television ads, he boasts of adding 180 police officers to ensure public safety. If that was the answer to violent crime, as Curry contended in his first mayoral race, why are most days in Jacksonville still marked by murders? The first answer is that Curry is highballing the number … With 137 more officers patrolling the streets of Jacksonville, which more than makes up for the 96 lost under Brown, why is mayhem still the order of the day? If it was Brown's fault then, is it Curry's fault now?'
— MOVEMENTS —
Marc Dunbar says he's 'interested' in Citizens Insurance chairmanship" via Jim Rosica of Florida Politics — The Tallahassee-based lawyer and gaming lobbyist, has officially "expressed interest in serving as chair of the Citizens Property Insurance Corp. Board of Governors," CFO Jimmy Patronis announced. Dunbar, whom Patronis only recently appointed to the board, was one of six names released by Patronis' office. At last week's Cabinet meeting, the state's chief financial officer had asked Citizens CEO Barry Gilway to identify board members who'd be interested in stepping up to chair. The chair, now Christopher Gardner, serves at the CFO's pleasure; Patronis can name a new person at any time.
"Personnel note: Jason Harrell to lobby for Florida court clerks" via Florida Politics — Harrell has been named director of legislative and government affairs for the Florida Court Clerks & Comptrollers (FCCC), the organization announced Tuesday. Harrell now is budget and communications director for the Florida Clerks of Court Operations Corporation (CCOC). He'll continue in that role until the end of the Florida Legislature's Revenue Estimating Conference in July, which will determine the clerks' statewide budget authority for fiscal year 2018-19. At FCCC, Harrell will "develop and direct the association's new in-house legislative team and lead strategic advocacy for legislative policy and budget efforts on behalf of Florida's independently elected clerks and comptrollers," a news release explained.
What Seth McKeel is reading — "Pinellas County decides to negotiate contract with new lobbying firm" via Suzette Porter of the Tampa Bay Newspapers — Commissioner Janet Long cast the deciding vote during a work session June 12 on the firm that staff will negotiate with to provide lobbying services for statewide matters. In an unprecedented move, commissioners decided not to go with staff recommendations but instead wanted to hear oral presentations from the top three ranked firms that submitted proposals to provide state governmental relations (lobbying) services. The firms included Dean, Mead & Dunbar, which has served as the county's state lobbyist firm since 2002, Southern Strategy Group of Tampa Bay and Gray/Robinson.
— ALOE —
"'Alexa, order me room service.' Amazon's voice assistant checks into Marriott hotels" via Jordan Valinsky of CNN — Amazon announced a partnership with the hotel company to add Amazon Echo smart speakers into a select number of rooms. Guests can use the Alexa-enabled device to order room service, turn on the lights, set alarms, notify housekeeping, ask for hotel information, call the front desk, play music and other typical Alexa functions. In a promo video posted to Amazon.com, a hotel guest is seen using various Echo models, such as the tall silo-shaped signature speaker and the hockey puck-sized Amazon Echo Dot. Guests won't need an Amazon account to use the devices. But in the future, Amazon will allow them to sign in to their accounts to play their playlists and audiobooks.
Happy birthday to Matt Harringer of Gwen Graham's gubernatorial campaign, Todd Josko of Ballard Partners, Ed Miyagishima, and Ieva Smidt.